Tag Archive
The following is a list of all entries tagged with Polychaete adventures:
May 31, 2010, 2:09 am by
Gretchen Matt
My plans for Hong Kong originally included anemone fish and anemone relationships; full of scuba diving and fun.  Needless to say, I was excited.  However, the stubborn anemone fish refuse to spawn in the laboratory.  Therefore, I have become worm-girl.  That's right, I am now an expert on all things polychaete related (well maybe by the end of summer…). Plan B became analyzing phylogenetic relationships of genus Perinereis using molecular markers.  Have I lost you yet?  Polychaetes are marine worms, and I am looking at how a specific genus is related through differences in their mitochondrial DNA.  Not as much fun as playing with Nemo? Possibly.  But to my surprise, I found myself extremely interested in this field.
The first day in lab I learned how to differentiate between the species of Perinereis through their differences in paragnaths (teeth).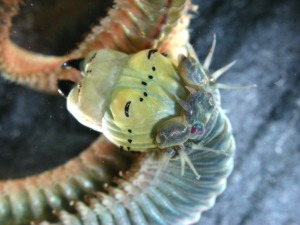 The black dots and smaller brown dots in the extremely frightening picture (hopefully it works) are the paragnaths; morphologically different in each species.  Although I stole this photo off the internet (http://www.annelida.net/nz/Polychaeta/Family/Nereididae/PerinAmb1428thumb.jpg), I used the HK lab microscopes to take pictures and count the paragnaths. I can now look at an organism, magnify it, take a picture of it, and measure it; all through the microscope's computer attachment.  This is actually a really important skill that I probably wouldn't have learned at Eckerd.
Once I have all my species that I will analyze (probably around 5?) I will extract their mitochondrial DNA and begin the adventures of PCR.  Luckily I took cellular biology and genetics, I have had to go back pretty deep in my mind to uncover the details of PCR.  My partner in crime, Yanan, has been extremely helpful (and patient!) with my incessant questionings.  Basically, she is a saint.  She will probably deserve an award by the end of this, especially because I am making her speak english, which is a struggle.  Being from mainland China, her english is not as advanced as students in HK.   It has been very interesting communication-wise, for the entire day I was confused why she was talking about plants, and then I realized she was saying agar "plate", not "plant".  Oops.   She also tried to convinced me (unsuccessfully) that we use amphetamines within the laboratory process. Poor Yanan, amphetamines are considerably different than ampicillin…
My project will be more laboratory based than I originally thought, but tomorrow I get to go collect more species for my analysis. Yanan and I will go Sai Kung, a fishing area of Hong Kong, and collect them. I am sure that it will be interesting to update you all on how that goes…
Non-lab related writings:  Hong Kong is awesome. The subway system (MTR) is amazing; it is clean, on-time, and efficient.  There is always something to do in this city.  Probably my favorite thing that has happened so far occurred while roaming yesterday.  I was just walking down the street, no real plans, and I saw an antique shop.  Obviously I needed to go in…  I start looking at the tiny (and authentic!) foot-binding shoes; and I found it fascinating.  No customers in the store (I sure couldn't afford anything in there…) the old lady that ran the store gave me a history lesson.  She got all excited to teach me about foot-binding, and brought out a book from the back and read the chinese symbols and showed me the pictures.  If you have not ever seen a picture of this  "aristocratic" procedure; trust me when I say that it is disgusting.  Without the tiny shoes on, there is nothing dignified about it…  But anyways, the old lady was awesome. She gave me a free photo of three ladies; two with their tiny feet bound, and their servant who had big feet. (After all, who was to carry around these girls who walked on their tip toes??) My afternoon at the antique shop taught me more than just about strange cultural phenomena,  it taught me that people in HK are genuinely friendly.
---