Indie Classics: The Evil Dead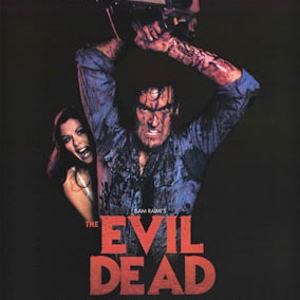 In 1981 Director and Writer Sam Raimi introduced The Evil Dead. Five friends travel to a deserted cabin in the woods and by nightfall the woods begin to attack. One by one the friends are attacked leaving the "hero" Ashley or Ash helpless. Once turned, his friends turn into what reminded me of a zombie meets Chucky feel. Ash (played by Bruce Campbell) manages to fend off the monsters but you'll have to see the movie to figure out the ending.
Although a classic to independent horror film the story line has been used a thousand times I felt as though I knew what was basically going to happen the whole time. The use of make up interested me since I have never seen the "monsters" look like they did in this film. They were portrayed as both creatures of the woods as well as undead people in an original way. I have not seen many horror films from this time period so it was good to see how techniques have evolved. The actual filming of this is interesting as Raimi used a lot of hand held camera work. What became known as "shaky cam" was Raimi's initial idea to bolt a camera to a plank of wood and with it run while filming, dodging obstacles, which give a feeling that you are running with the person rather than tracking that person.
Although the acting is very corny and comical the movie, as an original horror movies stands well. Raimi is known for his love of gore and blood which he does not lack in this film. However, even with all that, the film does not loose its tastefulness as a low budget slightly humorous classic horror film.
Tags: sam raimi, The Evil Dead