My Sundance Experience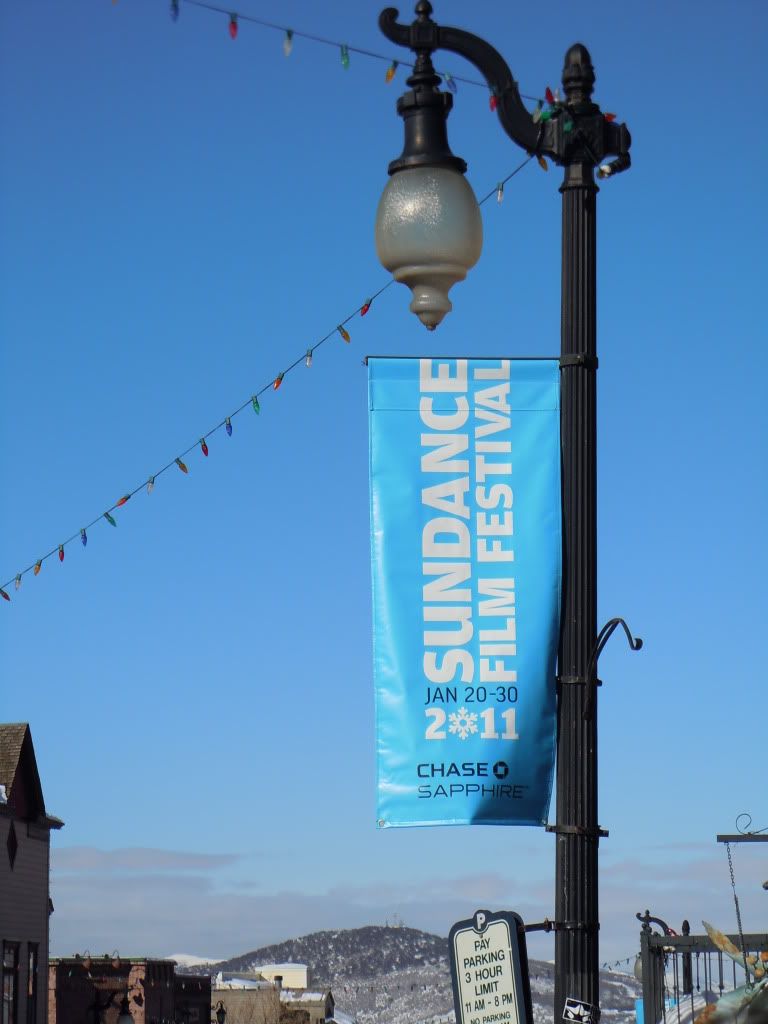 In a mainstream cinematic world where cheap thrills, cliched stories, and 3D ridiculousness rules, one town defies Hollywood for ten days in the mountains of Utah, or more importantly Park City, Utah. 
Yes, I am talking about the paradise for all indie film makers, the Sundance Film Festival. The spot to be if you want to be noticed, to make your way into the Hollywood mainstream, or a place to pretend you are somebody for ten days. So, maybe a few of those are cliches in themselves.  
For ten days I persevered the snow and ice to get into the overly large theatres (Eccles) and to the small and intimate atmosphere (The New Frontier-Blue Building). I saw movies that made me tear up "The Green Wave" "Pariah" and "Perfect Sense" (for as much as the movie disappointed me it was depressing). To movies that got me to think about different things like "Another Earth"; "Circumstance";and "Sound of my Voice". To the movies that were a little more mainstream (if not mainstream once they get seen to a wider distribution) "Homework" and "Little Birds". To the more artsy and still beautiful installations like "Dreaming of Lucid Living" and "Myth and Infrastructure" by Miwa Matrayek. To a foreign independent film by a Cuban director like "Ticket to Paradise".
I might not have met big stars like my friends who sat next to Stanley Tucci, got a two minute interview with Kevin Smith, or like my professor who talked with Greg Araki (though I did see Eva Green for a few minutes, couldn't get a decent picture of her though). I was hoping to see Ewan McGregor because he had a film here, but he was still filming in Thailand during the festival, and he couldn't get away. Not that I really care, I didn't come to Sundance to meet celebrities. I came to see the films and to meet with the people who make them.
Which, to my dismay, I didn't meet much of, but I did talk to people who distributed movies. One of which, abhors the 'mumblcore movement' not that is matters, I am not such a big fan myself. Maybe I was in the wrong part of town or had horrible timing, who knows? Maybe I am the person to run away from. That or I just couldn't recognize anyone because they were incognito. Or maybe because I was at the wrong place at the wrong time.
In the class before this trip I learned about the history of American Independent film, and coming here was the pinnacle of our class. For me to be in the snow and cold (not one of my favorite things in the world) and to eat Japanese food 3x within the past ten days (not that I don't mind it gets a little much if you know what I mean). I guess I could say I had a good experience, which I did. Just to spend some time walking down main street listening to street bands like "Bramble" (who when I first heard them play sounded a ton like The Shins). I couldn't get into a ton of the venues because I was under 21, like the Music Cafe, after 3:00 pm at the Sundance channel HQ (because they had an open bar go figure).
I just had fun watching the movies, the main reason I was here anyways. Watching movies, trying to keep warm, and having hot chocolate and apple cider to get warm. Most of the films I liked but some disappointed me and some just rubbed me the wrong way. Here is how I rated the films I saw:
1) Pariah (9.8/10)
2) Another Earth (9.8/10)
3) The Green Wave (all three of these films were hard to categorize so they are really close together). (9.7/10)
4) Circumstance (9.6/10)
5) Sound of my Voice (9.3/10)
6) Dreaming of a Lucid Living and Myth and Infrastructure (9/10)
7) Little Birds (8.7/10) (a little bit mainstream, but some good performances by Juno Temple)
8) Homework (7.8/10) (way to mainstream, but a well made film with a good soundtrack to boot)
9) Perfect Sense (6.8/10) (only for the storyline, cinematography, acting, and soundtrack were good to very good).
10) Ticket to Paradise (4.9/10) (storyline, acting was off, rubbed me the wrong way, and cinematography could have been a bit tighter)
I wanted to see more films, but what happened to either sleeping in too late, my schedule of films coincided with one another, or I couldn't get tickets and wait listing was not going to work. I wanted to see "Like Crazy" "The Guard" "Here" "Martha Marcy May Marlene" (I had a ticket, but gave it up to go to the "Perfect Sense" Premiere and never got a chance to see it again. Not the best decision I ever made) "The Ledge" "Terri" "We Were Here" and "Win-Win".
I checked out Slamdance, but ended up not seeing any films there. The reason? Probably because there were so many films I wanted to see at Sundance that it just slipped my mind. But it was cool to check it out because people were very cool there and it wasn't as extravagant as Sundance.
I really liked Sundance, but I think if I ever go again I need to be twenty one and save up for the ultimate pass so I can sign up for more movies (and get into the events I couldn't this time around). Although, I was very lucky to wait list a premiere movie and get an awesome seat, and wait list another movie and get another good seat (both at Eccles). So, that was a good thing, considering I know a lot of people who wait-listed and didn't get into a movie or premiere at all.
So maybe it wasn't as star-studded as I dreamed it would be at this little festival, but hey I didn't come to see celebrities I came for the movies in the first place. Though it was a bummer not to see my favorite actor of all time (Ewan McGregor), but I enjoyed my time here and saw some  pretty amazing movies I wish will come out to a theatre nearby so I can see them again to enjoy them. Well, hopefully the directors will get some DVD's and some soundtracks available (like "Another Earth" and "Pariah").
I guess I just have to attend another Sundance Film Festival in the near future. That and to remember get a place closer to mainstreet so ice will not be much of an issue, considering I hate ice. But hey, in the end I can see why Sundance does make dreams come true considering I saw the cast members take a picture of the audience of a full Eccles theatre with wide smile on their faces, and where one director was going to give it up believing she was not going to get anywhere.
Tags: Indie movies, my experience, Sundance 2011