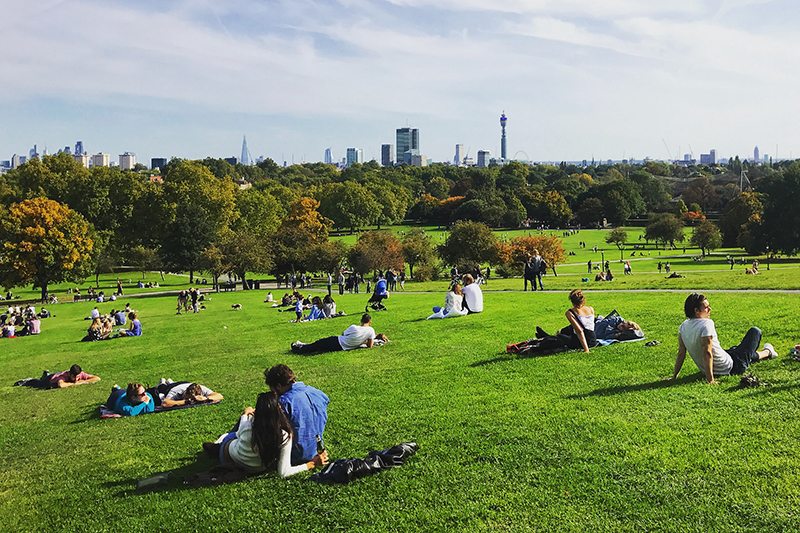 The London Study Centre is the heart of the Eckerd College study abroad program. Since 1970, when Eckerd College leased a 200-year-old Georgian row house from the Bedford Estates, over 2,000 students have called the Centre home!
Rising sophomores, juniors and seniors are eligible to apply.
Fall Semester 2021: London Study Centre
Application Deadline: March 15, 2021
Courses
The British Seminar is required and satisfies the Global Perspective. Classes meet once weekly, leaving time for you to explore London on your own and creating great opportunities for travel throughout the UK and to the Continent.
Led by Professor Jessie Fly:
The British Seminar – Global Perspective
History of Medicine in London – Social Sciences Perspective
This course will follow the twists and turns of the history of Western medicine in London.  From unbalanced humors to poisonous vapors to the discovery of microorganisms and through to more recent developments in holistic medicine, we will examine the varied beliefs and practices involved in understanding and treating illness throughout time.  Our explorations around London will include visiting collections of native medicinal plants at the Royal Botanic Gardens, viewing 19th century operating theatres  where surgeries were preformed without anesthesia or antiseptics, and following in the footsteps of John Snow as he mapped the 1854 cholera outbreak and eventually traced the source of contamination to one drinking water pump.  This course will focus on experiential discovery of advancements in medicine but also question the notion that the evolution of medicine has moved in one direction only.
Led by Professor David Himmelfarb:
Food, Culture and Empire – Environmental Perspective
This course will look at the ways British colonialism transformed cuisines and ecosystems across the planet and how the legacy of colonialism is reflected in the food culture of contemporary London.  Through visits to gardens, markets, museums, and restaurants around the city, we will trace the movement of people, plants and ideas around the globe in an effort to understand the complex cultural and ecological exchanges brought about through the colonial experience.
Led by London faculty:
Introduction to Contemporary British Politics – Social Sciences Area Requirement
London in Literature – Humanities Area Requirement, Comparative Literature Course
Theatre in London – Arts Area Requirement
British Art History – Arts Area Requirement
Periodically the college also offers semesters in China and in Latin America led by Eckerd faculty.