Our Differences Enrich Us All
Immerse yourself in our multicultural, diverse and inclusive community
Eckerd College welcomes and supports students of color, LGBTQ individuals, persons with disabilities, international students, and other groups.
The Office of Multicultural Affairs works to create a campus climate that is inclusive, representative of our diverse population and cultural competent. We believe our differences are what make us stronger.
We provide campus-wide programs, workshops, class visits, speakers, and panels to connect our campus across differences. We celebrate cultural diversity and deepen the conversation on inclusivity, diversity, power and oppression.
Join us in our pursuit to make an even more inclusive and welcoming environment for all at Eckerd College.
REAL TALK THURSDAYS
Current and controversial topics are discussed in a safe and respectful space.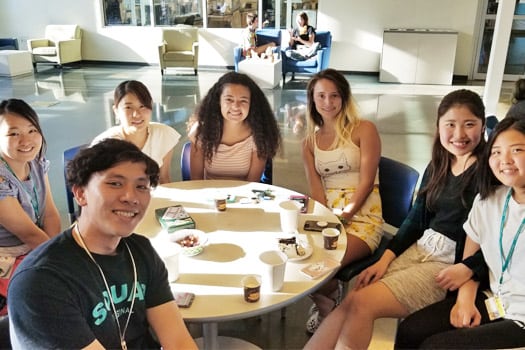 INTERNATIONAL COFFEE HOUR
Every other week, we bridge the gap between domestic, international and ELS students over coffee, cake and conversation.
BLACK HISTORY MONTH
We celebrate and reflect on Black History. We attend the local parade and host speakers, workshops, discussions, performances and more.
LATINX-INDIGENOUS HISTORY MONTH
We celebrate and reflect on Latino/Latina/Latinx and Indigenous History. We host panels, performances, workshops and speakers and more.
DISABILITY AWARENESS WEEK
We highlight and raise awareness about disability. We host mental health workshops, panels with experts in disability justice, and dine & discusses around other forms of disability.
MULTICULTURAL LEADERSHIP COUNCIL
A gathering of student group leaders who network, coordinate and build strategies to improve campus culture and promote diversity through their student groups.
Educational, cultural and social programs that promote multiculturalism, diversity and inclusivity
Safe spaces for students by empowering supporting multicultural student clubs and groups
Opportunities for important dialogues around issues of race, ethnicity, nationality, gender, class, sexual orientation, mixed abilities and more
One-on-one guidance
Student clubs and organizations