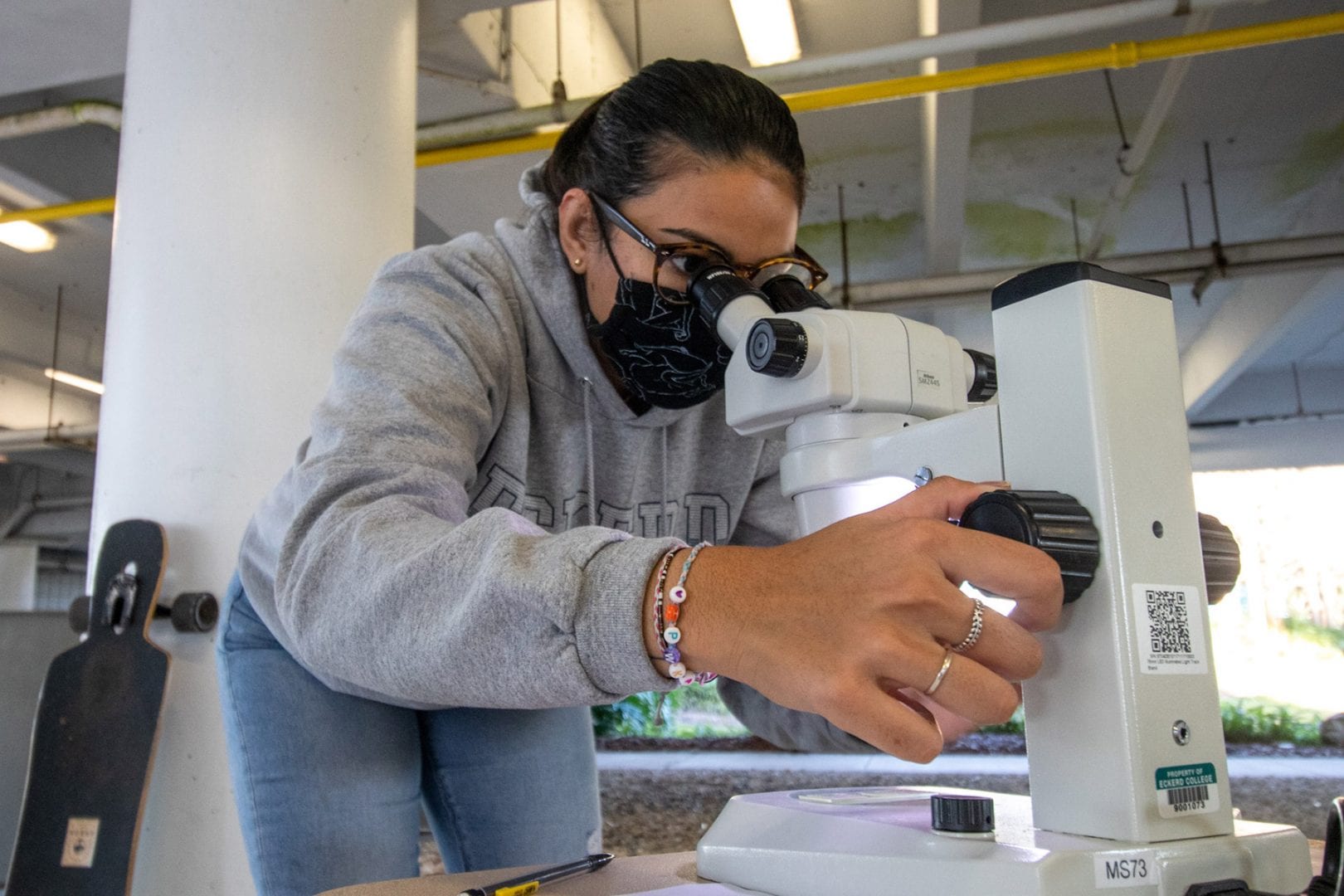 Janessa Benavidas '22 looks at a series of foraminifera during a lab for her Deep Sea Exploration class.
Physics Professor Anne Cox, Ph.D., heard about an intriguing initiative to increase the participation of women in physics in the United Kingdom and decided if there ever was anything similar in the U.S., Eckerd College would be the perfect place to start.
When the American Association for the Advancement of Science's SEA Change initiative announced it was looking for charter member schools, Cox knew the moment had arrived.
"[Senior Advisor and Director of SEA Change] Shirley Malcom's program is focused on diversity, equity and inclusion [DEI] in all of the sciences—not just physics—and it was announced just as Eckerd College was getting a new president in Damián J. Fernández, who has put DEI at the forefront of his plans for the College," Cox said. "It was great timing."
This month, Eckerd joined four other colleges and universities as the latest SEA Change charter members. The initiative is a public commitment to systemic transformation into more diverse, equitable and inclusive spaces where the full range of talent can succeed in science, technology, engineering, mathematics and medicine (STEMM).
SEA Change—short for STEMM Equity Achievement—was launched in 2018 to support institutions as they undertake an in-depth self-assessment process to identify barriers to diversity, equity and inclusion for their students, faculty and staff. The institutions then create individualized plans to break down those barriers for those excluded or marginalized based on gender, race, ethnicity, disability status or any other aspect of identity that has been a source of bias in STEMM.
Charter members emphasized the holistic nature of SEA Change, which doesn't set metrics for its member institutions. Taking part in SEA Change is not simply a matter of boosting the numbers of underrepresented groups, Cox added.
"There's a consensus in this institution that this is imperative, that we have a role to play in a national stake," President Fernández said. "We need science and scientists from all sorts of communities to help us get better outcomes and solutions for the problems facing the world, and we are on the edge of that sea change."
The new charter members announced by SEA Change on March 18 also include Olin College of Engineering, Rutgers University, University of California–Santa Cruz, and Wayne State University. They join seven other institutions around the country who, in two waves, initially announced their involvement in SEA Change in August and October of 2020.