Emeritus Professor of Literature

Peter Meinke

has been named the Poet Laureate of Florida by Gov. Rick Scott.
Meinke, who joined Eckerd in 1966 as its first director of creative writing and serves as the Poet Laureate of St. Petersburg, is only the fourth poet laureate in the history of the state. The post has been vacant since the 2012 death of Edmund Skellings. Meinke's honorary appointment is for four years.
"Florida's Poet Laureate promotes reading, writing and the appreciation of poetry throughout the state and encourages students to express themselves through poetry and reading out loud," according to the Florida Division of Cultural Affairs.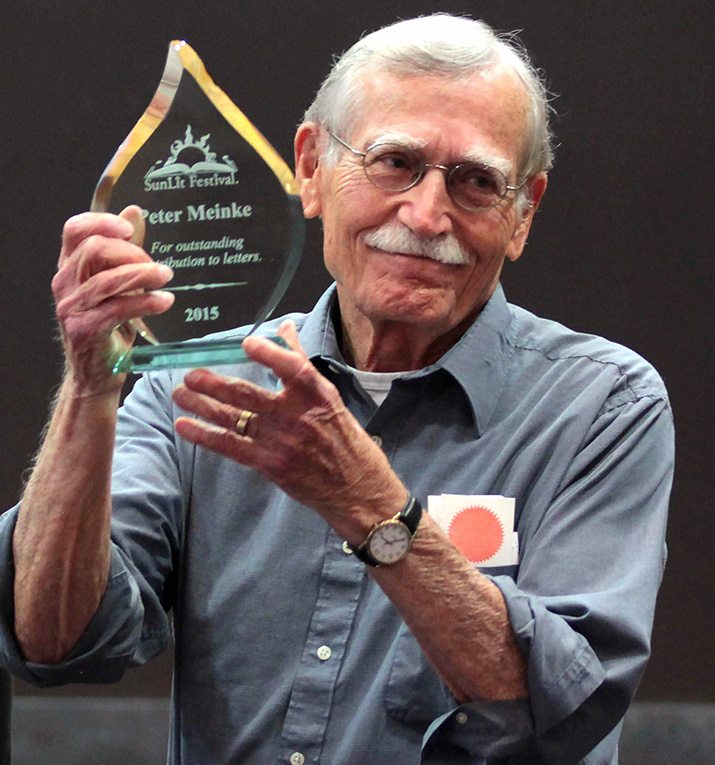 "Peter Meinke received the inaugural SunLit Festival Award for Lifetime Achievement in Letters, for outstanding contribution to letters."
Meinke said he doesn't plan to lecture about poetry. Instead, he will organize poetry readings around the state to inspire the public. "People will tell me, I'm sure, what to do, but in my experience people really do like poetry readings,'' Meinke said. "When I read a poem, I talk to people about it, and it's very relaxed."
News of his appointment came in a phone call from the governor's office Monday morning, Meinke said. He knew he was one of the finalists, chosen through a competitive process, but didn't expect to be appointed. "I feel good, although I was surprised," Meinke told the Tampa Bay Times. "I'll do the best job that I can."
Meinke has been Poet Laureate of St. Petersburg since 2009. He leaves that post later this year. In March he received the first SunLitFestival Award for Lifetime Achievement in Letters.
"Meinke himself is a highly engaging reader-out-loud, not to mention a wonderful and wonderfully accessible poet, so the students of Florida are in for a treat, and not a little inspiration," wrote David Warner, editor of Creative Loafing, where Meinke writes the award-winning Poet's Notebook column, which is illustrated by his wife, Jeanne.
Meinke will be the keynote speaker June 26 at the national convention of the Federation of State Poetry Societies in St. Petersburg.
When he was hired at Eckerd (then Florida Presbyterian College), Meinke says, it was something of a reunion for him because many of his first published poems appeared in the magazine motive, which also published the works of Eckerd art professors Robert Hodgell, Jim Crane and  Margaret Rigg. "We had never met," Meinke recalls.
Meinke has published 18 books and chapbooks of poetry, along with books of fiction, nonfiction and children's fiction. His work has appeared in The New Republic, The New Yorker, Atlantic, Poetry, and dozens of other journals, including Eckerd Review. He has received many awards, including two NEA Fellowships and three prizes from the Poetry Society of America. His book of short stories The Piano Tuner won the 1986 Flannery O'Connor Award.
Eight of his poetry collections—including his latest, Lucky Bones (2014)—were published by the prestigious Pitt Poetry series. His website is petermeinke.com
He taught courses in literature and creative writing and directed the Writing Workshop at Eckerd College for many years, and has often been writer-in-residence at other colleges and universities, most recently at the University of South Florida. In 2009, the University of Tampa Press published Lines from Neuchâtel—illustrated by his wife, Jeanne—in a handsome 35th Anniversary Edition, with added poems and drawings.
He says he still writes his first drafts with pen and ink in a notebook but revises his poems on a computer. "I used to have crumpled up papers all around my desk," he says with a laugh.
The Meinkes' four children all graduated from Eckerd College and work in the arts and sciences around the world.
Here is an example of Meinke's poetry
The Poet, Trying to Surprise God
by Peter Meinke
The poet, trying to surprise his God
composed new forms from secret harmonies,
tore from his fiery vision galaxies
of unrelated shapes, both even & odd.
But God just smiled, and gave His know-all nod
saying, "There's no surprising One who sees
the acorn, root, and branch of centuries;
I swallow all things up, like Aaron's rod.
So hold this thought beneath your poet-bonnet:
no matter how free-seeming flows your sample
God is by definition the unsurprised."
"Then I'll return," the poet sighed, "to sonnets
of which this is a rather pale example."
"Is that right?" said God. "I hadn't realized…."