When Ashley (Meredith) Campanella '01 attended Eckerd College, she dreamed of using her education to embark on a career providing dolphin assisted therapy to autistic children.
She majored in psychology and minored in marine biology with a focus on photography. She also joined the Eckerd College Search and Rescue (EC-SAR) Team. During her time in EC-SAR, she met her future husband, Dominic "Dom" Campanella '98, who planned to become a maritime lawyer with the United States Coast Guard.
After graduation, Ashley decided to move back home to Southern Oregon to be closer to her family. Twenty years later, in her hometown, both Campanellas still use their Eckerd Waterfront training every day in careers they never saw themselves pursuing—Ashley as a wine and cider maker and Dom as a civil litigation attorney.
"We are truly pioneers in our field out here," Ashley says.
"It's been 20 years of just chipping away," Dom adds.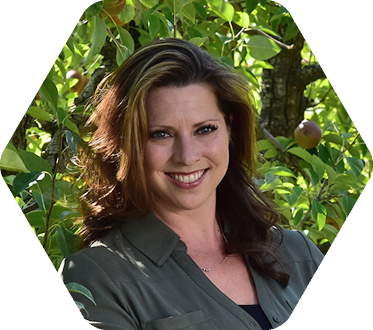 When the Campanellas moved to Oregon in 2001, Ashley went to work in her family business: a Rogue Valley pear orchard where Ashley is a fourth-generation family member to work the land. Before she graduated from Eckerd, her family planned to start a winery on their property. The area's region is uniquely suited for vineyards in many ways—more than 170 microclimates and various soil types mean Ashley can grow nearly any grape. But the lack of signature grapes like the ones that define nearby Napa and Willamette Valleys made it difficult to market the Rogue Valley as a wine destination.
"In 2001, Southern Oregon was truly a coffee/beer crowd," Ashley says.
Now there are over 100 bonded wineries in the Southern Oregon region, her family's EdenVale Winery among them. In the early years, Ashley learned to do everything from running the tasting room to event planning. In 2008, she suddenly became the head winemaker. To succeed in this transition, she drew from her experiences in EC-SAR and her Eckerd major of marine biology, perhaps counterintuitively, which helped her as she found herself working among grapes instead of grouper.
"The science background from Eckerd gave me a solid base of knowledge when I was thrown into the winery world," she says.
From the chemistry of fermentation to the geology of soils and water tables, making wine is much more complicated than sipping and swirling. At harvest time, Ashley analyzes the fruit daily, sometimes hourly.
"I'm the one who makes the decision as to when the grapes get to come in," she says. "When I call for the harvest, it's because I feel like the fruit is in its optimal state."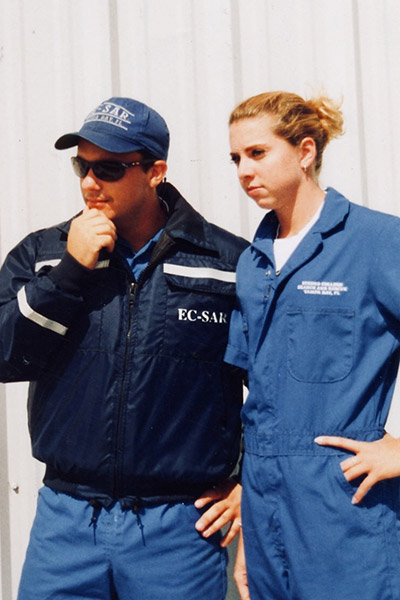 Dom Campanella '98 and Ashley Campanella '01 during their EC-SAR days.
Under Ashley's supervision, EdenVale produces 26 wines and award-winning pear and cranberry-pear hard ciders. She makes red wines that defy the modern need for instant gratification, barrel-aging them for four to five years before bottling.
"We're one of the only wineries right now that's still barrel-aging in that traditional style," Ashley says. "I'm proud of that."
The Campanellas joke that they have instilled the unofficial EC-SAR motto of "Suffering builds character" into their three children: a son, 13, and two daughters, 10 and 8. But in between the work of helping sort grapes and manage the family garden, they slip and slide in the vineyards and drive the golf carts around.
Dom credits their Eckerd experience with shaping the life they lead now, saying it is the reason they are unafraid to take risks. They remain involved with their Waterfront family, and Dom was one of the founding members of the Friends of the Waterfront.
"Eckerd attracts a certain type of student, and that type of student is an adventurer," Dom says. "When you're around people like that for four years, you're infused with that sense of energy and courage, and it's fabulous. We've never regretted a single thing we've done, even if it hasn't worked, because it's been part of the great adventure."
Ashley says an occupational hazard of owning a winery is that something is always broken. Whenever things unexpectedly grind to a halt, she goes back to her EC-SAR roots: She grabs a screwdriver, takes a deep breath and figures it out. She thinks back to one of the search and rescue lessons: "Can't" is a forbidden word.
"It taught me to trust myself, believe in myself, and to know that if I tried hard enough and worked hard enough, I could do pretty much anything I wanted to do," she says.