As a college student in Oregon looking to attend school closer to family in Florida, Dr. D. Ashley Hill '86 sent away for a brochure about Eckerd College. The waterfront and sunny campus looked good to him after 44 straight days of rain.
His dorm room phone rang one day, and on the other end of the line was John Reynolds, an Eckerd biology professor. Reynolds wanted to know what Eckerd could do to convince him to transfer.
"I honestly could not believe a professor was taking the time to phone me," Ashley said.
With a financial aid package in place that made it possible for him to attend, Hill made the switch. Nearly 40 years later as an OB/GYN, medical director and Eckerd trustee, Ashley says serving the College with his time and his resources is the least he can do for the place that left its imprint on everything he does.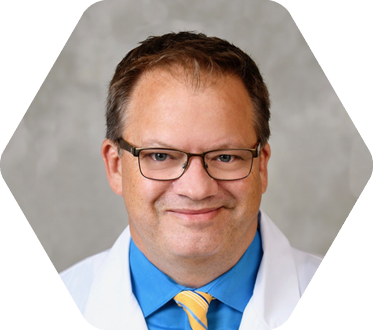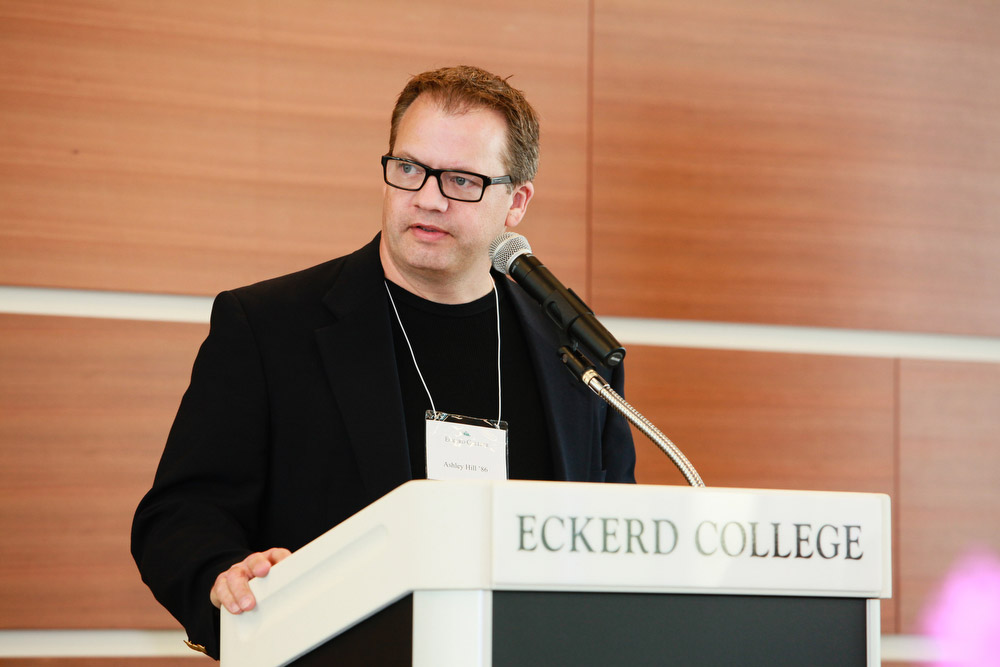 "This is a college that changes lives," he says." It has dramatically influenced the way I conduct myself within my organization, with my partners, and with my patients."
Ashley soon found there was more to Eckerd than sunny days and coastal views. A native of Albany, Oregon—a town of 20,000—he said the College environment felt cosmopolitan. He joined the biology club, served as an RA, and started a charity for kids with cancer.
He became close with Professor Reynolds, who encouraged him in the classroom and sent him lunch and dinner after he missed class due to illness. Ashley even joined Reynolds on a research project on manatee kidneys, finding that manatees were able to adapt to live in saltwater for long periods. He credits that research for helping him stand out in the medical school interview process.
Accepted to med school at the University of South Florida, he brought the spirit of discussion and group learning that he had gained at Eckerd, creating a study group with his classmates.
"Other students went, 'Why are we doing this, you're my competition," he recalls. "I said, 'No, we're all in this together.'"
Today, he says he uses that same philosophy in building highly effective teams, a talent that has proved valuable within Orlando's AdventHealth Medical Group.
"I got a lot of that at Eckerd: collaboration and listening to people from diverse backgrounds," he says. "Everyone has value."
Ashley has made it a priority to give back to Eckerd, supporting various causes and scholarships—including the John E. Reynolds annual and endowed scholarships. In 2011, wanting to make a difference in the lives of students like him, he established the Hill Family Endowed Scholarship.
"I wanted to be able to put something more tangible on the table to help other students and to help the College," he says.
One particular memory stands out: while attending an on-campus event in 2013, he had a chance to meet the student receiving his family scholarship, Samantha Hilton '17.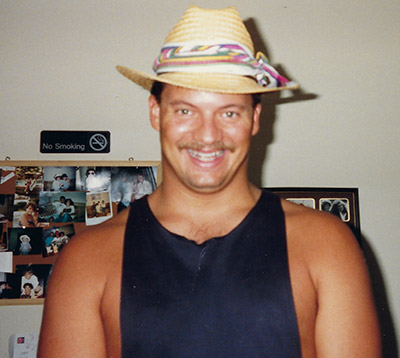 Ashley during his time at Eckerd
Samantha, a psychology major from the Orlando area who now works at Eckerd as a residence coordinator, says when she received the scholarship, she thought the Hill name sounded familiar. When she mentioned it to her mom, they realized she was one of the nearly 8,000 babies Ashley has delivered. The impact Ashley has made, coincidentally, spans her entire life.
Ashley and his scholarship recipient, Samantha Hilton '17, meet during a trip to campus in 2013.
"I am a student who took out loans for Eckerd, so to get that scholarship was a big deal," Samantha says. "It meant a lot to me."