For Eckerd Trustee Matt Kilgroe '87, the path to running an investment firm that manages $1.3 billion in client assets resembled Eckerd's broad liberal arts approach applied to the real world. After receiving his degree in journalism from Eckerd, Matt served as an assistant basketball coach in graduate school, freelanced as a sports writer, surfed in Hawaii and sold cars before settling on his current vocation.
When he started at Merrill Lynch 30 years ago, the learning curve for the technical part of the financial industry was sometimes steep. But, Matt says, the skills that propelled him through his career were formed in those earlier experiences: the ability to talk to people, form relationships and understand teamwork.
"Oftentimes you can get so caught up in what you're doing right now that you don't realize it's building something for the future," he says. "As long as you're learning, you're succeeding."
As the CEO and president of the recently launched St. Petersburg investment advisory firm Cyndeo Wealth Partners, who also spent his seventh consecutive year on Barron's List of Top 1,200 Financial Advisors, Matt has credentials to back up his advice on success. But he is quicker to point out the contributions of others than to list his own accomplishments.
Some of Matt's team members over the years have been Eckerd graduates. Josh Powell '00, current owner of Novak & Powell Financial Services in St. Petersburg, started his career with Matt at Merrill Lynch, and Charles Bryant '05, who runs Lone Star Wealth Management in Sarasota, credits Matt with introducing him to finance and opening doors for him in the industry. Those are just a few examples, as Matt continues to recruit interns and employees.
"It does make me happy and proud that there have been others that I've helped," Matt says. "People helped me, so I want to pass that along as much as I can. Everybody has to have help along the way."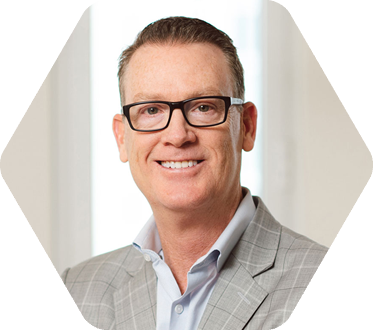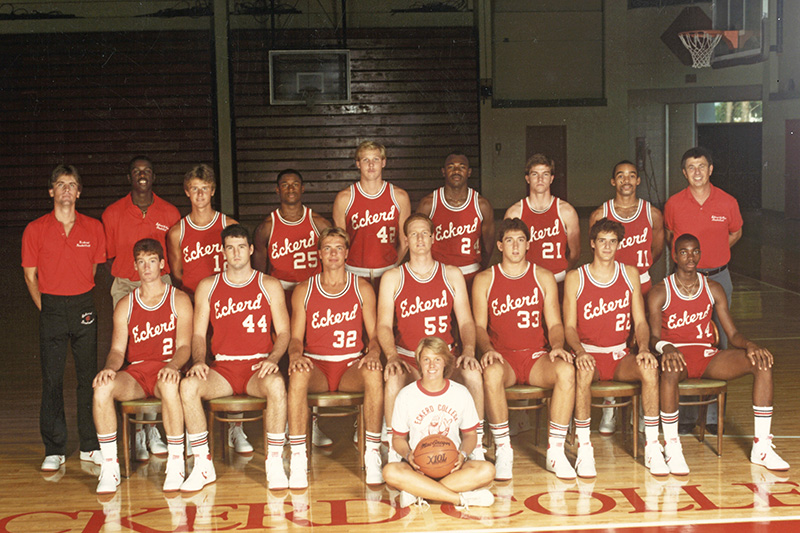 Matt Kilgroe (front row, left) with Eckerd College Men's Basketball team
Matt cites his experience on the Eckerd Men's Basketball team under now-retired Coach Jim Harley as one of those helpful experiences. He remains close friends with Eckerd Athletic Director Tom Ryan '87, a friendship he says has kept him involved with the College. Matt joined the Board of Trustees in 2012, and his giving to the College has contributed to scholarships for athletes and helped transform the Athletics program and facilities.
"I think building a team, and getting really good people around me, has been the most important part," says Matt, who still has the same assistant as when he started his career in 1991.
Launching and growing Cyndeo mid-pandemic has been challenging in some ways but has presented opportunities as well. Prior to Cyndeo, Matt co-ran a UBS-associated investment firm. He says he appreciates the ability of Cyndeo as an independent firm to be nimble and his team's commitment to following CDC guidelines to keep one another safe while working in the office, something that still isn't possible at major brokerage firms.
"The theme, and the consistency, of the kind of people that Eckerd Basketball recruits is something I'm proud to be a part of," he says. "That's what Coach Harley was all about: He wanted you to be a good basketball player, but he wanted you to be a good person."
As Matt has risen in St. Petersburg's business community, he says he looks for opportunities to promote Eckerd in the community. A St. Petersburg native, he believes Eckerd is an underrecognized jewel of the Tampa Bay area.
"I love Eckerd and I like a lot of what we're doing," he says. "I like what we've grown into."
For Eckerd students looking to go into finance, Matt says he thinks the College provides a special opportunity to learn the soft skills that many finance degree programs gloss over in favor of the technical side.
"I had the ability and the training from a liberal arts education to think it all through, to look at things globally and holistically," he says. "There are lots of things that I could say—to learn and pay attention to the stock market and understand business—but I think the biggest thing is learning how to develop, maintain and support relationships with other people."