When Eileen (Bielanski) McCarron '73 reflects on what brings her joy and peace, she names some of life's simple pleasures: singing, taking piano lessons, and working in her garden.
She finds deep meaning, too, in the unyielding work to which she has dedicated almost three decades of her life: the fight against gun violence. In 1995, while in Texas, she began volunteering on the issue. After she took skills learned there to Colorado in 1999, she co-founded Colorado Ceasefire and currently serves as the president of its legislative action branch. She connects her passion for this issue back to the community-focused liberal arts education she received at Eckerd.
"When I get discouraged, and I have, I remember that I feel I was called to this," she says.
In the '90s, Eileen was living in Texas, working as a geophysicist for Amoco. She was distressed at political changes in the country and prayed for guidance on where she could make a difference. At the time, concealed carry legislation was just being considered in the state, and she kept seeing news stories about it.
"Wow, I guess I've got the message," she remembers thinking.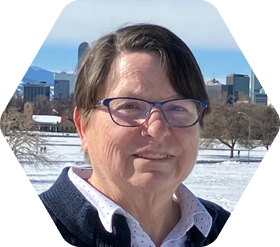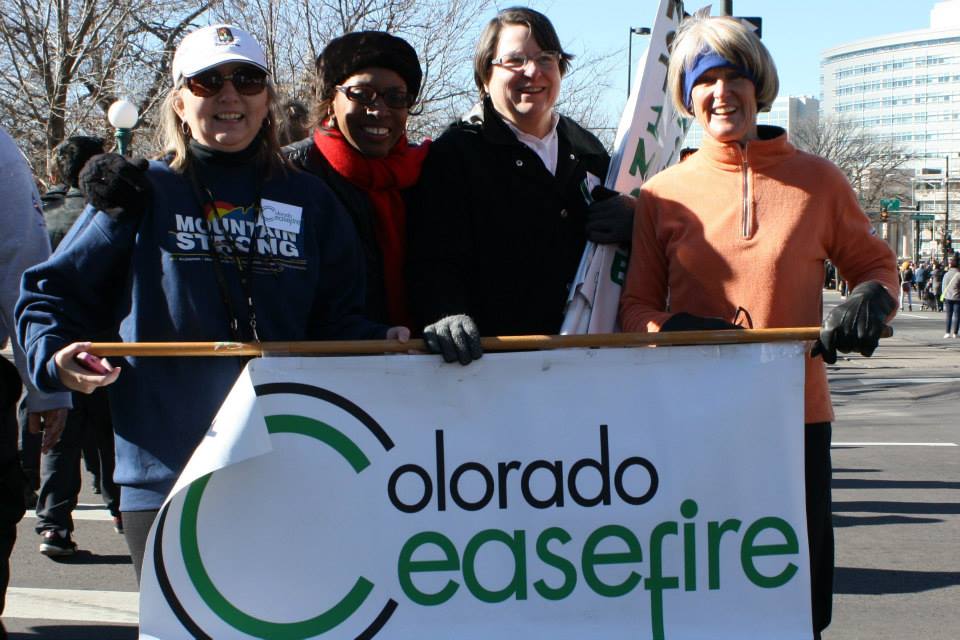 Eileen with other members of Colorado Ceasefire at the 2016 MLK Jr. Holiday Marade.
She joined a small group of volunteers, Texans Against Gun Violence. After she and her husband, Bill, moved to Colorado—just four months after the massacre at Columbine High School—she co-founded Ceasefire, now the longest-running grassroots gun violence prevention organization in the state. During Ceasefire's early years, Eileen worked with the organization on top of working full-time as a math teacher at the high school and community college level.
Ceasefire was founded to hold state legislators accountable for voting against a post-Columbine bill that would have closed the gun show loophole that allowed three out of four guns used in the shooting to be purchased without a background check. The bill died in committee, but ultimately another gun violence prevention group, which Eileen also worked with, took it to the voters, where it passed it by a margin of 70% to 30%.
"To me, that was indicative that the legislature in Colorado was out of step with the voters," Eileen said. "The voters had moved on, but the legislature was still stuck."
She and four other volunteers formed Colorado Ceasefire to elect gun violence prevention candidates and pass common sense firearms legislation. They had few notable successes for more than a decade—and then the massacres at the Aurora Theater and Connecticut's Sandy Hook elementary galvanized the state. In 2013, Colorado enacted five gun reform measures, including universal background checks and a ban on high capacity ammunition magazines.
A backlash by pro-gun rights powers to those victories meant more years of semi-fruitless struggle. But in recent years, the pendulum has swung back, enabling the achievements of which Eileen is most proud. In 2019, Colorado passed its Extreme Risk Protection Orders (red flag) law—which allows household members or law enforcement to petition the courts to temporarily suspend firearms access to a person dangerous to themself or others. In 2021, Colorado enacted another law ensuring people convicted of certain violent misdemeanors do not pass firearm background checks. Although they lost a concealed carry battle in 2003, over the years Ceasefire has been part, often as the initiator, of enacting 21 gun reform laws in Colorado. And in the 2022 election, every legislative candidate backed by Ceasefire won their race.
Eileen says meeting survivors of gun violence and those who have lost loved ones has kept her resolve strong, no matter where the political winds of the moment lie.
"Hearing their stories and knowing their plight keeps you moving in knowing that this cannot continue," she says. "We cannot live this way in this country."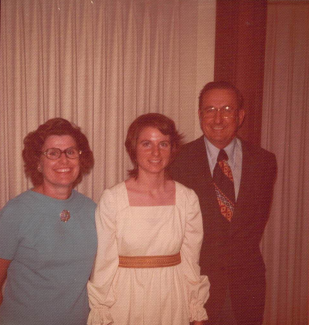 Eileen (center) poses with her parents in her Sandpiper Vocal Ensemble choir dress.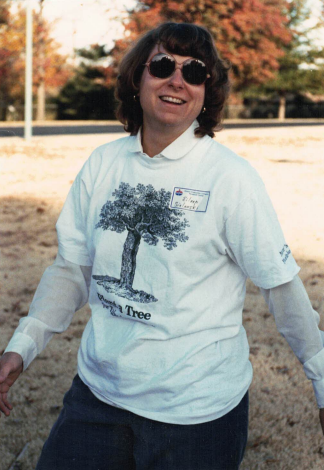 Eileen in a t-shirt with the "Amoco TREE (Tulsa Research Environmental Effort)" logo, the name of the recycling program she founded while working at Amoco.
The guiding principles that led her on this journey were starting to take hold during Eileen's time at Eckerd.
When her path crossed with Florida Presbyterian—soon to become Eckerd College—she was a Presbyterian student looking to stay close to her hometown. She majored in mathematics and sang with the choir and Sandpipers.
Being at FPC/EC during the Vietnam War sparked an initial curiosity about politics and activism. Eileen says that her academically intense math coursework, combined with the extensive reading required by the core curriculum, instilled in her values that connect directly to her work today: commitment to social justice and critical thinking.
"It opened doors to ideas and literature, to things I don't think I would have experienced otherwise," she says.
She compares what she took away from her Eckerd education to another lesson she learned early in life from her father: always leave a campground cleaner than you find it. She hopes to leave the world a better place.
"We have a responsibility to our fellow travelers on this earth to use whatever resources we have—either God-given or gained by our efforts or struggles—to use them for the good of humankind," she says.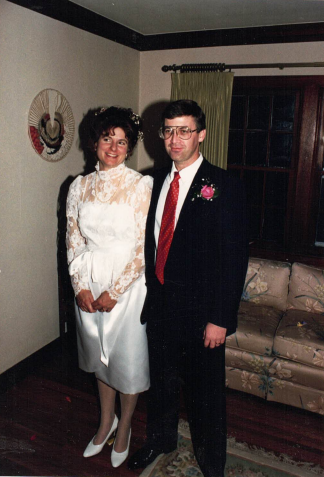 Eileen and her husband Bill on their wedding day.