In 2003, recently divorced and parenting a young son, Fern Johnson '05 knew she wanted to expand her opportunities.
Working as an accounting assistant at a local pharmaceutical business, Fern was the only Black woman in the company at the management level. She watched as colleagues received opportunities that she was passed over for, or simply never offered.
Then she heard from her hairdresser about a night program for nontraditional students where she could earn a bachelor's degree: the Program for Experienced Learners (PEL) at Eckerd College.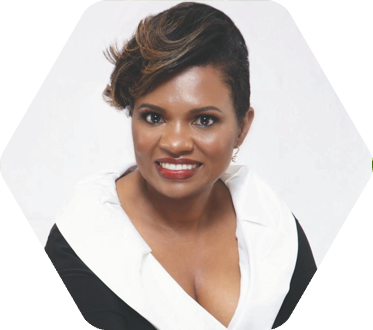 That's when she decided: "Eckerd is the school for me," she says. "I've got to get my education so that no one feels like they have control over me."
Earning her college degree at 28—the first of her eight siblings to do so—set Fern on a path that led to an MBA from DeVry University, the C-suite of a national cancer testing lab, and most recently to starting her own business in Atlanta, Career Sisters, where she coaches women looking to advance their careers.
That path was not always smooth. She would work full days and drive to Eckerd to go to school in the evening. Sometimes, childcare would fall through, and she would end up bringing her son Daniel—now 26—with her to class. At one difficult moment, she says she cried in her car in the Eckerd parking lot, but her community motivated her to keep going.
"Daniel was the driving force for me because I was determined to be that educated Black mother for him," she said.
The Eckerd professors Fern learned from knew that she and the other PEL students had obligations outside of the classroom. She remembers History Professor Gregory Padgett as being especially understanding; he would tell her to bring Daniel to class with her if she needed to, and she says it was helpful to have a Black professor who could relate to the fullness of her experience.
"Life didn't always work out the way I wanted it to," she recalls. "When I had that transparent conversation, 'I don't know if I'm going to be able to do this. This is a lot harder than I thought,' the professors were in the throes of it with us to get us through."
Fern says Eckerd gave her a strong work ethic and servant-leader values that have shaped her career and life. While the PEL program was discontinued in 2016, Fern says lifelong friendships with fellow PEL students and the close relationships she had with professors connect her to Eckerd forever. One friend, Sonya Thomas Hodges '04, also ended up moving to Atlanta and was one of Fern's partners in starting Career Sisters in 2018.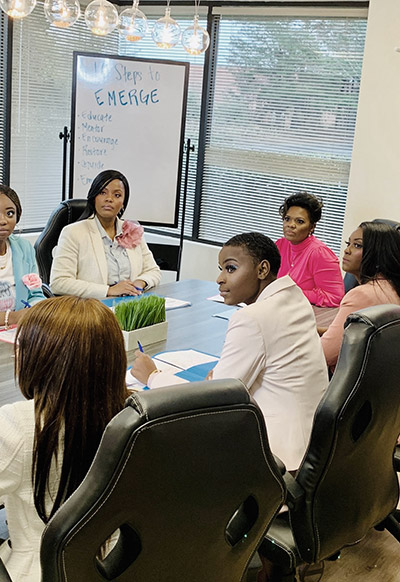 Fern holding a session at her business, Career Sisters, where she coaches women looking to advance their careers.
"PEL afforded me, number one, the opportunity to be around other students who were also doing life with me," Fern says.
Now a mother of four—ages 4, 7, 12, and 26—Fern says she is thrilled to be an example of what it looks like to succeed as a Black woman, not only for her kids but for the women she mentors through her business.
"Modeling this in front of my kids, they feel as though they can do anything—that matters, right?" she says. "They don't need to think, 'I'm going to go work for somebody.' They think, 'I'm starting my own business.'"
Fern said she started to think that way herself when she found out she was expecting her only daughter—her youngest, Maya. She was in the midst of a career transition after holding a vice president of finance title and was struggling with what to do next. Finding out she was expecting a daughter helped her hone in on her passion.
"I have to create an environment for women of color to coach them on how to navigate the career space," she remembers realizing.
Now in the fourth year of her business, Fern sees Career Sisters as a business that can help all women leverage their experience to advance. She hopes the business will become, like PEL was for her, a space where women can do life together and receive guidance and wisdom from their peers.
"You don't know what you don't know," Fern says. "But when you have it, you should share it."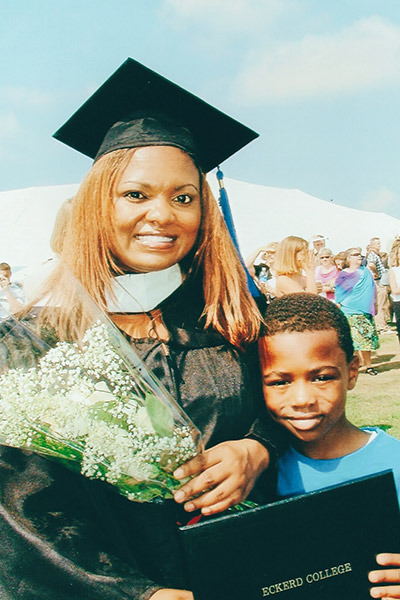 Fern at Commencement with her eldest son, Daniel.