Ernie Mahaffey '68 remembers his time at Eckerd (then Florida Presbyterian) College fondly —despite his undergraduate journey ending without a degree.
The Vietnam War was at its height, and while he excelled socially—even being elected president of the Student Government Association—his academic performance had slipped.
"I had a wonderful Eckerd experience, but in the middle of my senior year, the dean and the president called me in and said, 'We cannot continue to justify your draft deferral with the draft board. You will be drafted,'" he recalls.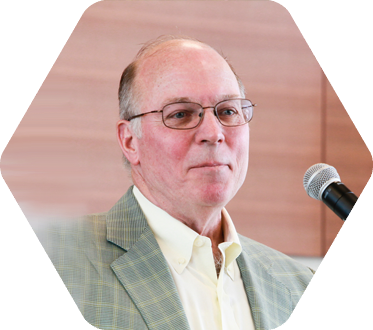 Ernie's real liberal arts education came later, after joining the Army, when he took the entire reading curriculum of the FPC Core Program with him in an Army rucksack. It was around 20 books, and he remembers his fellow soldiers thought he was "an egghead" for his heavyweight academic interest.
"In the Army, I got a certain level of discipline and self-respect and decided I didn't want to keep failing," he says.
As a final gift from FPC, fluency in German gained during a semester abroad qualified him for language training in the Army. He learned Mandarin Chinese through the Army's training and was not sent to Vietnam. From there, life took him around the globe.
He earned degrees from Florida State University and the Thunderbird School of Global Management. He made a career in international business and entrepreneurship, starting in banking and ending selling high-end packaged American specialty foods to retailers in London, Paris, Singapore, and more. Eventually, his success led to an early retirement.
There, in the late 1990s, his path crossed with Eckerd again. Looking for a path to a purposeful retirement, he learned about ASPEC, the Academy of Senior Professionals at Eckerd College. ASPEC is a group of over 300 retired professionals committed to lifelong learning who connect through interest groups, intergenerational learning, community outreach, and social activities.
"It took one look at the people at ASPEC, and we could tell they had something special," Ernie says.
His Eckerd liberal arts education has continued ever since through his involvement with ASPEC, which connected him back to the College and alumni life. Through ASPEC, he started an interest group, "Discussing Differences," which encourages members to have a back-and-forth on various divisive issues and which he helms by email from his home in Chicago.
Ernie appreciates that ASPEC allows him to be a part of the College's mission, work with students and faculty, and be held to the same kind of high standards that he faced during his undergraduate tenure. As he has independently studied good practices for aging, he believes ASPEC holds up as one of the best and most innovative lifelong learning organizations.
"ASPEC has been a platform for me to learn that the College can help me in ways that matter today," he says. "None of my retiree peers have the kind of relationship with their college that I do."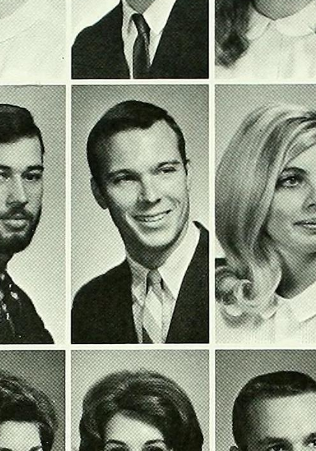 A photo of Ernie in the 1966 Florida Presbyterian College yearbook, Logos.
He is also proud of the work he and ASPEC have done to encourage diversity at Eckerd. During his time at Eckerd, he remembers the College as intentionally integrated in the face of a segregated Southern culture. The experience was formative for him.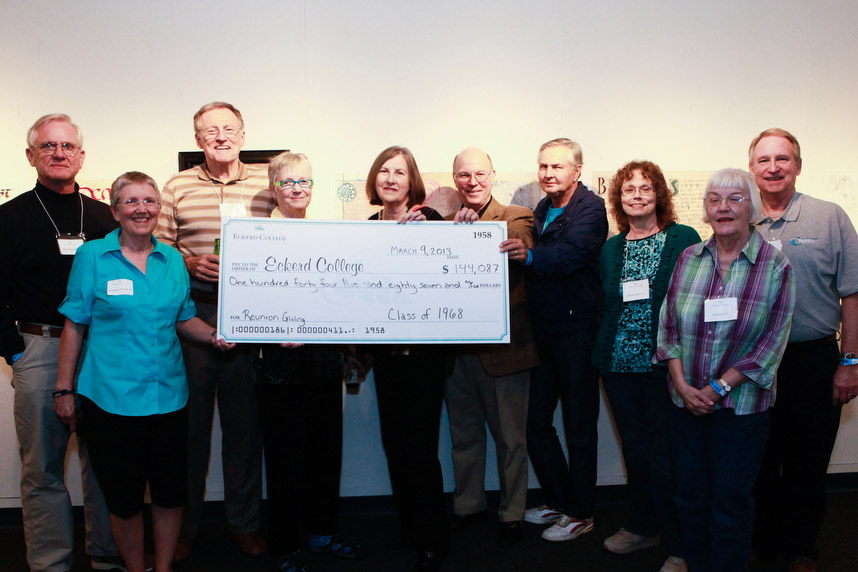 Ernie holding the Class of 1968 Class gift check with former classmates at Reunion 2013.
During Ernie's early years at ASPEC, the vice president for admission visited with Ernie's Discussing Differences group and asked for ideas to increase minority recruitment and retention. In response, Ernie and a group of fellow ASPEC members founded the ASPEC Minority Mentoring Scholarship to support students from underrepresented backgrounds and pair them with an ASPEC member mentor. The mentoring program is now open to all Eckerd students, and the scholarship has continued to support students of color through annual and endowed scholarships, both for on-campus study and global experiences.
Ernie says he thinks his fellow Eckerd alumni would find commonality with the intellectually curious minds of the ASPEC membership, as well as the intergenerational learning opportunities to connect with today's Eckerd students.
"We need to be enterprising in retirement—what are you going to be enterprising with?" he asks. "We can really be proud that the College continues to innovate with programs we can use today."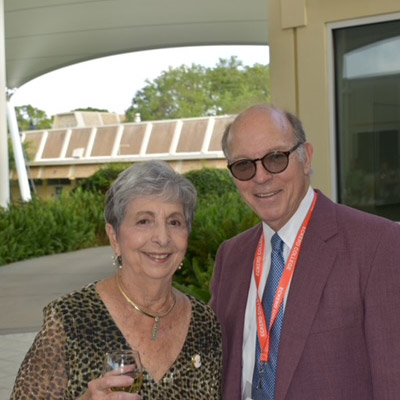 Ernie with fellow ASPEC member Dr. Julia Lewis at the ASPEC 40th Anniversary Gala on April 1, 2023, at the James Center for Molecular and Life Sciences.