Jim Rogers and Patti Raper Rogers
Class of 1972, Class of 1973
Patti and Jim became friends while they were both at Eckerd (then FPC) and stayed in touch— even after Patti transferred to another school to complete a B.S. in nursing and Jim took a two-year hiatus before completing his degree. They both moved to Miami and became roommates for practical, not romantic, reasons.
"The most important thing in the beginning was our friendship," Jim said.
They moved to Houston, Texas, in 1976 and spent 12 years dating other people before marrying (finally, said their friends and family) in 1990.
Jim spent his career in the marine industry, in the high-pressure business of scheduling barges on the Mississippi River and intracoastal waterways, while Patti became director of patient care services at Texas Children's Hospital.
"The best thing about retirement is that we have time together," Jim said. "We're always happier when we're with each other."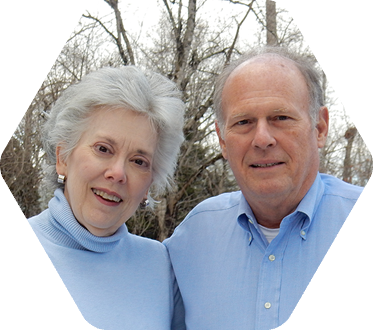 Traveling around the country in their RV with two kitties is Jim and Patti's favorite pastime. New England and the Maritimes are the first post-pandemic destinations.
"We love to explore the history and cultures and geography of America in our home on wheels," Patti said.
When they began their estate planning, they wanted to include Eckerd, where they had formed lasting close friendships and gained the tools to become lifelong learners. Jim and Patti's planned gift will go toward a scholarship for students of color, which they describe as an effort on the individual level to counteract the systemic racism that unacceptably deprives people of opportunities to reach their potential.
"People can be disadvantaged in so many ways. Money is one of them," Patti said. "If there's any way that we can lower any of those barriers, it's very important to us both that we do it."