Victoria Grant leaned back before she answered. The Eckerd College senior business administration and philosophy student from Atlanta knew she was tasked with being honest with a group of 60 visiting teens from three St. Petersburg, Florida, high schools.
"I didn't want to come to a predominantly white institution. But I was injured my senior year, so my options for soccer recruitment were limited," she explained. "Life brings you opportunities you don't know that you need."
Eckerd College's Afro American Society student club and the Office of Admission partnered to invite students from Boca Ciega, Lakewood and St. Petersburg high schools to tour the campus, meet current students from diverse backgrounds and have lunch with Admission staff.
Victoria was one of several panelists who spoke to the students about the benefits and challenges of attending Eckerd College and offered advice on the college search in general.
"I feel like more targeted recruiting events like this that reach out to students of color and say specifically, 'You belong here at Eckerd and we want you here,' are really needed," says Bri Hashim, a junior molecular biology student from Jacksonville, Florida, and president of the Afro American Society.
The club's adviser, Coordinator of Inclusive Student Engagement Ann Sherman-White '06, approached the Admission staff in December on behalf of the students to begin coordinating the student-led event and helped connect the College with local high schools and the Pinellas County School Board. Associate Director of Diverse and Inclusive Recruitment George Garcia welcomed the partnership and looks forward to many more events of this kind in the future.
"I'm so proud of these AAS students. They have really showed up," Sherman-White says. "This event has really made connections for the Admission staff with the county schools. The [PCSB] director of strategic partnerships was very impressed by our students."
Dean of Admission Jacob Browne says the event was a great opportunity for Eckerd to connect with more students in its own backyard. The current student body of 1,980 represents 53 U.S. states and territories and 39 countries, but less than 21% are from Florida. He celebrated the local high schoolers' arrival by spontaneously waiving their application fees.
"We are looking forward to working with the Pinellas County School Board for future programming—including college awareness, essay writing and FAFSA-completion workshops for local students," Browne adds. "And we hope some of them will come to Eckerd."
Demarria "Mars" Raiford, a senior at Lakewood High School, says the event helped validate their choice to apply to Eckerd—even though they had reservations.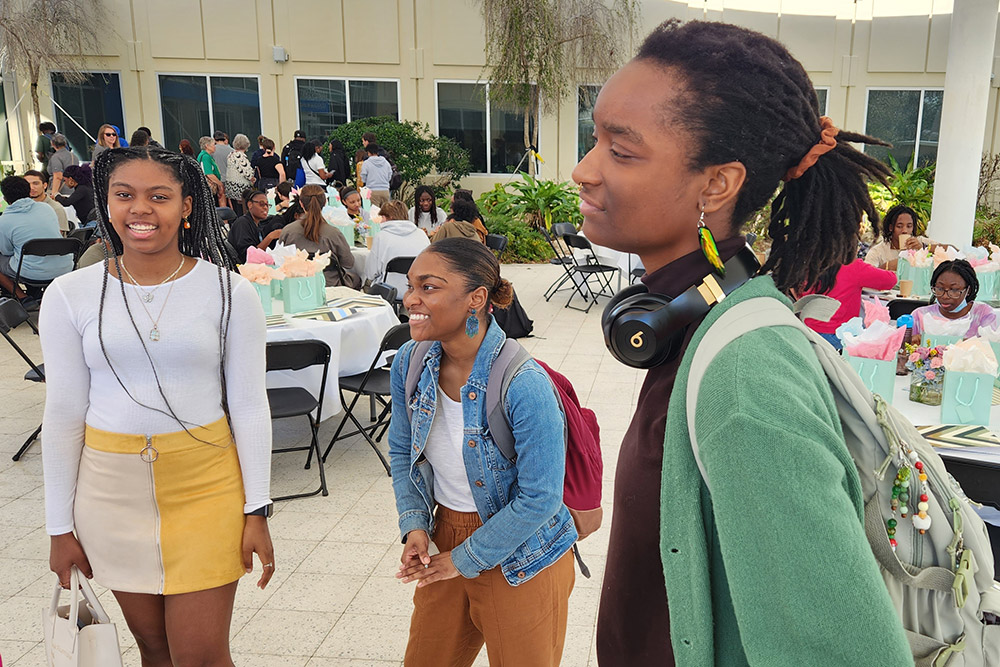 First-year student Kiara Williams from West palm Beach (right) talks to students from a Pinellas County high school about Eckerd.
"Being able to hear from students of color and LGBTQ+ students about what it is like to attend here was good. It's more inclusive than it seems at first glance," they say.
Lakewood High College and Career Readiness Coordinator Brandon Cooper says his first visit to Eckerd for something other than a basketball tournament has left a positive impression.
"It's really a nice campus, and the size of the school and close student-faculty relationships are what I will tell students about going forward," Cooper explains. "Kids think that they want to go to a big school, but they are not for everyone. Having a supportive, small community like Eckerd could make a difference."