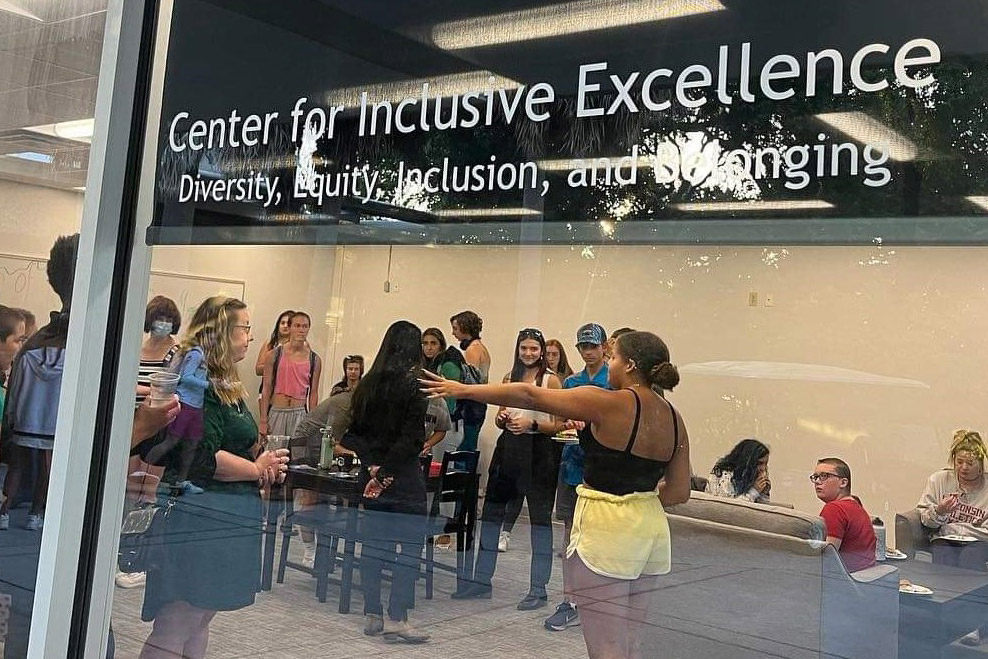 Incoming Afro American Society president Briana Hashim '23 welcomes students into the new center.
On May 11, an excited crowd gathered around what used to be the Lindsey 103 classroom to celebrate the soft opening of Eckerd College's new Center for Inclusive Excellence.
The area—filled with lounge seating and located in the same building as the Triton's Pub—was designed to be a comfortable, safe space for anyone who may need it.
"It's a hub for student activity. We wanted a [dedicated] space for Black and brown students on campus to feel safe, and some type of center where they can do homework, they can decompress, they can talk to others about what they are experiencing," said Brianna Hashim, a sophomore biology student from Orange Park, Florida; the incoming president of the Eckerd College Afro American Society; and a student assistant in the Office of Inclusive Excellence.
The Office of Diversity and Inclusion in Fox Hall long served as a meeting space for students, but groups gradually outgrew that space. This new, larger center is for all sorts of inclusivity, diversity, equity and belonging, according to the office's student assistant Kayla Rendon-Torres, a sophomore environmental studies and biology student from Chandler, Arizona.
"This space is for all of you. It's not a space where anyone is left out—this is inclusive excellence," she said to the crowd at the soft-opening reception.
Aryelle Lipscomb, a senior biology student from Nashville, Tennessee, and the outgoing president of the Afro American Society, has been advocating tirelessly for this larger space for over three years. In Spring 2021, AAS had organized a protest following a racially sensitive incident during the student government elections. One of the products of that event was a list of requests addressed to the College administration to improve the sense of belonging on campus.
Within a week, student leadership was invited to speak directly to President Damián Fernández, Ph.D., and his Executive Staff. That's when the ball started rolling on the new space. "We've put in a lot of work picking out the furniture, working with people to get the carpet redone, the painting, everything," Brianna explains.
A space like this on a college campus provides a student with a home away from home, a place of comfort where they can feel free, and a resource where they can decompress and engage with like-minded individuals who support and embrace diversity in all its forms," said Beverly Warren, Ed.D., the College's first-ever executive director of inclusive excellence.
Students were already lounging on the couches and fostering discussion among their professors and peers moments after the ribbon was cut.
As Vice President for Student Life and Dean of Students Jim Annarelli claimed, "May it always be a space that leads us to a better Eckerd College, and a brighter future."