After retiring to St. Petersburg, Chrissy Jackson '16 had a long career behind her, four grown children, several successful business ventures, and an exciting retirement stretched out ahead.
It was a full life.
But then, in 2010, Chrissy and her husband joined ASPEC, the Academy of Senior Professionals at Eckerd College. She became a "discussant colleague," volunteering to assist Eckerd professors in the classroom. After one class with Professor of Physics Harry Ellis (now retired), Chrissy realized the possibility offered by education didn't have to be an opportunity that had passed her by.
"I was so impressed with his learning and his knowledge in so many different areas, and the way he could convey that to students—the excitement in the classroom that I got to experience." she says. "That's when I decided, I can do this."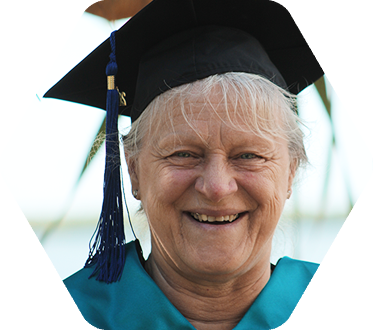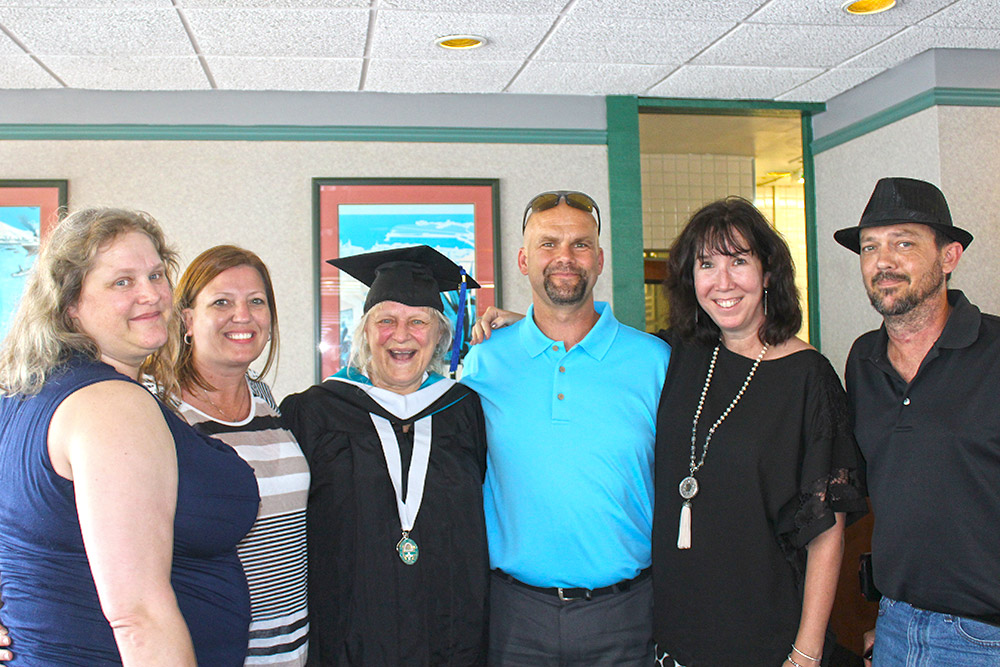 Chrissy Jackson with her five children, Jody, Charity, Richard, Tina and Jason (left to right)
Chrissy enrolled in PEL, the Eckerd College Program for Experienced Learners, a night-class and weekends bachelor's degree program geared toward older students with careers. She was among the final years of PEL students to graduate, as the program was discontinued beginning in 2016, the year she graduated with a degree in organizational studies.
She didn't stop there. Now at 72, she is a recent master's graduate and is working on coursework for a doctorate in business administration. She recently spoke at the Commencement for Western Governors University, where her daughter, Jody, and granddaughter Asya were also receiving master's degrees.
"Education has broadened my horizons," Chrissy says. "I have learned a lot more theory about why things are done the way they're done. I think it has enhanced my critical skills in terms of solving problems and thinking through situations."
Chrissy says her experience with PEL was the springboard to her love of higher education. She has remained involved with Eckerd and with ASPEC, where she currently serves as the elected president of the organization. She believes she and her fellow PEL students had an enhanced ability to see the big picture of how classes would benefit, and be applicable to, their lives.
"The camaraderie that's developed in the classes in PEL is no different from the camaraderie that the undergraduate students develop now," she says. "The maturity that came with us as a PEL student just made all the difference in the world."
She graduated with a 4.0, even after choosing to take a particularly difficult residential student course—an introductory Arabic class—with a friend in PEL for fun. She now calls Professor Qays Majeed her favorite teacher during her time at Eckerd, recalling how they would open class by singing the Arabic alphabet song.
"It was a real eye-opening experience for me—hey, I can really learn something this hard at this age and do well," she says.
Even prior to her experiences in the world of formal education, Chrissy was no stranger to learning or teaching. During her long career in property management for manufactured home communities, she wrote monthly articles for five trade magazines, wrote 39 property management handbooks, and has revised the accreditation textbook and course for the community manager designation.
She also was familiar with paving her own path, not as the oldest student but as a member of the first generation of women to advance in the corporate world.
"At the time, the culture for women, especially for women who were beginning to break the glass ceiling, was very intimidating," she says, remembering a time when she attended a corporate meeting as a vice president on the executive floor and had to go down three floors to find a women's bathroom. Once her division began to generate $21 million in profit annually, she says, attitudes began to change.
While she never let her lack of higher education hold her back, Chrissy says she is proud to be an example now for her five children, 23 grandchildren, and 14 (and counting) great-grandchildren.
"I want to show my children and my grandchildren that higher education will benefit them," she says. Many of her children have recently gone on to obtain their master's degrees. "While it's never too late to get an education, doing it sooner makes a big difference."