When Melissa Seixas '92 was choosing her major at Eckerd College, she thought her decision to study history was in conflict with her lifelong dream of becoming an engineer.
In the Eckerd classroom, she devoured the stories of the Civil Rights Movement and World War II. In her extracurricular job at a local electric company, she worked part time in the drafting department, drawing poles and wires on the map of the power grid.
"I had what I thought were these two competing interests," she says.
More than 30 years later, she credits those "competing" interests with her success in a high-profile job as the state president in Florida for Duke Energy, where she has spent her entire career after starting in the drafting department of what was then Florida Power. She was named state president in 2021.
"I guarantee you, I am the absolute first American history major to lead this company," she told a group of students and Eckerd community members at a Women's Leadership and Empowerment Dinner in Spring 2023.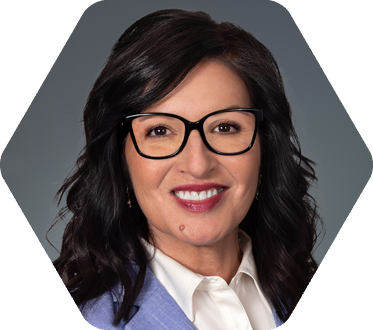 Melissa Seixas '92 speaks at the Women's Leadership and Empowerment Dinner March 8, 2023, on Eckerd's campus. The event was hosted by the Women's Resources Committee and Rigg Center and ASPEC to mark International Women's Day. 
"I've always worked with attorneys and accountants, and I need all of them, but coming into a very operational, technical industry like energy with a humanities degree has been a key to my success."
After her father—an Army colonel from whom she inherited her love of history—passed away when she was 13, Melissa needed to stay close to home for college to help her mother, making Eckerd her top choice.  After graduation, she went on to earn a master's degree in American history from the University of South Florida, where she now serves on that institution's Board of Trustees.
From her time at Eckerd, she remembers professors who made it clear they cared about students, and she especially remembers her mentor, Professor of American Studies and History Carolyn Johnston, as a guiding light.
"I think because the professors were so approachable, at that fairly young age [for me], they really helped develop a level of confidence in me," she says.
Throughout the years, she stayed at the same company—first Florida Power, then Progress Energy, and now Duke—and climbed the ladder through operations and public affairs instead of engineering, as she had once planned.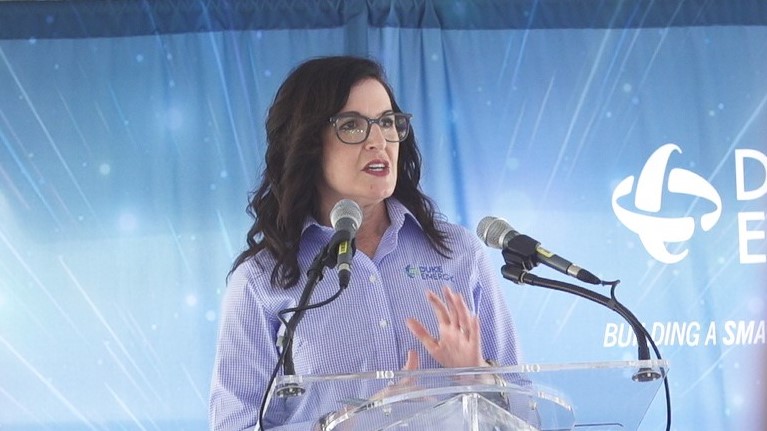 Duke Energy Florida President Melissa Seixas '92 at the ribbon-cutting for the state-of-the-art Bayboro electrical substation, built to help meet the power needs of downtown St. Petersburg
The humanities degree that made her an anomaly in the energy industry gave her the understanding to see the big picture, identify stakeholders and interpret different perspectives, skills she values now in hiring.
Once, when transitioning from operations to the public affairs group, she had a final interview. She walked into the director's office, and he just had one question: why did she major in history? Melissa said she responded with what she always said when asked that question: messages of how studying the humanities had given her the understanding to build bridges.
"He said, 'Hey, you've got the job, I was just really curious,'" she remembers with a smile.
"The skill sets that were honed and sharpened in the liberal arts program at Eckerd made me stand out a little bit from the people I worked with."
Melissa says she is proud to work for a company committed to being on the leading edge of reducing carbon, and that Duke Energy adds approximately 1,500 homes with solar to the grid every month. She says the company wants to be on the forefront of sustainable energy solutions, both from a business and from an environmental stewardship perspective.
"Our customers are our No. 1 priority," she says. "What's important to them is important to us."
Being Duke Energy's Florida president comes with the knowledge that 1.9 million customers depend on her and the company. After 36 years with Duke, she has deep roots in both the company and the community she serves.
Those relationships were reciprocated when her husband was diagnosed with cancer. She remembers colleagues making meals and picking her son up from school during her husband's diagnosis and nearly two-year battle with pancreatic cancer (he remains in remission 11 years later). She recalls the kind notes during that time from people she had met through her work or volunteer service on community boards, every one of which she saved.
While Melissa says she never expected to serve as Duke Energy's president, she takes tremendous pride in filling the role. She hopes that Eckerd students can see her path and know that a place exists for them in the community after graduation as well.
"Eckerd College and its students have so much talent and value to bring to the St. Petersburg area," she says. "Their experience on the educational front, combined with real-life experience, helps them connect with the community. What I really would like to see is for students to make St. Petersburg home."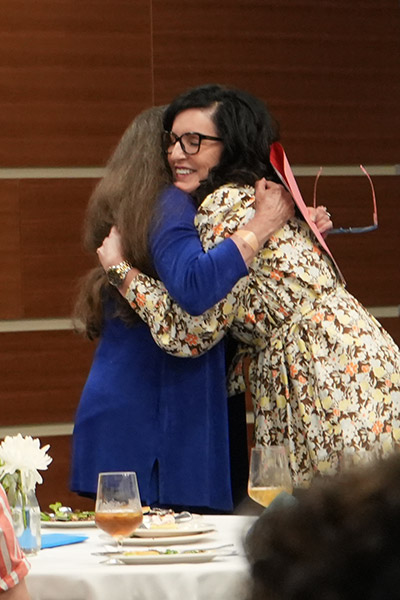 Melissa reunites with her mentor, Professor of American Studies and History Carolyn Johnston.