Sarah Sieloff '06 has spent her 15 years post-Eckerd College creating a career that defies neat categorization. If the multiple choices were a) urban planner, b) writer/researcher, c) public servant, and d) nonprofit leader, the answer would be e) all of the above.
But with an Eckerd experience where she names biology classes, Spanish Translation, and Hunger, Justice and Plenty among formative coursework, it fits that Sarah would take an all-inclusive approach to carving her path. She says the questions she learned to ask in college shape her decisions and thinking today, starting with her introductory Autumn Term course in Buddhist Philosophy.
"That really set the tone at Eckerd: everything is connected," she says. "There is no wrong door to knowledge."
While her life has now circled the globe, before Sarah came to Eckerd she was a born and bred Washington State resident who had never been further east than Montana. A copy of "40 Colleges that Change Lives" gifted by her father planted the seed of Eckerd in her mind. A red-eye flight to visit sealed the deal, with the College's uniqueness evident even upon her arrival at 2 a.m.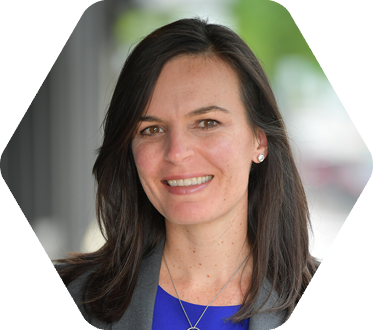 "There was this electric energy from the moment I set foot on campus," she says.
Upon graduating from Eckerd with degrees in Spanish and International Relations and Global Affairs, Sarah launched into work that would take her around the world. She taught English in Thailand for six months on a Fulbright Fellowship straight out of Eckerd and later helped expand an ambulance service in India. She earned a master's degree in public affairs from Princeton University, and spent 10 years pursuing a passion for cities and their effect on people's daily lives. She held roles in federal government agencies and then led the Center for Creative Land Recycling (CCLR), a nonprofit that focuses on converting vacant land to uses that revitalize communities and contribute to the economy.
But running a nonprofit made her miss the days of diving into life's big questions instead of researching 401(K) plans and fundraising. She took a leap, serving as a Council on Foreign Relations Hitachi Fellow in Japan researching population aging and decline.
During that time, she thought back to her Eckerd Spanish Translation class—taught by Professor Yolanda Molina-Gavilán. She was traveling through Japan from her home base outside of Tokyo and focused on how local governments were dealing with population decline. While those concepts may sound clinical in the abstract, in practice it meant interviews where she asked lifelong residents how they felt about the death of their village.
"That translation class really opened my eyes to a lot of broader questions about, what is language anyway?" she says. "What is the nature of meaning and how do we convey it?"
While she describes herself as functionally illiterate in Japanese, her translation experience helped her think about how to frame questions and how to translate the answers.
"My running joke is I know a little more than 10 percent of what it takes to read a newspaper," Sarah says. "It was thrilling to find myself picking up this new language and using it to communicate, even badly."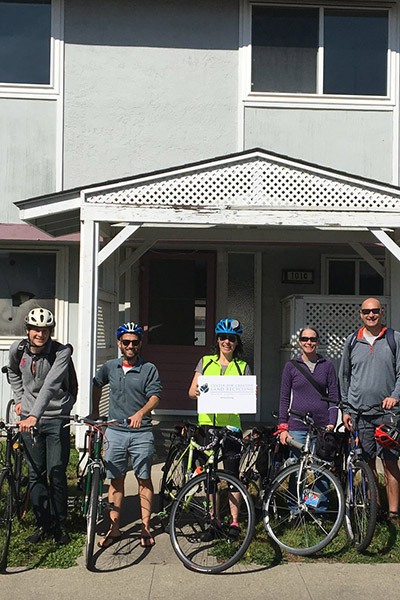 Sarah helps lead a bike tour of redevelopment sites in Alameda, California. In the background is former U.S. Coast Guard housing that is slated for redevelopment.
She is working on a paper outlining her findings now, which she says echo in the developed Western world as it faces its own population decline. The fellowship, the beginning of which coincided almost exactly with the beginning of the pandemic, was a restorative experience for her—a mentally energizing experience that she says feels much like visits to Eckerd.
That connection back to Eckerd has been a common thread throughout Sarah's adult life. On the top of Sarah's list of skills is networking with fellow Eckerd alumni wherever she goes. Larry Greenwood '74 was instrumental in helping her prepare for and navigate Japan. While in Japan, she interviewed Eckerd alumnus and former Peace Culture Foundation chair Steve Leeper '69 for an article on the survivors of the atomic bombing of Hiroshima. She also worked with Thomas Lang '19 to launch an Eckerd alumni group for people with Japanese connections, from international alumni to those who participated in exchange programs back to the 1970s and 80s. When she moved back to the U.S. and started her new job as a senior planner at the environmental consulting firm Maul Foster & Alongi, she was excited to find a new colleague in John McKenzie '04. She also taught a Winter Term course on public policy, mentors Eckerd students through the Career Mentor Program and serves in a leadership role on the National Advisory Council.
Ultimately, the questions that guided her learning at Eckerd continue to guide her through life.
"What is the thing that I can do that is most within my power to make the world a better place? I'm still wrestling with that," she says. "As we say at Eckerd, your intellectual journey has no end."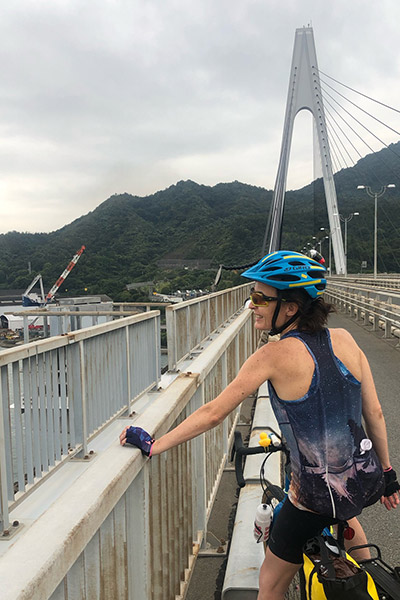 Sarah in Japan riding her bike over one of the seven bridges on the Shimanamikaido, a bike route that goes from Honshu (big island) to Shikoku (littlest main island) in Japan.