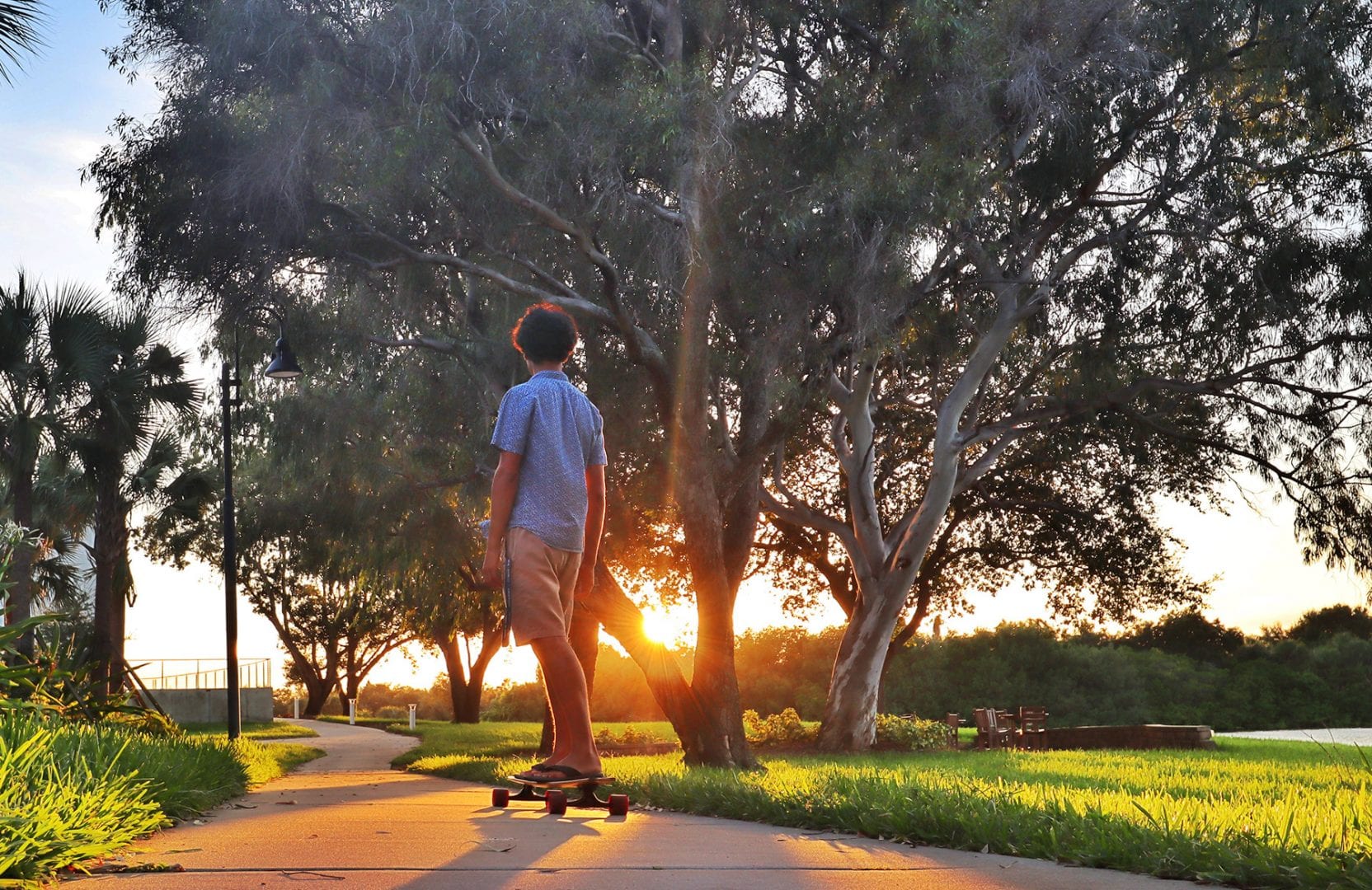 Joe Salcedo '23, a Diversity Leadership Scholar, skateboards across campus. Photo credit: Joe Salcedo
Entering its fourth year, Eckerd College's Diversity Leadership Scholars program is graduating from a merit scholarship award to a four-year experience for all its recipients.
Beginning with the Class of 2025, Diversity Leadership Scholars will receive a merit scholarship award, an additional $2,000 stipend for study abroad, and leadership training from the Leadership Development Institute at Eckerd College—and will be connected with a professional (possibly alumna/us) mentor in addition to the faculty and peer mentors paired with all Eckerd students. The Diversity Leadership Scholarship recognizes talented students likely to provide campus leadership in the areas of diversity and inclusiveness. Preference is given to students from underrepresented backgrounds.
"We really examined what we were offering, and we decided that it should be more of a program than a scholarship," said John Sullivan, Eckerd College's vice president for enrollment management and dean of admission and financial aid. "We want to give the students yet another opportunity to grow fully while at Eckerd, and adding these high-impact practices of leadership training and study abroad will make that a possibility."
Current Diversity Leadership Scholars have quarterly meetings with Coordinator of Diversity and Inclusion Programs Morgan Harthorne and are encouraged to find a leadership position on campus during their time at Eckerd. "For our students, that often translated to starting a club, but that's a difficult model to keep going as the number of students admitted through the program increases," Harthorne said.
Harthorne explained that the scholarship recipients have grown from one student in 2018 to 15 in 2020, and the College expects even more in the fall of 2021. The restructuring of the program will include specific plans for each year of matriculation, including: monthly meetings during the first year to acclimate students to campus life, various cultural clubs, and resources such as the Counseling Center and the Bevan Center for Academic Excellence; monthly meetings during the second year to introduce the students to St. Petersburg through tours and conversations with community leaders and business owners; collaborating as a cohort during the third year to conceive and complete a project that directly impacts diversity and inclusion efforts on campus; and spending the fourth year mentoring a first-year student in the Diversity Leadership Scholars program.
"My hope is that this is going to create more opportunities," Sullivan said. "Adding study abroad help and the Leadership Development Institute will give our students the chance to see different aspects of the world and really learn what their leadership style is. Their contributions to our campus will be just as impactful as the College's investment in their education."