At Eckerd, you get your own faculty mentor to help you map out a personal 4-year plan that can easily include study abroad, an internship (or two) and independent study on a topic you choose.
In 2015, then-freshman Helena Hurbon met Dr. Anne Cox in her fall class on 3D modeling and micro-control electronics.
That class planted the seed of what is now the MakerSpace, a campus club open to all students. It's a natural draw for students enrolled in Eckerd's 3-2 Engineering program.
The MakerSpace is equipped with a 3D printer, woodworking tools, a sewing machine and a blacksmith station. Students use the space for everything from crafting metal S-hooks for their hammocks to creating custom hand spinners on the MakerSpace printer. One student used the printer to design a rubber-band car for use in middle school science labs.
"The beauty of having a 3D printer is you can print something up, try it and see if it works," says Dr. Cox. "It's also great for building replacement parts."
Which is exactly what Helena did. She used it to make a lighter, more portable adapter for the core sampler her science research team took to Cuba last January. Her classmate William Powell '18 and his roommate used the MakerSpace woodworking and blacksmithing tools to make the prototype for "Simply Slide," a track-mounted eraser that cleans whiteboards in one swipe. Simply Slide won a $5,000 grand prize in the 2017 Frank and Ellen Daveler Entrepreneurship competition in Tampa.
Helena, who intends to enter the 3-2 Engineering program and hopes one day to pursue robotics and restorative medicine for people who have lost limbs, frequently turns to Dr. Cox for advice. "She's a powerhouse—she knows what she wants and she fights for it. It's good to have a woman mentor in a science field."
Helena Hurbon '18
Majors: Physics
Hometown: Tucson, AZ
Dr. Anne Cox
Professor of Physics
Tia Hildebrandt followed her love for monkeys to a college known for marine science.
The distinguishing connector was her academic mentor, Dr. Lauren Highfill, who played a key role in Tia's success by helping her mesh two majors with her passion.
"Professor Highfill really helped me get my foot in the door of the research field here in Florida," says Tia. "I first became interested in orangutans in a program called Kid Science at the Pittsburgh Zoo," she recalls. "There was a baby orang I thought was very cute."
Since then, she's done four internships at primate reserves in Florida, Kentucky, Georgia and Nebraska and devoted one summer to studying orangutans. The recent grad spent her last semester of college taking classes while working at Tampa's Lowry Park Zoo. The appeal? "Orangs are supersmart, and the juveniles are sort of silly," Tia says. "I really like their fun nature."
Dr. Highfill has only positive things to say about her primate-focused mentee. "Tia started out as a research assistant in our campus Comparative Psychology Lab," she notes. "By her senior year, she was managing the lab. She is the cream of the crop."
Up next? Tia is currently waiting for word on her Fulbright application to work in Africa with colobus monkeys that are injured or orphaned.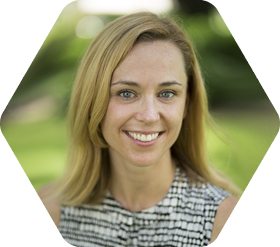 Dr. Lauren Highfill
Associate Professor of Psychology
Greg Johnson had a question.
Greg Johnson had a question. Why don't crowdsourcing platforms like MindMixer and Peak Democracy work for cash- strapped local governments?
The U.S. Patent Office uses crowdsourcing to evaluate patents. The Transportation Security Administration used it to develop a more efficient security line at airports. Why don't city governments use it to get public feedback on proposed laws, or even co- create laws with citizens?
This is just the sort of out-of-the-box thinking Professor of Political Science Bill Felice loves. "I didn't have any background in this at all," Greg says. But once Dr. Felice agreed to supervise his project, Greg found the syllabus from a grad school course to use as a guide.
His findings? "Crowdsourcing platforms are often built by tech people who have little knowledge about the political process and are managed by political staff who have little knowledge about information communication technology." As a result, these efforts aren't as successful as they could be. So Greg created "The eParticipation Progress Bar," which illustrates the need for greater collaboration between government administrators and the developers who create the crowdsourcing software.
With graduation behind him, Greg headed to Oxford in England, where he earned an MSc in Social Science of the Internet. He now works as a trust and safety analyst at Google's European headquarters in Ireland.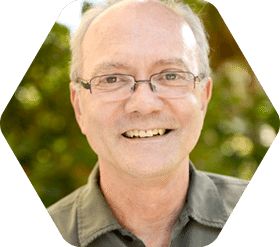 Dr. William Felice
Professor of Political Science