At Eckerd, you get your own faculty mentor to help you map out a personal 4-year plan that can easily include study abroad, an internship (or two) and independent study on a topic you choose.
Alina Fernando traveled more than 9,000 miles to start college at Eckerd two years ago.
She didn't know a soul. Like every new student here, she took her first college class during Eckerd's three-week orientation. Dr. Jeff Felardo taught that class, Managing the World's Forests, so he was one of the first people Alina met on campus.
Since the class focused on climate change, it didn't take place entirely inside a building. Students met Dr. Felardo in the mangroves and palm hammocks on campus, as well as at nearby Boyd Hill Nature Preserve, Fort De Soto Park and Indian Key.
"Professor Felardo was extremely helpful in my transition," says Alina now, "especially when I needed to know about significant events that occurred in U.S. history. I was only taught European history and history on my country in Sri Lanka," she explains.
"I believe they left [my World's Forests class] with more questions than answers," says Dr. Felardo, "because there isn't just one answer for how to grow a forest." But that, he says, is the goal of Autumn Term. "Question everything—we don't know all the answers."
Tia Hildebrandt followed her love for monkeys to a college known for marine science.
The distinguishing connector was her academic mentor, Dr. Lauren Highfill, who played a key role in Tia's success by helping her mesh two majors with her passion.
"Professor Highfill really helped me get my foot in the door of the research field here in Florida," says Tia. "I first became interested in orangutans in a program called Kid Science at the Pittsburgh Zoo," she recalls. "There was a baby orang I thought was very cute."
Since then, she's done four internships at primate reserves in Florida, Kentucky, Georgia and Nebraska and devoted one summer to studying orangutans. The recent grad spent her last semester of college taking classes while working at Tampa's Lowry Park Zoo. The appeal? "Orangs are super smart, and the juveniles are sort of silly," Tia says. "I really like their fun nature."
Dr. Highfill has only positive things to say about her primate-focused mentee. "Tia started out as a research assistant in our campus Comparative Psychology Lab," she notes. "By her senior year, she was managing the lab. She is the cream of the crop."
Up next? Tia is currently waiting for word on her Fulbright application to work in Africa with colobus monkeys that are injured or orphaned.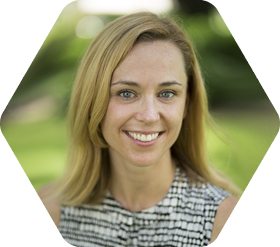 Dr. Lauren Highfill
Associate Professor of Psychology
Ken Tremblay first met Dr. Scott Burnett in his Intro to Anthropology class. "At the end of it, he pulled me aside and asked me what I wanted to do," Ken says. According to Dr. Burnett, Ken answered, "I'd like your job."
Dr. Burnett was so impressed with Ken's work that he asked the first-year student to join him for summer research in Thailand. Ken describes it as five weeks in a hole underground in 100-degree temperatures. "It was awesome," he says now. "I loved it."
For his senior project, Ken set out to resolve a problem among anthropologists who study the intentional removal of teeth in various cultures. The problem is, there's no standard way of determining whether a tooth missing from a skull was intentionally removed or lost through decay or injury. "What Ken did was rather elegant," observes Dr. Burnett.
Ken spent 10 days at the Smithsonian Institute examining 849 skulls of nonhuman primates. Based on this research, he came up with a scoring method that could be used by researchers to rate the likelihood that a particular tooth was intentionally removed.
Ken presented his findings at the American Association of Physical Anthropologists meeting in Austin, Texas, this past spring. "A fairly prominent dental anthropologist from England said he thought it was master's-quality research," says Dr. Burnett.
Ken, who plans to pursue a Ph.D. and ultimately teach at the college level, credits Dr. Burnett for his success. "That one-on-one connection has made my undergrad experience so much more valuable. He helped me find the right path to independent research."