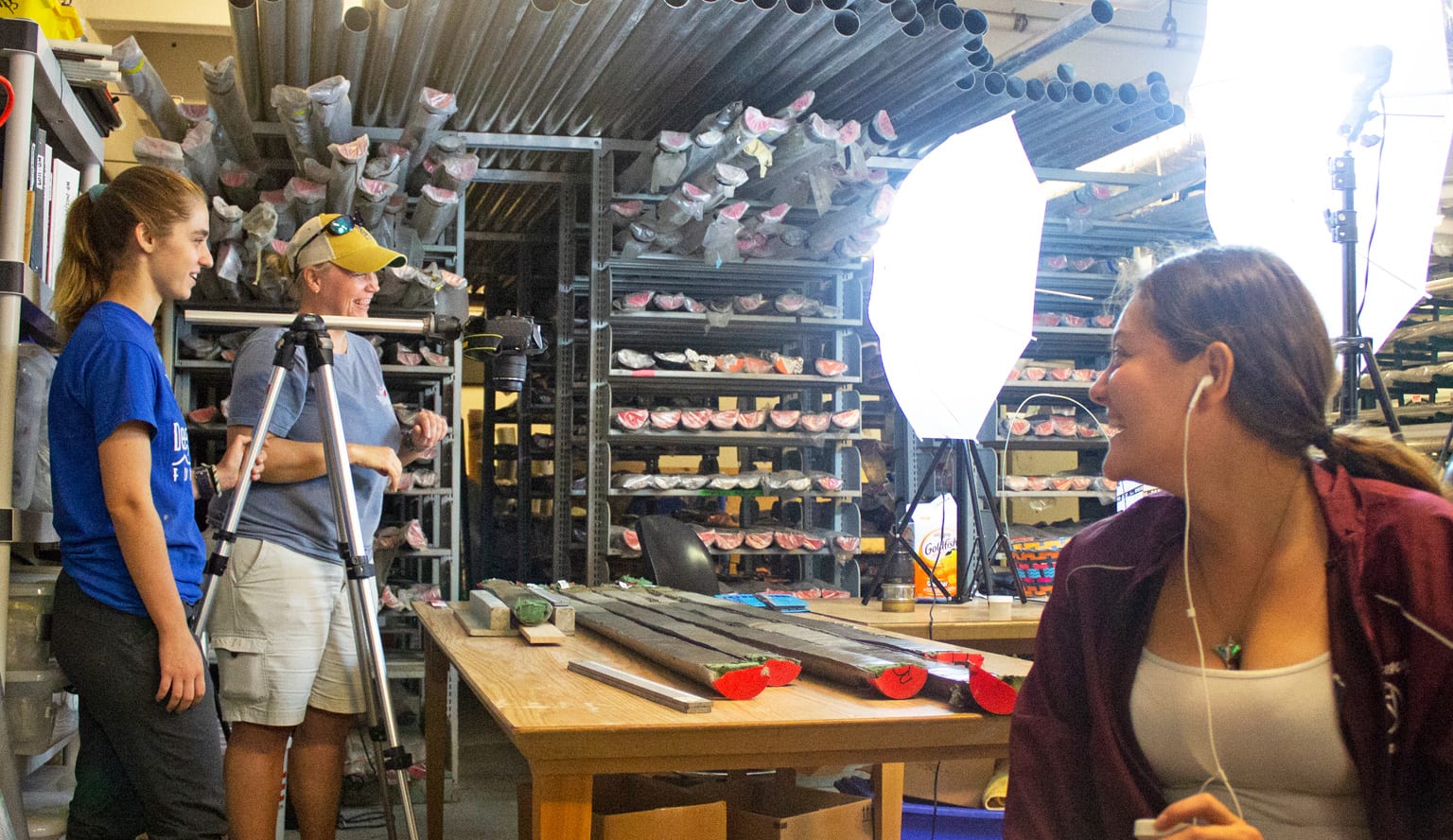 Research Scientist Rebekka Larson '01, Ph.D., second from left, takes hi-res photos of core samples with help of student researchers Debanhi Jimenez Reyes '21 and Eleanor Sarder '21. Photo: Michel Fougères, June 2018
Two grant-funded projects aimed at learning more about red tide and other harmful algal blooms in Florida were awarded to Eckerd College marine science faculty this fall.
Professor of Marine Science and Geosciences Gregg Brooks, Ph.D., and Research Scientist Rebekka Larson '01, Ph.D., are joining longtime collaborators from the Royal Netherlands Institute for Sea Research (also known as NIOZ) and the University of Utrecht–the Netherlands in a four-year study of "Harmful Algal Blooms from the Present to the Past: A (Paleo)ecological and Genomic Approach." Brooks and Larson's work will focus on historical harmful algal blooms—preferably from before human influence was possible—while Visiting Assistant Professor of Marine Science Patrick Schwing's grant from the Florida Fish and Wildlife Conservation Commission (FWC) will fund the study of changes in sediment during active harmful algal blooms next spring and summer.
"The projects are both in partnership with FWC and are very complementary, even though the time spans are different," said Schwing, a 2006 Eckerd graduate with a Ph.D.
NIOZ and the University of Utrecht allocated $423,780 to fund the work of doctoral candidates on algal blooms, and Brooks and Larson have been tapped to provide planning, logistical support and fieldwork including sediment core sample gathering and studies of the cores. A portion of the total project allocation will be awarded to the Eckerd College team to cover costs and student research associates.
"We've known for a long time that these harmful algal blooms exist, but we're still not sure what causes them and to what extent humans have had an impact on them," Brooks explained. "Geologists look back in the sedimentary record and try to identify what has happened in several thousand years to determine the natural variability."
Brooks's specialty is sedimentary dating, which will be combined with the expertise of the Dutch collaborators—finding evidence of harmful algal blooms using signatures found in the algae's makeup.
"This is where the interdisciplinary nature of the projects is revealed," Larson said. "Dating the sedimentary record is only one part of the project."
Larson estimates that four student research associates will be needed each year of the project to help with fieldwork, lab analysis and equipment maintenance. Brooks said that may give opportunities to up to 20 students over the course of the grant.
Schwing will also be employing student researchers for work on his $32,500 grant from FWC to study "Investigations in karenia brevis bloom benthos coupling in coastal West Florida shelf region." Sediment core samples collected in the spring prior to red tide or other harmful algal blooms will be used to establish baseline health and relative abundance of species in particular areas near the west coast of the state. After the bloom, scientists will gather sedimentary samples from the same areas to learn how the bloom affects the overall seafloor health and possibly pinpoint something important.
"It has been hypothesized that there are seeding areas filled with red tide cysts offshore, and if that is true, we are going to try to find them and minimize that threat," Schwing explained.
He and his team are expected to deliver their first report to the FWC on June 15, and the possibility remains that the project will be renewed annually until results are conclusive and helpful for mitigation of these algal bloom events.