Looking back, Pratichi Shah '91 says the seeds of the businesswoman she would become were already in the soil at Eckerd College. 
No surprise, then, that the woman who created her own major combining business, economics, sociology and psychology would today be using those skills to advise nonprofits about how to improve their work culture.
"So many people say, 'I went to school and studied something that I never use,' but no. The foundation was there," Pratichi said.
As CEO of Flourish Talent Management Solutions (FTMS), Pratichi consults with nonprofits and philanthropies to help them become healthy organizations that are more impactful and equitable. She said sometimes in a mission-driven organization, the singular focus on the mission takes precedence over developing a healthy culture and making sure employees feel valued.
That's where FTMS comes in. Pratichi's clients include not-for-profit organizations that focus on a variety of issues: civil rights, youth and community development, education, women's issues, social justice, environment, health care, and arts. She speaks with both executives and employees, assesses where the organization is, and charts a map for where they need to be. She also provides training and coaching along the way.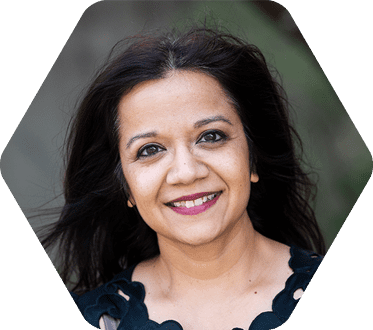 "There is no doubt in my mind that Eckerd contributes, to this day, to who I am as a human being and as a professional," she said, noting that the liberal arts education gave her a broad base from which to work. "In order to understand different people and organizations, you have to be able to look deeply at different aspects of many things."
After graduating from Eckerd, Pratichi earned an MBA from American University with a specialization in human resources. She took those degrees and charted a successful career in the field in both corporate and nonprofit organizations. She rose to become global director of the Employer of Choice function for Willis Towers Watson (then Watson Wyatt Worldwide), a large HR consulting firm.
Feeling that she wanted better values alignment in her work, she returned to the nonprofit sector as the chief talent officer for a national nonprofit and then, in 2010, founded FTMS to help organizations evolve their culture and create a sense of belonging for their employees. Her work has a special focus on equity and inclusion—an experience made personal, she notes, by knowing how it feels to be the only person in the room whose name people struggle to pronounce.
"The kernel of all of the ideas was formed at Eckerd," she said. "I didn't want to do more transaction-oriented things … for me, it was always about what makes an organization work and how it gets great at what it does."
Despite hailing from a short distance away in Lakeland, Florida, Pratichi said Eckerd felt like a very new experience, with people from all over the country and varied backgrounds, and she valued the informal atmosphere where she could call professors by their first names. She remembers now–Dean of Faculty Suzan Harrison as an invaluable member of her thesis committee, providing encouragement and guidance.
"Eckerd really married 'you can be yourself' with 'you can build what you want,'" she said.
Pratichi remains close personal friends with some undergraduate classmates, including Eckerd Trustee Jeff Moreno '88, and recently has enjoyed getting back in touch with her Eckerd roots. She is a new member of the National Advisory Council, a group of committed Eckerd alumni, parents and friends with demonstrated professional success who serve the College in the capacity of advocates and advisers. She said talking with others in the Eckerd community has reminded her of the shared language of those who love the College.
Pratichi said she would advise current Eckerd students to lean into the experience and take advantage of everything it offers.
"Any part of our life, it is so easy to let it get caught up in the blur," she said. "This is special; it's unique. It's extraordinary in many ways. So it's important to be mindful of that."