The study of societies and their systems
A degree that stands the test of time
There's no denying it — humans are social. Whether you're fascinated by social institutions like work and marriage or outraged by ingrained systems of inequality, the Eckerd College Sociology major is your chance to get to the bottom of it. Graduates leave our Florida campus for grad school and careers in law and justice, research and data analysis, public health, social work, and business.
Better preparation for grad school
Compared to large schools where introductory classes often have hundreds of students, Eckerd's small size means you'll get extensive training in both quantitative and qualitative research methods.
Not only will you have the chance to help professors with cutting-edge research — on topics like time and temporal experience, art and culture in urban areas, and sexualities and gender — you can also design your own research study.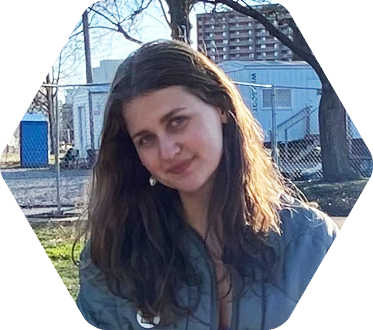 "The sociology faculty are gifted scholars with wide-ranging interests. More importantly, they are caring instructors and mentors who encouraged my growth and the development of skills which directly shaped the trajectory of my career path after Eckerd. I was able to gain sociological research experience as an undergraduate student, which has been useful for my graduate career. The relationships with faculty that I was able to build continue to impact me. My mentors still share in my joy when I accomplish something, and I still reach out to them for advice and support."
— Savannah Bastian, Class of 2019, sociology Ph.D. student at Vanderbilt University
>In addition to internships in various law offices and on political campaigns, our Sociology majors have interned with:
Art galleries

PARC

, a facility for intellectually disabled adults
Two students are currently working as editorial interns for a sociological research journal published in Romania.
One good way to gain the kind of skills grad schools like is to help your college professors with their research. At Eckerd, you can apply for student research assistantships on topics like:
Gentrification and urban planning
LGBT issues
The study of time and temporal experience
Take a tour of sociological research on deviance, which is understood as the interaction between those doing something and others who feel offended or threatened by what they are doing. Learn how societies and social groups come to view behaviors as either deviant or conventional.
This class is a deep dive into how society shapes our sexual behaviors, desires and identities. Topics include LGBT issues, hook-up culture, kink, intersectionality, schools, the law, the media and sex work.
What can I do with a sociology degree?
Crime scene investigator
Data analyst
Detective
District attorney
FBI field agent
Health sciences grant administrator
Lawyer
Marketing and public relations specialist
Police officer
Private investigator
Professor of sociology
Professor of criminology
Social worker
Substance abuse counselors
Youth program coordinator
Where our sociology majors go to graduate school
Ave Maria School Of Law
Broward College
Chicago School Of Professional Psychology at Irvine
Drake University
Emory University
Florida Gulf Coast University
Harvard University
Lynn University
Marymount University
National University
North Carolina State University
Saint John's University
St. Edwards University
St. Petersburg College
Stetson University
Teachers College, Columbia University
The University Of Memphis
University Of California Irvine
University Of Central Florida
University Of Colorado Denver
University Of Hawaii
University Of Houston
University Of Massachusetts Amherst
University Of New Hampshire
University Of San Diego
University Of South Florida
University Of Wisconsin-Milwaukee
Valdosta State University
Vanderbilt University
Washington State University
Where our sociology majors go to work
Sign up for more about Eckerd and our sociology program