Economics for a complex world
Environmental Economics. Leadership: the Human Side of Economics. These are just two of the courses you probably won't find at most colleges but you will find in Florida here at Eckerd. You'll also find a one-of-a-kind experience here, thanks to the Economics department's 4:1 student:faculty ratio. You can expect praise when you've been brilliant, but also a nudge when you need it.
Fascinating research options
Whether you're intrigued by natural resource economics, human and social economics, labor economics or economic development in African, Asian and Latin American countries, Eckerd has it all.
Recommendations that open doors
Because of the department's very small size, your professors will know you well enough to write detailed and thoughtful letters of recommendation. They'll also be able to match you up with the right internships and research experiences.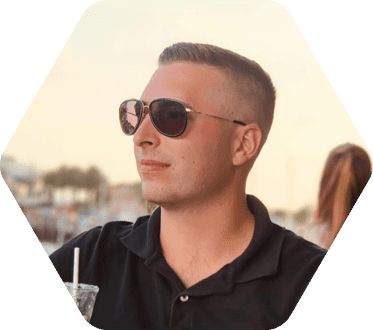 "One of the best things about an Eckerd education is the easy access to faculty. Lots of schools have highly qualified professors and good curriculums. But Eckerd takes it a step further by creating an environment where students and faculty can develop personal relationships. Some of my favorite Eckerd memories are going into one of my professor's offices to ask one question and not leaving for 45 minutes because we just sat and talked. This comes in really handy when majoring in economics. It's a broad field with many paths to follow. Knowing that there is a department full of professors who will always guide you—and who have personal experience doing a lot of interesting things—is an unbeatable benefit."
—Tim Sensenig '19, lending specialist at First Home Bank
Heavy on skill-building, this course tasks students with doing a cost-benefit analysis of a particular environmental policy or project. You and your classmates choose the topic, then spend the semester evaluating it from an economics standpoint. You'll be amazed at the conversations you'll have!
Leadership: The Human Side of Economics
This class invites you to look at the human side of economic behavior and motivation — starting with your own. In addition to small group activities, you'll identify your attitudes and style by taking tests such as the Kirton Adaption/Innovation Inventory, Thomas Kilman Conflict Resolution Scale and Strong Interest Inventory.
What can I do with an economics degree?
Actuary
Budget Analyst
Economist
Financial Analyst
Market Research Analyst
Operations Research Analyst
Postsecondary Teacher
Where our economics majors go to graduate school
Boston College
Boston University
Colorado State University
Columbia University
Duke University
Florida State University
Hawaii Pacific University
Kent State University
New College of Florida
Oregon State University
Stetson University College of Law
The Ohio State University
University of Arizona
University of California-Santa Barbara
University of Florida
University of Georgia
University of Massachusetts-Dartmouth
University of North Carolina-Chapel Hill
University of South Florida
Vanderbilt University
Wake Forest University
Where our economics majors go to work
A. G. Edwards
Acer America
Allstate Insurance
American Express
American Research Center In Eqypt
Ameriprise
AT&T Paradyne Corporation
Atlanta Journal-Constitution
Bank Of Boston
BayCare Health System
Bellsouth Telecommunications
Blackrock, Inc.
Blue Cross Blue Shield
Chase Manhattan Bank
Chicago Board Of Trade
Citi Corporate And Investment Bank
Citi Global Transaction Services
Citi Procurement Services
Citigroup Inc.
Dell Computers
Duke Energy Corporation
Ericsson Ab
Ernst & Young
Federal Aviation Administration
Federal Reserve Board
Fidelity Investments Life Insurance Company
Franklin Templeton Invecstments
Gap
IBM
John Hancock
Johnson & Johnson
Keane Incorporated
Lockheed Martin
Merrill Lynch
Moody's Investors Services
Morgan Stanley
NASA
Panera Llc
PricewaterhouseCoopers
Raymond James Financial Services, Inc
Tech Data
Texas A&M Mays Business School, Department Of Accounting
Texas Research Institute
U.S. Department of Commerce
U.S. Food and Drug Administration
U.S. State Department
Wells Fargo Financial
Whole Foods
Sign up for more about Eckerd and our economics program