As an Eckerd student studying abroad in London, the Honorable Susan Russ Walker '77 remembers many formative experiences: encountering a new country and culture; immersion in Shakespeare and theatre; and, in a moment that would take on great significance, taking a field trip to the University of Oxford.
"I remember traveling there by bus," she says. "The school became much more real to me."
At that time, women were not allowed to participate in the Rhodes Scholarship program, the prestigious scholarship program that brought students from across the world to study at Oxford. But that restriction only deepened Susan's interest and determination. When the scholarship opened applications to women in 1977, she applied, and was elected among the class of 1978 Rhodes Scholars in the second class to have female scholars.
Susan, who was Eckerd's first (and to this day, only) Rhodes Scholar, started on a post-Eckerd path that would take her not only to Oxford but to Yale Law and eventually to the judicial bench. She now serves as a U.S. Magistrate Judge for the U.S. District Court for the Middle District of Alabama and as an Eckerd College Trustee. She looks back at her Eckerd education as foundational for her work today, due to more than the academic skills she gained.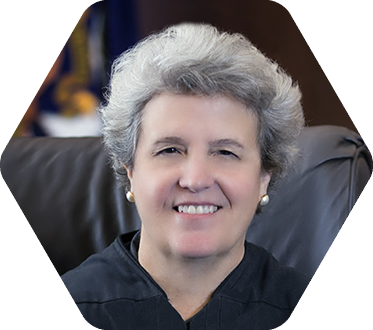 "As time passed, I came to believe that Eckerd represented a greater concentration of really good people than almost anywhere else I had ever been: people who cared about somehow trying to do the right thing, whatever that meant," she says. "That certainly has stayed with me."
The youngest of four siblings from Kingsport, Tennessee—all of whom decided to attend Eckerd after her oldest brother, Fritz Russ '66, discovered the college "where he could swim year-round"—Susan says by the time she graduated high school, she had grown up with Eckerd and loved the College already. A scholarship made it possible for her to attend Eckerd at the same time as her sister, Carolyn, who graduated in 1976.
What quickly set Eckerd apart was the close contact and relationships with professors including her mentor, Julie Empric, still an Eckerd professor of literature, with whom she has taught law and literature to federal judges for more than 20 years. She was interested in many subjects, including journalism and political science, but was drawn into English by passionate teachers.
"There's no substitute for catching the enthusiasm of professors who were well ahead of me in their study, and who could communicate why literature mattered," Susan says. "From them, I fairly quickly got the sense that literature was interested in, among many other questions, how to live. That seemed compelling to me."
She continued her English language and literature studies at Oxford, earning an M.A. degree there in 1980. While Susan still says she could have pursued and enjoyed a path as a literature professor herself, public service beckoned, and she enrolled at Yale Law a few years later. After law school, she clerked for Judge Frank M. Johnson, Jr., on the Eleventh Circuit Court of Appeals, a judge who had decided many early civil rights cases. She also served as an assistant attorney general for the State of Alabama, and as a partner in private practice until her judicial appointment.
Susan's interest in justice goes beyond the courtroom. She reached out to the congregation of the now-Black church where her slaveholding great-great-grandfather was once a Baptist minister. She has done research to uncover the church's history, including slaveholding by ministers of the church, and helped restore the church and honor the memories of enslaved people from the surrounding community. She also worked with a private investigator to find Dr. Howard Kennedy '64, the first Black student who was admitted to Florida Presbyterian College (over the initial objections of the Board of Trustees). At the time, Kennedy only learned of his initial rejection, and thus never enrolled. Eckerd College reached out to make amends and bestowed Kennedy with an honorary doctoral degree in 2003; he later served as a trustee. She cites these projects as among her most important work.
Now in her 26th year as a federal judge in Alabama, Susan says every day is filled with decisions large and small. In those decisions, she finds herself back at Eckerd, pondering the question of how to live and what values should guide the way. She does not claim to be perfect, but she still tries to ask herself: What would be the kind thing to do? What would be the right thing to do?
"We have to follow the law, that's a given," Susan says. "But there's still a lot of room there to treat people in the way you'd like to be treated yourself, if you stood in their shoes."