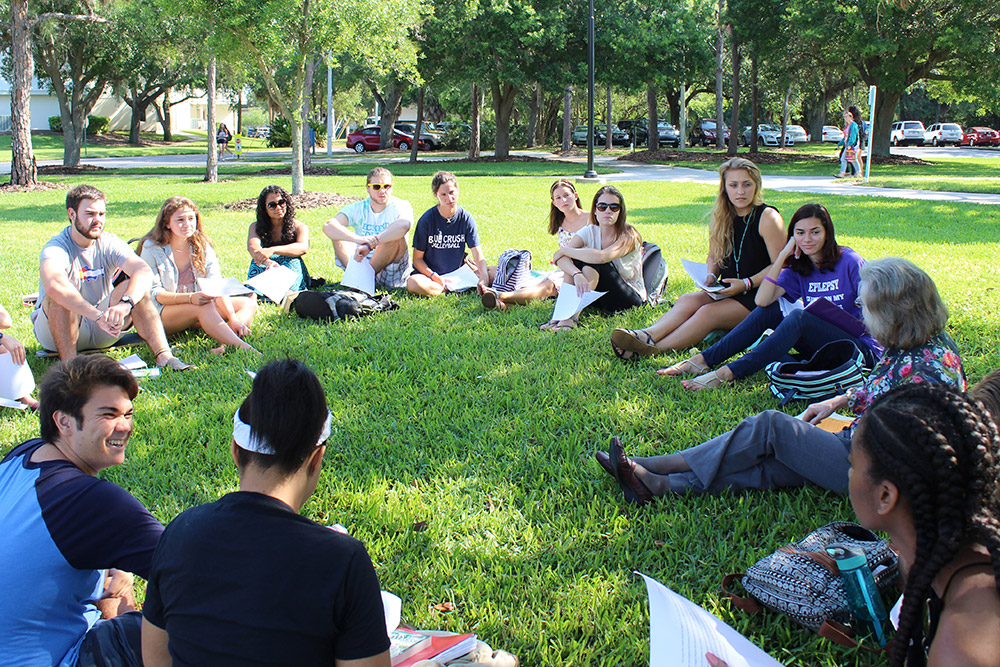 Professor Empric (far right) teaches a literature class outdoors. Photo: Sarah Richardson '15
Empric succeeds Suzan Harrison, Ph.D., an alumna of the Class of 1978, following Harrison's 10 years of service as dean of faculty.
"As someone who has served on just about every faculty committee over the years … I've had experience with the academic dean's most important interfaces with the faculty," Empric said in a note to faculty on Thursday, Feb. 17. "I am immensely grateful that Dean Harrison has graciously offered her help. I hope to continue the momentum she's created in many wonderful directions over her past 10 years as our dean. And I hope to listen—especially to all of you—for what else needs to be done, as we head into the future together."
President Damián J. Fernández, Ph.D., had announced the appointment earlier that Thursday.
"Julie is known as a stalwart supporter of the College and a champion for the faculty; I am delighted that she accepted my invitation to serve in this role," Fernández said. "Julie is the right person to lead us through this transition and advance key priorities for the coming year. We will continue to pursue the multiyear initiatives in our Strategic Plan that will strengthen our problem-centered, place-based, purpose-driven education that is hand-built and hands-on for high impact."
Empric's Eckerd College career began in 1974. The graduate of Nazareth College of Rochester received her Master of Arts degree from York University in Toronto and her Ph.D. from the University of Notre Dame. Her primary teaching responsibilities at Eckerd include Shakespeare, English literature, and the history of drama. Her experience began as a teaching assistant and instructor at Notre Dame before she was hired as the seminar director of the Summer Shakespeare Institute graduate program at the University of Bridgeport.
Since joining the College, she's served in a number of roles outside the classroom: coordinator of Eckerd College Teaching and Learning Conversations; chair of the Letters Collegium; multiple terms as director of the Eckerd College London Study Centre; and chair of the Foundations Collegium.
Empric plans to finish teaching her Spring Semester courses—Intro to Literature: Short Fiction; Children's Literature and the Environment; and Shakespeare: Page, Stage, Film—before transitioning into the interim dean of faculty role this summer. During her tenure, the College will conduct a nationwide, faculty-led search for the next vice president for academic affairs and dean of faculty.
"I find myself increasingly excited about the chance to do whatever I can in the upcoming transitional year to help continue our momentum," Empric wrote, "and to capitalize on the hard work and resilience that everyone in this community has contributed, especially over the last two challenging and exhausting COVID years."
Harrison will return to her tenured position on the faculty after a sabbatical year beginning July 1.
As vice president for academic affairs and dean of faculty, Harrison:
Oversaw the development of new academic programs—including Animal Studies, Film Studies, Interdisciplinary Arts, and Marketing—and the establishment of three new BFA degrees in Creative Writing, Theatre and Musical Theatre
Supported the creation of seven new minors: Ancient Studies, Arabic, Data Science, Entrepreneurship, Middle East–North Africa Studies, Latin American Studies, and Sustainability
Orchestrated two successful accreditation reaffirmations in 2010 and 2020
Chaired the Eckerd College Strategic Plan 2016–2021
Supported the faculty in countless ways, such as by improving the annual review and tenure process, supporting revisions to academic programming, and bolstering academic support services
Provided oversight of renovations and new construction to support the academic program: the Sheen Complex, the Seibert Humanities Building and the Nielsen Center for Visual Arts
"For 10 years Suzan has served as vice president for academic affairs and dean of faculty," Fernández said. "She has dedicated her professional life to the College, and we are grateful for her impressive accomplishments on behalf of Eckerd."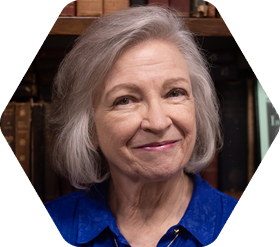 Julie Empric, Professor of Literature