Make your mark with a political science degree
Your city, your country, your world
Politics touch everyone. It's at work in the institutions that give power to some citizens and deny it to others. It's wielded by those who distribute public resources and decide how conflicts are resolved. Whatever country you call home, politics affect you. A liberal arts major in Political Science is your ticket to the show.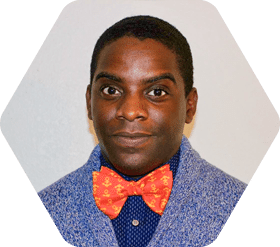 "Having a basic understanding of how politics works and how it is connected to government, governance, and civil society is the absolute cornerstone of citizenship in a free and open society. The political science department at Eckerd equips students with the skills to pursue gainful employment in the workforce or adequate preparation for advance study in the field of political science, government, and law."
— Johnny Boykins '08
Project Development Manager at Criterion Holdings Corporation
One recent student interned with a Member of Parliament in the U.K., another spent a summer as a Field Organizer for the Democratic National Committee in South Carolina. A third worked in a local law office. There's simply no better way to tell if a field is right for you.
Service is a big deal at Eckerd. One recent Poli Sci major volunteered for Community Action Stops Abuse (CASA), a local shelter and rehabilitation program. For more than a year, she spent every Wednesday morning in court, helping women through the legal process of escaping abusive relationships.
Service Pics on Flickr
Passionate about something that's not on the class schedule? Do an independent study. After her high school received a bad accreditation review, one recent student reviewed current accreditation practices and suggested improvements.
Intro to International Relations
Using case studies and simulations, you'll learn about the international system including key actors, theories and concepts. Covers global issues such as war, wealth and poverty, hunger and environment, and global justice.
Human Rights & International Law
Study the most pressing international human rights issues of the day, ranging from women's rights to protection of minorities and the right to economic subsistence. You'll also examine the role of United Nations and other international organizations in setting and enforcing human rights standards. Students participate regularly in the Model U.N.
What can I do with a political science degree?
Business Manager
Foreign Correspondent
Human Rights Advocate
International Banker
Journalist
Lawyer
Political Consultant
Public Opinion Analyst
Public Relations Director
Teacher
Where our political science majors go to graduate school
Harvard Law School
Columbia University
Sandra Day O'Connor College of Law – Arizona State University
Stetson University College of Law
SUNY – Buffalo Law School
Tulane University Law School
Wake Forest University School of Law
Where our political science majors go to work
Sign up for more about Eckerd and our political science program