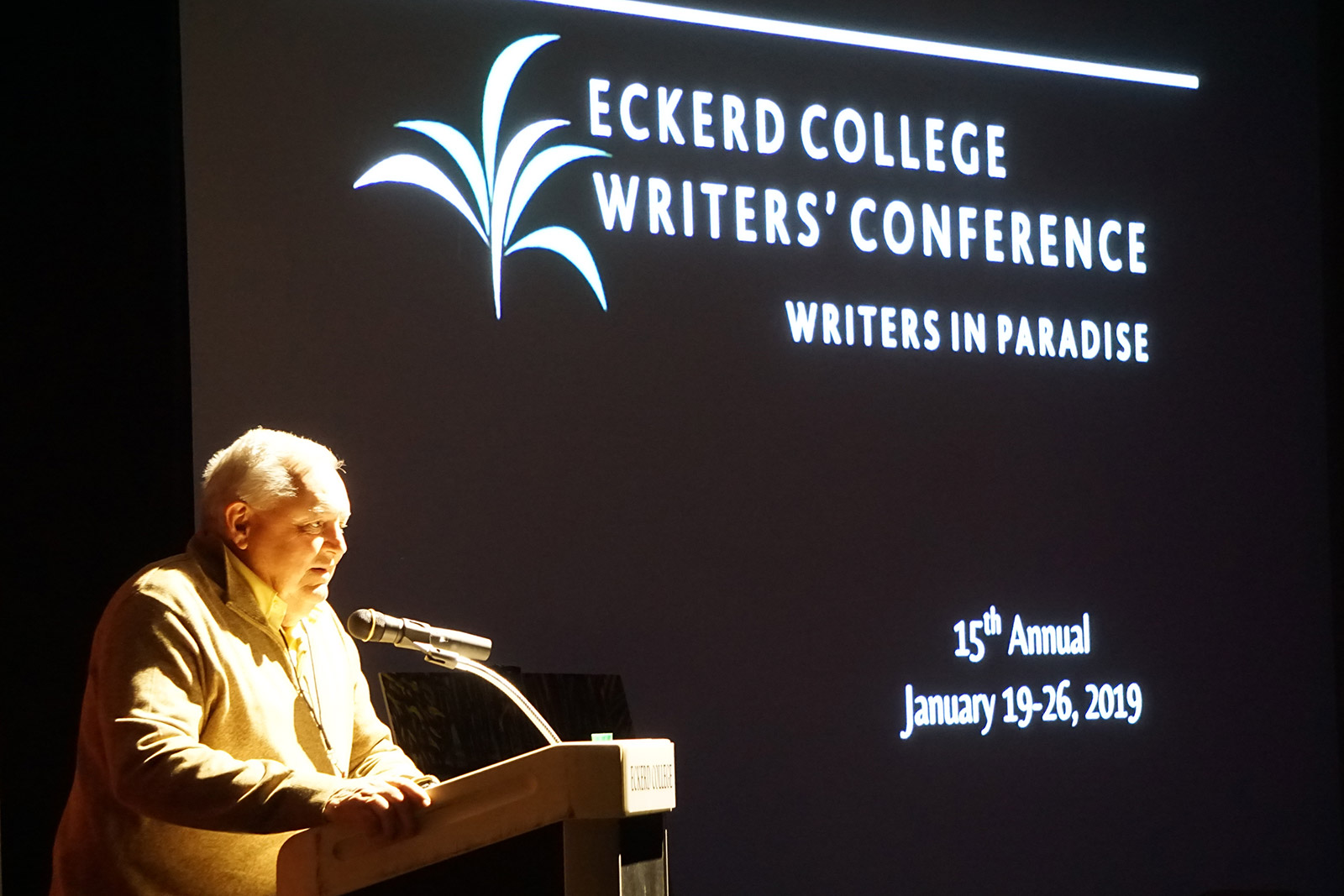 Les Standiford speaks at the Writers in Paradise at Eckerd College conference in 2019.
Aspiring and practicing authors, poets, novelists and memoirists gained another resource toward realizing their dreams thanks to a gift from two well-known poets and their families.
Beginning last month, writers from historically underrepresented populations were welcomed to apply for the first Pruitt-Meinke Fellowships to cover lodging, tuition, and a stipend toward travel and meals for the January 2022 Writers in Paradise at Eckerd College.
Traditionally held during the week coinciding with the Rev. Dr. Martin Luther King Jr. holiday, Writers in Paradise is an eight-day writing conference on the waterfront campus of Eckerd College in St. Petersburg, Florida, featuring a diverse group of accomplished mentoring faculty who represent the ultimate achievement in their respective genres, including conference co-directors Dennis Lehane '88 and Les Standiford.
"We're well aware of the cost of taking off a week to spend a week in Florida in January, even if it's for such a special purpose, so we are thrilled to be able to assist a set of talented writers who wouldn't otherwise be able to come," Standiford says. "It is just very exciting and gratifying for us to be able to do this."
The new series of fellowships aims to address the challenges of taking time away from family, work and studies to come to Florida during a peak tourism week for prices in flights and lodging. Lehane and Standiford hope to offer up to four awards in the first year to make the conference offerings available to as broad an array of writers as possible and to foster the creative spirit that allows each to share the words that matter to all.
Recent Writers in Paradise alumni include Vinod Busjeet, author of the novel Silent Winds, Dry Seas; A.K. Small, author of the young adult novel Bright Burning Stars, which has been picked up for a movie adaptation by Amazon Studios; and Gale Massey, author of The Girl from Blind River, winner of the Florida Book Award Bronze Medal in General Fiction.
The estimated awards of $3,000 are made possible by generous gifts to the College from longtime Eckerd Board of Trustees member Martha Rudy Wallace in honor of Eckerd Professor Emeritus of Literature Peter Meinke and from the Pruitt family in honor of the late Dr. Crayton Pruitt and his former wife, the late Frances McSwain Pruitt.
Peter Meinke, who served as poet laureate of Florida from 2016 to 2020, founded and directed the Creative Writing Program at Eckerd for nearly 30 years. Dr. John Crayton Pruitt Sr. was a beloved cardiovascular surgeon and a visionary entrepreneur. He and his former wife, Frances McSwain Pruitt, were steadfast advocates for the arts and sciences and generous philanthropists who resided in St. Petersburg for nearly six decades. Their support of Eckerd College, where Frances once served on the Board of Trustees, and their lifelong generosity to the arts continue today not only with this gift supporting practicing writers but also in the work of their daughter, former Eckerd College Professor of Creative Writing Helen Pruitt Wallace, who has served as poet laureate of St. Petersburg since 2016 and hosts the Dali Poetry Series at the Dali Museum.
Fellowship applicants must submit a writing sample to be judged by a committee. In furthering the conference's long-standing commitment to inclusion and diversity, special attention will be given to applications from individuals from historically underserved populations as well as individuals who have overcome substantial socioeconomic obstacles.