Literary Works and Foundation
Dr. Elie Wiesel has been able to touch millions of lives with his literary works including the seminal Holocaust memoir, Night, published in 1960. Between then and 2012, Wiesel published more than 60 novels, essay collections and anthologies. His wife, Marion Wiesel, co-founder and director of the Elie Wiesel Foundation for Humanity and a gifted, imaginative translator who is fluent in five languages, was the translator of the new translation of Night, and many of Elie Wiesel's other works. Mrs. Wiesel accompanied Dr. Wiesel for twenty-four years at Eckerd College and is an activist for human rights, a recipient of honorary doctorates and a Presidential medal, and fimmaker. Her film Children of the Night is a documentary on children in the holocaust.
The Wiesels began the foundation to combat indifference, injustice, and intolerance shortly after Dr. Wiesel won the Nobel Peace Prize in 1986. Marion continues to direct the work of the Elie Wiesel Foundation which operates two centers for Ethiopian-Israeli children in Israel, sponsors a yearly Ethics Contest for college juniors and seniors, and holds conferences focused on peace, education, health, the environment, and terrorism.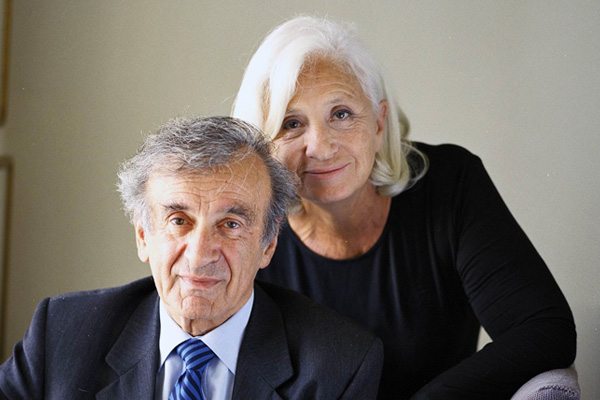 Elie Wiesel Professorship in Humane Letters
To honor the life and work of Elie Wiesel, in 2005 the Elie Wiesel Professorship in Humane Letters was endowed with a gift from Mrs. Jean Giles Wittner and her beloved late husband, Ted. Mrs. Wittner has been an Eckerd College trustee, now trustee emeritus, since 1980 and is a stalwart supporter of the College and its students. The endowment recognizes the long service and dedication of Distinguished Visiting Professor Elie Wiesel to Eckerd College.
The purpose of the professorship was to establish a prominent position on the faculty dedicated to inspiring each new generation of Eckerd students to consider seriously the core values that sustain the good life, a just society and hope for the future. The occupant of the professorship must 1) be a distinguished scholar and gifted teacher in the humanities whose work embodies Dr. Wiesel's commitment to remembering the lessons of the past, witnessing to both the reality of evil and the achievement of good, and celebrating the best in human life and thought; and 2) be a specialist in any of the major disciplines in the humanities but also oriented toward a broad interdisciplinary approach that fosters an understanding of and appreciation for the timeless values embedded in the study of history, literature, philosophy and religion.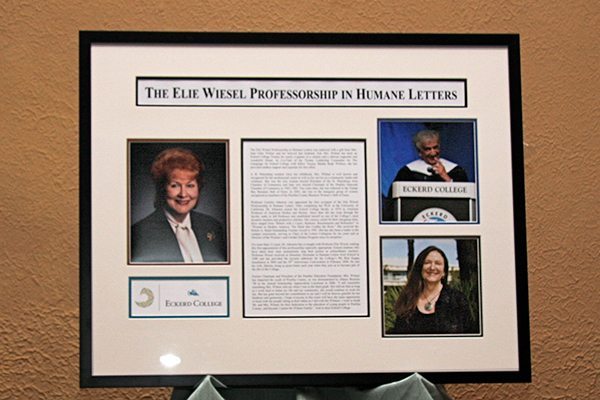 Plaque commemorating the Elie Wiesel Professorship in Humane Letters presented to Eckerd College trustee Jean Giles Wittner (left) at Eckerd's Grand Celebration of its comprehensive campaign in 2008. Professors Elie Wiesel and Carolyn Johnston appear at right.
In 2008, Professor Carolyn Johnston was appointed the first, and thus far sole, occupant of the Elie Wiesel Professorship in Humane Letters. After completing her Ph.D. in History at the University of California–Berkeley, she joined the Eckerd College faculty in 1978 as assistant professor of American Studies and History. She swiftly ascended to full professor and established herself as one of the College's most dynamic teachers and productive scholars. Her courses, noted for their intriguing titles, have ranged from "Rebels With a Cause: Radicals, Reactionaries and Reformers" to "Women in Modern America: The Hand That Cradles the Rock." She received the Lloyd W. Chapin Award for Excellence in Scholarship and the Arts in 2014 and the Robert A. Staub Outstanding Teacher Award in 1991. She also has been a leader in the campus community, serving as chair of the Letters Collegium for 10 years and as director of the Women's and Gender Studies program since its inception.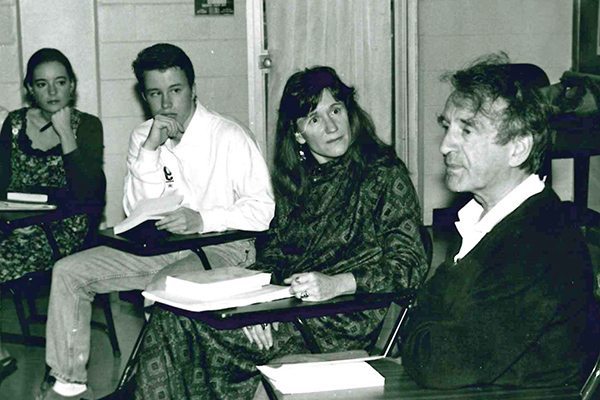 Elie Wiesel with Carolyn Johnston in a class with Eckerd students.
Elie Wiesel speaks at the Commencement of the Eckerd College Class of 1998
For 24 years (1993–2016), Dr. Johnston co-taught a January Winter Term course with Professor Elie Wiesel, making her occupancy of this professorship especially fitting. Eckerd students who took their class unanimously sang their praises as extraordinary teachers. Professor Wiesel received an Honorary Doctorate of Humane Letters from Eckerd in 1998 and provided the keynote addresses for the College's Phi Beta Kappa Installation in 2004 and the 50th Anniversary Convocation in February 2008. He and his wife, Marion, brought great honor to Eckerd each year when they returned to campus to become part of the life of the College.
Through the Elie Wiesel Professorship in Humane Letters—and also through the students who witnessed Professor Wiesel's stories in class and continue to do so in books and online—Dr. Wiesel's lessons and legacy will remain eternal at Eckerd College.