The distinctly American major
Making sense of this bold, complex country
American Studies explores American experience and identity by studying its history, literature, people and politics. Because this major relies on research and writing, graduates from our program here in Florida leave with the strong analytic and communication skills all employers love. Grads get jobs in journalism, publishing, city planning and cultural preservation or enter law or business schools.
The chance to make this major yours
Passionate about philosophy, religion, art, film studies, music, communications or women's and gender studies? We can help you work any interest that centers on U.S. society or culture into this major.
One-on-one attention in class
Students learn in small classes and develop close mentoring relationships with their professors. They have an opportunity to do independent research through the Ford Scholars Program.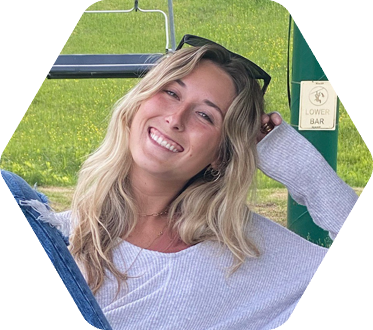 "Mentoring, faculty interaction, and overall class material and subjects made my studying experiences at Eckerd an 11 out of 10. I feel as though I made a lifelong friend with my mentor, who not only guided me through my studies and plans for my future but within my personal life as well. Throughout my classes, I felt comfortable and encouraged to reach out to my professors about my work. I chose to focus on American History and American Musical History. American Studies is such a magical major with so many different facets of sub-studies, you really can't go wrong. The options are endless. Through courses like 'Native American Thought', 'History of Rock', 'Making of the '60s', I was able to look at American history in a new, creative light. The study of history is key in understanding where we are today, how we got here and why, and I continue to explore this idea in my post-college life as well."
— Katherine Hoechner, Class of 2019
This survey covers the period stretching from the first European contact with native peoples to the present day. Delve into the:
Inner workings of Native American communities
History of Indian-White relations
Shifting governmental policies on tribes' rights
Native American spirituality, economics, gender roles and decision-making
This class focuses on America's radicals, reformers and reactionaries of the 19th and 20th centuries.
You'll learn about populism, progressivism, nationalism, civil rights, peace, feminism and the environmental movement.
What can I do with an American studies degree?
Crime scene investigator
Data analyst
Detective
District attorney
FBI field agent
Health sciences grant administrator
Lawyer
Marketing and public relations specialist
Police officer
Private investigator
Professor of sociology
Professor of criminology
Social worker
Substance abuse counselors
Youth program coordinator
Where our American studies majors go to graduate school
Northwestern University
University of Florida
University of North Florida
University of South Florida
Washington State University
Where our American studies majors go to work
American Jewish Committtee
Bank Of America
Cahill Law Firm P.A.
CASA ( Community Action Stops Abuse )
CBS (New York City)
Department Of State American Embassy
Franklin Templeton Investments
Home Shopping Network
Hospice Of Florida Suncoast
Law Offices Ronald S. Webster
Metlife
Pricewaterhousecoopers
Princeton Review
Raytheon Systems Company
Rockwell International
Sarasota Herald Tribune
Social Security Administration
State Of Florida
T. Rowe Price Services, Inc
Tampa Bay Times
Texas Instruments
United States Air Force
United States Central Command
United States House Of Representatives
United States Navy
United States Postal Service
University Of Electronic Science And Technology Of China
Wells Fargo Home Mortgage
Sign up for more about Eckerd and our American Studies program