Sam Moulthrop and Joyce Samson Moulthrop
It was 1969. Two Americans became the first humans to walk on the moon; more than 400,000 people showed up at Max Yasgur's dairy farm in Bethel, New York, for the Woodstock Music and Art Fair; and in St. Petersburg, Florida, students at Florida Presbyterian College (now Eckerd College)—a small, 11-year-old liberal arts college—were settling into the school's permanent location on 54th Avenue South.
That fall, Sam Moulthrop arrived at FPC from Atlanta, and Joyce Samson drove down with her parents from Montclair, New Jersey. They both were first-year students. A few months later, they would meet at a party on campus. A mound party.
And like the college that was rising up around them, they would blossom and thrive.
Sam and Joyce married in 1975, enjoyed decades-long careers in accounting and law, and raised three children who are now on their own unique adventures.
Joyce graduated from Eckerd in 1973, attended Montclair State University and received an MBA from Rutgers University's Graduate School of Business. Her MBA program was geared toward students with a liberal arts background because the big accounting firms were looking for candidates with broader educational backgrounds.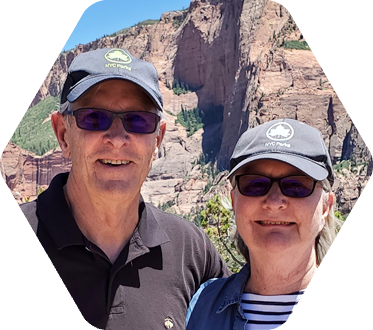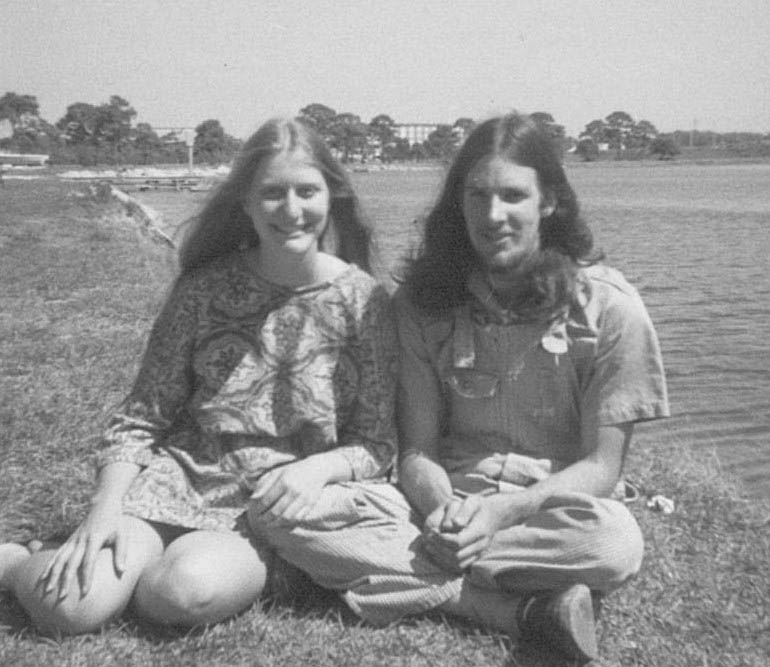 Joyce and Sam on the bank of Frenchman's Creek
She credits Eckerd, and in particular the core curriculum, with providing that. A certified public accountant, she currently is the managing partner of the accounting firm Lambrides, Arnold, Moulthrop LLP in Montclair. She also is active in community organizations and has been on the board of several nonprofits.
Sam graduated with honors from Eckerd in 1973 and received a law degree from the Boston University School of Law. He currently is Of Counsel at the Riker Danzig law firm, where he leads the firm's White Collar Criminal Defense and Investigations Group and is a member of its Environmental Litigation Group. Before joining Riker Danzig, he served as a federal prosecutor in the U.S. Attorney's Office for the District of New Jersey.
But it was Eckerd College, Sam says, that provided a unique backdrop to what would come later. "It was a chance to expand my knowledge of a whole host of things." Sam also stresses the importance of the core curriculum.
"There were interdisciplinary lectures on all sorts of topics," he says. "And foreign films that you wouldn't have seen at a local theatre, classical music concerts … It was just a very broadening experience and something that provided a good base for law school, where everything was narrowed down to very focused areas."
Sam's journey to Eckerd began with his older brother, Mark, who attended FPC and graduated in 1967. "My mother was a big proponent of small liberal arts colleges, and she steered my brother to Florida Presbyterian," Sam says. "He told me all about it."
Sam majored in philosophy and religion. "You'd think that that and $3 wouldn't get you a cup of coffee," he says. "But it was a fine background for what I eventually ended up doing, which was law school."
In 1972, the College changed its name, meaning that Joyce and Sam enrolled at FPC but graduated from Eckerd College. "Long term, I'm very pleased they found a donor and took on the name," Sam says. "But at the time, many of the students were very concerned and upset that the College was renamed after Jack Eckerd, a very prominent conservative in Florida. It was out of step with the way many, if not most, of the students thought. But it was something the College eventually needed to do. Today, $10 million doesn't seem like that much, but in those days it was real money."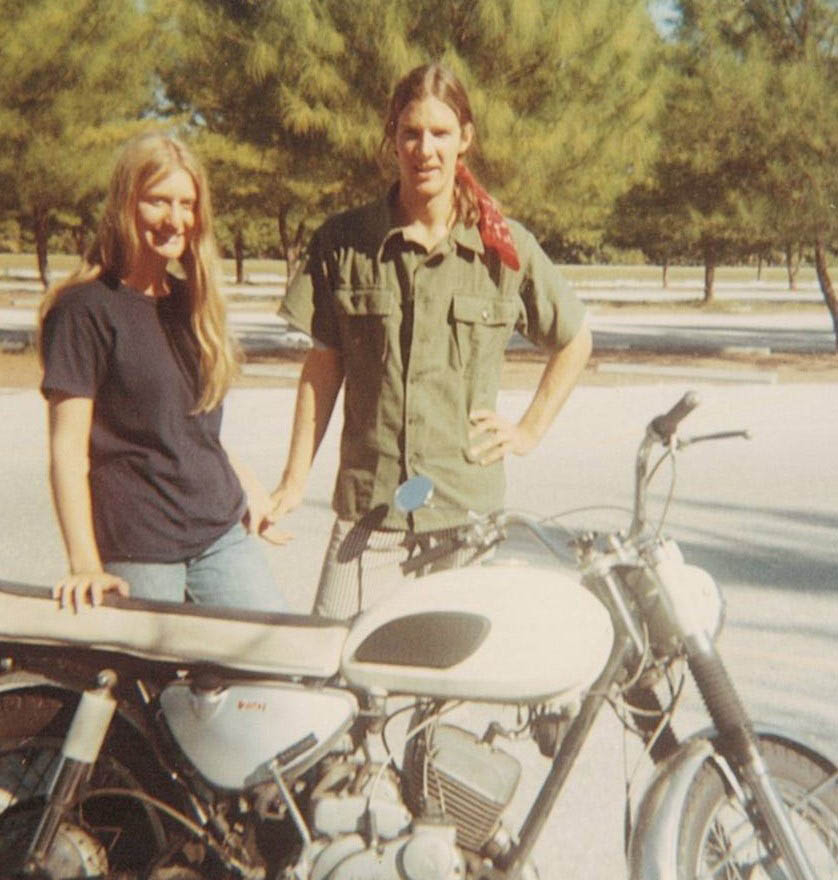 Joyce and Sam with his Kawasaki motorcycle in an FPC parking lot
The location of the campus close to Pinellas County beaches was an added bonus to attending Eckerd. "I had a Kawasaki motorcycle through my sophomore year," Sam says, "and then somebody gave me a car that had been owned by a classmate's grandparent. A 1950 Studebaker. We painted it in all sorts of colors and drove it until it got wrecked."
Joyce grew up in Montclair, New Jersey, a few miles outside of Newark. She was accepted at Hofstra University in Hempstead, New York. but her grandmother told her about a small liberal arts college in Florida—Florida Presbyterian College. "I looked at a map and thought, Long Island or Florida?" Joyce says. "I had never seen the place until my parents dropped me off on campus."
Joyce says her adjustment to living in Florida was somewhat difficult at first "because most of the kids were from the South and quite different from the upbringing I had. My closest friends were from New Jersey or New York. And I remember there was one pay phone in my dorm."
And then she met Sam. "Back in the day, the campus was not like it is now," she says. "There was a lot of fill sand and dirt from the construction. We had mound parties at the entrance to campus on 34th Street South."
"It was probably the highest point in St. Pete," Sam adds with a chuckle.
Joyce majored in sociology and particularly enjoyed taking independent study courses. "I was able to take courses in women's studies in 1972, during the rise of feminism," she says. "It was the first time I really enjoyed academics." She also took advantage of Eckerd's emphasis on study abroad. She spent the Spring Semester of her junior year at a house in London. "What's not to like?" she adds. "That was a wonderful, wonderful semester."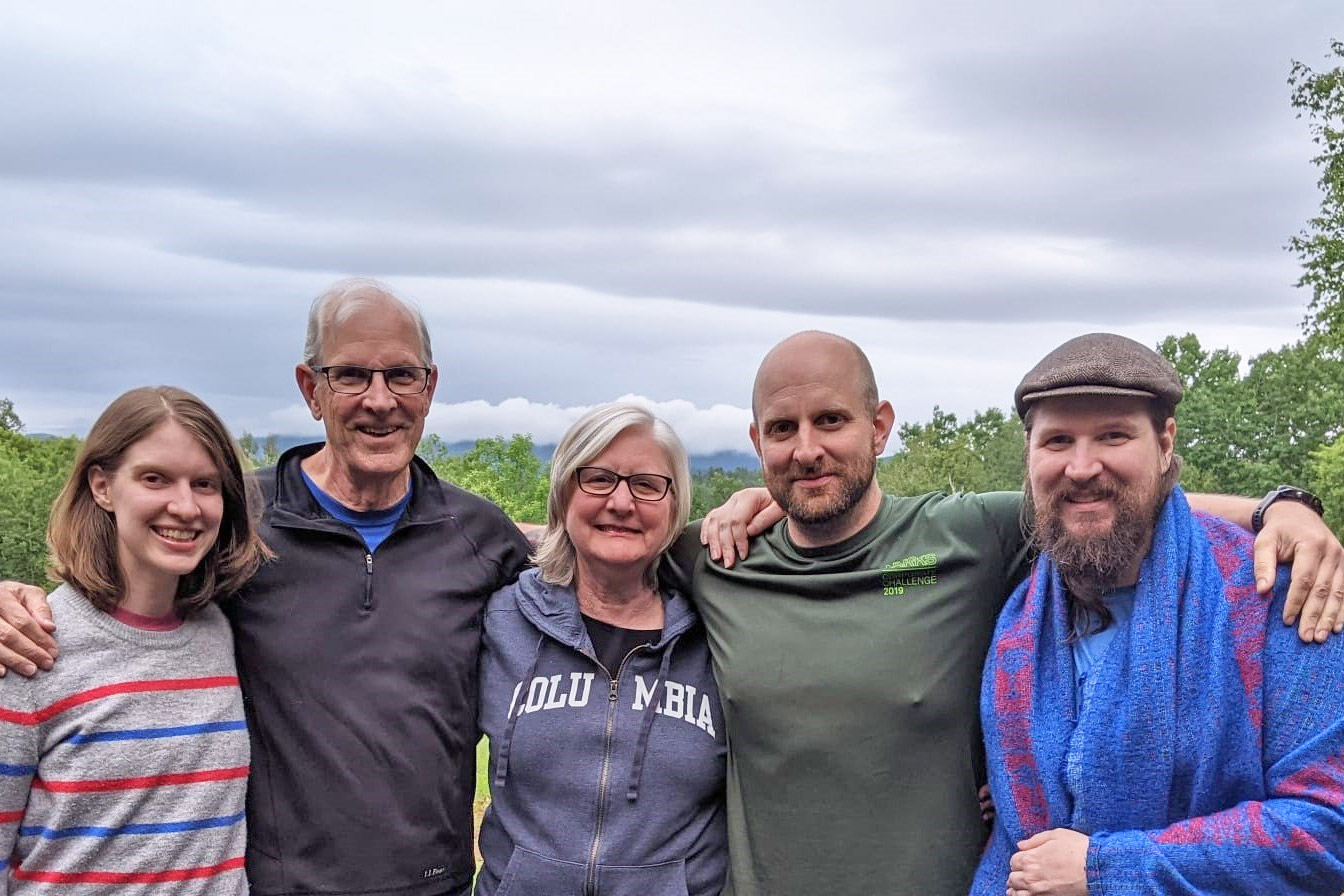 Sam and Joyce with their children (left to right) Elizabeth, Kevin and Dan.
Joyce had spent several summers working at her father's public accounting firm, and after her postgraduate study, she landed a job at Price Waterhouse (now PriceWaterhouseCoopers) in Boston while Sam finished his last year of law school. The couple has three children. Kevin, 42, lives in Queens, New York, and is a landscape architect. Dan, 39, works as a tutor and is an accountant. And Elizabeth, 33, is executive director of El Sistema USA, a not-for-profit and part of a publicly financed global organization that promotes music-education programs for underserved communities to foster positive social change.
Along with being Kadel Society members, Sam and Joyce have a commitment to helping others that is exemplified by their travels to Peru in 2009 and again in 2011 to help rebuild churches after a devastating earthquake. "These were such meaningful trips—particularly to work as a family to help others," Joyce says. "Our daughter ran a music program in one of the churches, and both of our sons helped with construction."