The Kadel Society was named after Eckerd College's founding president, William H. Kadel, in honor of his legacy of innovation and excellence at this special place.
This recognition society honors the outstanding group of friends who have made a provision for the College through their estate plans. These enduring gifts help to ensure that future generations of students will benefit from the Eckerd College educational experience.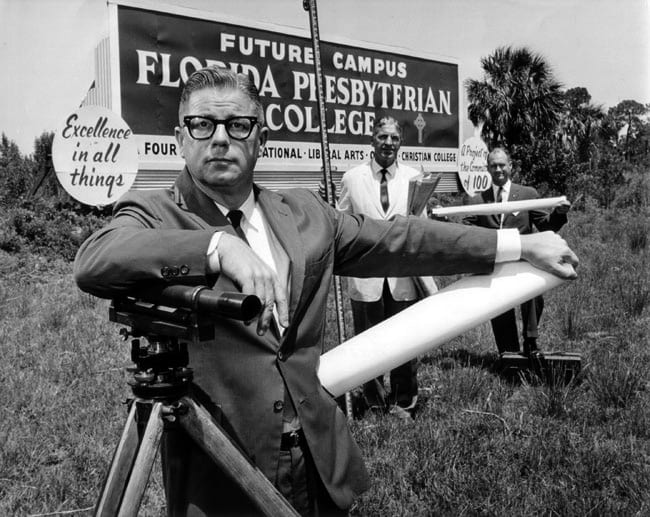 If you have already included Eckerd College in your estate plans, you can join the Kadel Society by simply sharing those intentions with us. By allowing Eckerd to include your name with the many alumni, parents, friends, faculty and staff who have made similar gift arrangements, you affirm the importance of planning for the College's future and inspire others to follow your example.
We would enjoy the opportunity to thank you and welcome you into this special group.
Kadel Society Spotlight: Glenn Leonberger '86 and Laura Knutzen Leonberger:
November 2020
November 25, 2020
———————
Thanksgiving greetings from your friends at Eckerd College. We hope you and your family are well during this pandemic. It has been an interesting year for the College as our students, faculty and staff work through the COVID-19 obstacles and we welcome Damián Fernández, Eckerd's fifth president. This e-newsletter will provide you with gift-planning ideas and other important information about the College.
How the CARES Act May Affect Your Gift Planning
Legislation known as the CARES Act (officially named the Coronavirus Aid, Relief, and Economic Security Act), designed to rescue the economy from the effects of the coronavirus pandemic, was passed by Congress and signed into law by President Trump on March 27, 2020. Some of the included tax incentives, listed below, expire on December 31, 2020. You may want to contact your financial and tax adviser(s) and take advantage of these ways of giving before they are gone.
New Charitable Deduction for Non-Itemizers
Taxpayers who take the standard deduction instead of itemizing their deductions will still be able to claim a charitable deduction of up to $300 for cash donations made in 2020.
Higher Deduction Limits
Individuals in 2020 will be able to deduct cash gifts to the extent of their entire adjusted gross income (AGI). The 100% of AGI deduction limit permits donors to completely offset their income tax liability for 2020 if they make cash gifts equal to their adjusted gross income. Charitable deductions for cash gifts that must be carried over to 2021 or beyond will be subject to the usual 60% of AGI limit.
Required Minimum Distributions in 2020
For the year 2020, there will be no mandatory distributions from retirement accounts (whatever the age of the owner), thus allowing those accounts to recover. The minimum age for making a tax-free transfer from an IRA to a charity remains at 70½, and the annual limit remains at $100,000. However, since cash gifts are deductible in 2020 to the extent of adjusted gross income, a person could withdraw and then contribute a larger amount—with the deduction offsetting the taxable withdrawal.
Contact Your Financial and Tax Adviser(s)
The CARES Act is several hundred pages long and includes numerous provisions that could benefit you financially. Consult your financial and tax adviser(s) about these provisions, and contact Eckerd College if we can help you with any gift-planning opportunities.
—————————-
Kadel Society Spotlight: Glenn Leonberger '86 and Laura Knutzen Leonberger
Glenn Leonberger '86 and his wife, Laura, credit their desire to give back to the help they were given financially during their educational careers. Glenn's experiences at Eckerd were unforgettable and have guided him throughout his professional and personal journey, and he and Laura hope to make the same possible for future generations of Eckerd students with their planned gift.
Born and raised in Pittsburgh, Glenn came to Eckerd College as a transfer student after achieving his associate degree in aerospace management from what was then Manatee Junior College in Bradenton, Florida. Glenn said that Eckerd proved to him that if he fulfilled his promise as a student, then Eckerd would provide the finances to support his college experience. Glenn was grateful for the opportunity to attend a school that fit his needs—like smaller class sizes, a mentor program, and music and theatre—all of which would have been impossible without financial aid.
Dr. George S. Odiorne (now deceased) was Glenn's management mentor and provided more than just an Eckerd legacy. Appointed as the Harold D. Holder Chair of Management in 1983, Dr. Odiorne taught Glenn how to properly ask questions, break down problems and look for the direct root of the cause as opposed to beating around it. Glenn says those analytical skills helped him in his professional life as a manager of contracts and compliance for Delta Vacations.
Eckerd also taught Glenn the importance of balance in his personal life through juggling both business and theatre. One of his fondest moments of theatre at Eckerd came through his performance as Judas and John the Baptist in Godspell, a production that was a semester-long fundraiser for the College. Jack Eckerd flew in from California to watch the last performance of the show, taking the whole cast and crew out for dinner to congratulate them on their amazing performance and the money they had raised.
Glenn's wife, Laura, shares his passion for the arts and for a personalized education. She earned a Bachelor of Music Education (BME) from the University of Northern Iowa with a focus on vocal instruction. In addition to being an accomplished singer, Laura is a skilled flautist, conductor and accompanist. She also had a mentor who guided and inspired her during her time at UNI—the late Associate Professor of Voice Jane Mauck.
Currently residing in Waikoloa, Hawaii, Glenn and Laura intend to provide their estate to Eckerd College and UNI. Focusing on Eckerd's Theatre Department and UNI's Music Department, the Leonbergers want to give back to those who have given so much to them.
———
A Blast from the Past: The First Days of a New President
As the College welcomes Eckerd's fifth president, Damián J. Fernández, Ph.D., and celebrates his first four months at Eckerd, this excerpt from On Solid Rock (Eckerd College, 2008), written by Stephanie Kadel Taras '89, Ph.D., examines her grandfather President Kadel's first days in his new role.
In the summer of 1958, Bill Kadel left the pastor's office at the First Presbyterian Church in Orlando and opened a temporary office for Florida Presbyterian College in an empty storefront in Orlando. (St. Petersburg had not yet been chosen as the location for the new campus.) A local bank loaned him some furniture. The Board of Trustees gave him $25 as a petty cash fund.
His secretary from First Presbyterian, Emma Conboy, went with him. On their first day Kadel asked, "Well, what do we need to start a college?"
Conboy said, "Paper and pencils would be a good start." So Kadel reached in his pocket and handed her some of that petty cash to buy office supplies.
While it may have been an inauspicious beginning, Kadel remembers that the change in his career quickly altered the way people treated him. "I was quite impressed with the power of the college presidency," he said later. "That change from being a pastor of a church to being a college president had tremendous implications. I went to New York and sought appointments with foundation leaders and corporate leaders and, in every case, was welcomed into their offices. These individuals showed great interest in what we were doing. It wasn't me that they were receiving into their offices, but it was a college president. This both amazed me and amused me."
Alumni Town Hall with Eckerd College's Fifth President, Damián J. Fernández, Ph. D., on Tuesday, December 1, 2020, at 4 p.m. ET
All alumni are invited to tune in to hear directly from our new president about their alma mater through a Zoom webinar by using this link. This report from the president will be a topic of discussion during the meeting.
——–
The Kadel Society was named for the College's founding president, Dr. William H. Kadel, in honor of the vision and founding principles he helped establish at FPC/Eckerd College. This recognition society honors the outstanding group of alumni, parents, faculty, staff and friends who have made a provision for Eckerd in their estate plans.
If you haven't already, we hope you will consider supporting the unique learning community at Eckerd to perpetuate its legacy of educating creative thinkers, leaders and citizens of the world. If you have questions about IRA distribution or how to document your bequest intentions with the College, please contact Tom Schneider at 727.804.2108 or schneite@eckerd.edu.
Subscribe
Would you like to receive the Kadel Society newsletter by email? Please email Tom Schneider, associate vice president for development, at
schneite@eckerd.edu
.
Ways to Give
Bequests
A bequest is one of the most popular ways to make a gift. Through a provision in your will, you can provide significant support for the College. Your bequest can be a means to perpetuate the giving level at which you have provided during your lifetime. If you haven't yet made an outright gift, a bequest can enable you to leave a legacy that will assist the College in the future.
There are several types of bequests:
Specific Bequest
Designate the College to receive a specific amount of your estate.
Percentage Bequest
Designate the College to receive a percentage of money, securities or property from your estate.
Residual Bequest
The residual of your estate, after all specific bequests have been fulfilled, can be designated for the College.
Life Insurance Policy
Name the College as a beneficiary of an existing paid-up whole life policy.
Gift of Retirement Plan
Avoid taxation by naming the College as a beneficiary of your IRA, 401(k), 403(b) or other plan.
The College also can be the contingent beneficiary if your named individual beneficiaries don't survive you.
If you already have a will, it can be modified easily by adding a codicil. A bequest in your will allows you to pass any amount you wish to the College free of estate tax.
IRA Rollover
If you are 70½ or older, up to $100,000 of your IRA minimum distribution requirement may be satisfied by a qualified charitable distribution (QCD). If you are eligible for this opportunity, please contact your IRA custodian. Transfers must be made each year before the December 31 deadline.
Charitable Gift Annuity
A Charitable Gift Annuity enables you to make a meaningful gift to Eckerd College while enjoying income and tax benefits. In exchange for your gift of cash or securities, you—and if desired, another beneficiary—will receive a fixed sum each year for life. A gift annuity is particularly attractive because the rates, based on your age, typically produce higher income than the yields from investments in the stock and bond markets. The suggested minimum contribution is $10,000.
Benefits of Charitable Gift Annuity:
Part of your income may be tax-free.
You will receive an immediate income tax charitable deduction.
You may reduce your estate tax.
A gift made with low-yielding tax assets may increase your current income.
A gift made with appreciated assets may avoid capital gains taxes.
You will enjoy the satisfaction of supporting Eckerd College.
Charitable Remainder Trust
The Charitable Remainder Trust is an ideal vehicle for making a lifetime gift to Eckerd College. To create such a trust, you transfer cash, securities or real estate to the trust. The trust then pays you and/or other beneficiaries an income for life or for a period of years. Upon termination of the trust, the assets pass to the College. The suggested minimum contribution is $100,000.
There are two types of Charitable Remainder Trusts:
Annuity Trust—offers a fixed-amount payout each year.
Unitrust—pays out a fixed percentage of the value of the trust assets, which are figured annually.
Mr. Payton F. Adams
Chaplain Jennifer N. Anderson '98
Mr. James T. Anderton Jr. '70
Ms. Regina Perkowski-Anderton
Dr. George H. Atkinson '67
Dr. Thomas J. Bacon '66
Ms. Elizabeth A. Baergen '72
Mr. Benjamin G. Baldwin III
Ms. Virginia A. Baxter
Mr. Christopher E. Ballard '84
Ms. Joyce Belmont
Ms. Jan Bender
Mrs. Katherine T. Berger '73
Mr. Kenneth W. Berger '72
Mrs. Louise D. Bevan (P '72)
Mr. Matthew S. Bisset
Dr. Leonard Block
Mrs. Naomi L. Block
Mrs. Jean P. Boehne
Mrs. Jo Bond
Mr. John R. Bonner Sr.
Barbara Boyd
Ms. Ingrid A. Bredenberg '70
Mr. Richard E. Bredenberg '75
Dr. Anita C. Briggs '68
Mrs. Heather L. Brooks '98
Dr. William D. Buel
Ms. Lillian E. Bull '69
Mrs. Penelope J. Burns
Ms. Jacqueline Calnan
Mr. David W. Canter-McMillan '97
Dr. Albert H. Carter '64
Dr. D. B. Carter '74
Dr. Nancy C. Carter
Mrs. Bilee K. Cauley '72
Mr. William H. Clements '16
Mr. Miles C. Collier
Mr. James F. Conner II '72
Mrs. Katharine M. Conover
Rev. Jean H. Cooley '68
Rev. William G. Cooley '68
Mr. James E. Copeland III '90
Ms. Susan J. Cornman '71
Ms. Dana E. Cozad '69
Rev. David B. Cozad '68
Mr. Jeffrey D. Cramer '69
Mr. John W. Curington '71
Dr. Barbara E. Dabbs '68
Dr. Mark H. Davis
Mr. Clinton E. Day '07
Mr. Roger B. Day '72
Ms. Melissa S. DeLoach '08
Mr. Emil P. Dietrich '64
Ms. Catharina E. Dowd
Dr. William F. Felice
Dr. David B. Fenner '67
Mr. Robert W. Ferguson '67
Ms. Taryn D. Fielder
Mr. David J. Fischer
Mr. Steven R. Forman '80
Mr. Kenneth M. Fournie '89
Ms. Wyndi Z. Fournie
Mr. Frank X. Fox IV
Ms. Vicki F. Fox
Mrs. Claire S. Francis '65
Dr. Edmund L. Gallizzi
Mr. Millard G. Gamble
Ms. Carol L. Gilbert '00
Mr. William Gould
Mrs. Gail-Patricia Greer '94
Mr. Seth D. Hagler '07
Royce G. Haiman
Mr. Andrew D. Haines '86
Mr. Robert R. Hale '73
Ms. Mary L. Hall '71
Dr. Ilda L. Hall
Dr. Richard R. Hallin
Ms. Deana L. Hannah '73
Mr. Ronald L. Haskell '74
Ms. Denise J. Hawks '95
Mrs. Jean H. Heare
Mr. David W. Henderson
Rev. Lynda S. Hergenrather '70
Mr. William E. Hewes
Mr. Louis R. Hidu '74
Dr. D. A. Hill '86
Rev. Jennifer N. Hill '98
Dr. Susan R. Hill
Mr. Andrew H. Hines Jr.
Mr. Walter W. Hofheinz '75
Mrs. Carolyn R. Horton '64
Mrs. Hazel C. Hough (P '76)
Mr. Harold D. Holder Sr. (P '89)
Mrs. Carolyn R. Horton '64
Mr. Mark R. Huffman
Mrs. Marika Hull
Mr. Ronald W. Hyatt '97
Mr. Clyde L. Irwin
Ms. Christine A. Jackson '16
Ms. Sharon M. Jakobi '01
Mr. Harry M. Johns '90
Mrs. Carolyn K. Johnson '71
Dr. Patricia A. Johnson '67
Mr. Robert Johnson '71
Ms. Angela R. Jones '12 (P '14)
Mrs. Karen Kadel '69
Mr. Richard (Dick) Kadel '69
Dr. Stephanie J. Kadel Taras '89
Mrs. Laura Keane '83
Ms. Ami Keslov
Dr. John G. Khosh
Dr. Mary S. Khosh
Ms. Wanda Kilgore-Schneider
Dr. Susan S. Kilham '65
Mr. Peter T. Kirkwood '75
Mrs. Laura Knutzen Leonberger
Mr. A. Dale Lappe
Dr. Hansel B. Leavengood '79
Mrs. Lee B. Leavengood
Ms. Ainsley A. Legner '83
Mr. Raymond F. Legner
Mr. Glenn A. Leonberger '86
Mrs. Laura Leonberger
Mr. Michael A. Littman '70
Mr. Peter M. Lukehart '77
Ms. Wendy B. Lukehart
Dr. James R. Maar '65
Dr. Charles A. MacNeill Jr. '68
Mrs. Gale MacNeill '68
Dr. Billy H. Maddox
Mrs. Wendy D. Maddox
Mr. R. Ernest Mahaffey '68
Mr. Dustin W. Malcolm '05
Col. Christian L. March Jr.
Dr. Theodore J. Marchese
Ms. Janet E. McBride
Dr. Joan McCall '69
Mrs. Eileen B. McCarron '73
Dr. William O. McCarron
Mrs. Catherine A. McGarry
Dr. Jack M. McGuire '67
Mrs. Sharon K. McGuire '68
Ms. Joyce A. McKibben '71
Mr. John J. Meiners '84
Ms. Melanie Meyer '08
Ms. Laurie A. Miller '98
Mr. Gregory T. Mino '93
Dr. George C. Moench
Mrs. N. Eileen Moon
Dr. James D. Moore Jr. '68
Ms. Joyce E. Moulthrop '83
Mr. Samuel P. Moulthrop '83
Mr. John M. Nabers
Dr. Darryl B. Neill '67
Mrs. Suzanne S. Neill '67
Mrs. Dusty M. Netterstrom '87
Mr. David C. Nichols '67
Mr. Helmar E. Nielsen
Ms. Signe Oberhofer
Dr. Tom Oberhofer
Mr. George W. Off
Ms. Kathleen E. Olejniczak '82
Mr. Erik C. Oliver '03
Mr. Brandon K. O'Shea '08
Mr. Andrew J. Oswald '06
Dr. William H. Parsons
Ms. Regina Perkowski-Anderton
Dr. Jane A. Petro '68
Ms. Laila Petrou '76
The Honorable John B. Phelps III '65
Dr. Pamela C. Phelps
Mr. Harry T. Price II '65
Dr. Marian W. Price '65
Mrs. Eva Raftelis
Mr. George A. Raftelis '69
Mr. Charles R. Ranson '69
Dr. Sheryl S. Ranson
Mr. Grayson H. Rayborn, Jr.
Mrs. Jane D. Rayborn '65
Mr. John A. Reed Jr.
Dr. Howard D. Rees III '68
Ms. Renee Register '83
Mrs. Jean C. Ring '66
Mr. Phares N. Risser III
Dr. Albert A. Robbert III '66
Mrs. Birgit V. Robbert '69
Mr. James M. Rogers II '73
Mrs. Patricia R. Rogers '73
Ms. Priscilla A. Rogers '71
Mr. John R. Saunders '71
Dr. Mary J. Schenck '66
Mr. Thomas E. Schneider
Jack H. Senterfitt '68
Patricia M. Senterfitt '68
Mrs. Bonnie J. Shuman '70
Dr. Thom M. Shuman '68
Mrs. Deedie M. Simmons
Rev. John R. Sims '66
Mr. Douglas A. Smith '09
Mrs. Mirella C. Smith
Mr. Norman R. Smith
Mr. Walter O. Spencer
Mr. Matthew W. Staman '92
Mr. James M. Stamps '73
Ms. Tess J. Stimson
Dr. Charles M. Stripling III '68
Mrs. Patricia H. Stripling '68
Dr. James G. Sweeny '65
Mr. Benjamin B. Swift '85
Mrs. Sarah H. Sydnor '71
Mr. Walker P. Sydnor, Jr.
Ms. Mary Szaroleta
Dr. Gary W. Tapp '69
Mrs. Robena M. Tapp '69
Ms. Melanie S. Taylor '74
Ms. Karen M. Torrisi '85
Ms. Karen M. Torrisi '88
Dr. Llewellyn M. Toulmin '71
Mr. Robert J. Tuite
Mr. Jesse A. Turtle '91
Ms. Merrie Van Loy '69
Mrs. Susan M. Vastine '64
Mrs. Dolores D. Venner
Ms. Sally A. Von Kaenel '68
Mrs. P. M. Wade-Graham '66
Mrs. Martha Rudy Wallace
Ms. Rosalie Weaver
Mr. Thomas H. Webster '04
Ms. Julie A. Weisberg
Mr. Robert F. Weisberg
Mr. Francis M. Wells II '96
Mrs. Lisa C. Wemett '73
Dr. Beverly F. Whiddon '67
Mr. David L. Wilt '69
Ms. Norma A. Winston
Dr. William E. Winston
Mrs. Katie M. Wireman
Dr. Barbara E. Withers '68
Mrs. Jean Giles Wittner
Ms. Mary E. Wood-Andersen '88
Mrs. Amy L. Woodruff '86
Mr. Grover C. Wrenn '64
Mrs. Suzie Wrenn
Ms. Donna Lee Yesner
History of William H. Kadel (1913–1990)
In 1955, Dr. William H. Kadel, then pastor at the First Presbyterian Church of Orlando, participated in a brainstorming meeting to discuss the possibility of a church-related college in Florida. Theirs would not be just another college, but a distinguished liberal arts college that would be a leader among higher education institutions. Their desire to be the best drew the attention of the Church, the community, prospective faculty and students, and many in academia. A campus was planned with Florida's natural beauty in mind.
In the summer of 1958, Kadel accepted the call to become the founding president of Florida Presbyterian College, later named Eckerd College.
Kadel knew this new college would require a high degree of vision and creativity and must capture the imagination of not only Florida but the American public as well. He believed if it was worth doing at all, it was worth going first-class—committing to top-tier faculty, an innovative curriculum, selectivity in admissions to ensure superior students, and facilities that would foster this distinctive environment.
Kadel firmly believed that "where there is no vision, the people perish." He believed in what he was doing; he had a passion for it and the ability to generate excitement and inspire others to support that vision.
William Kadel made a tremendous impact on Eckerd College as executive, administrator, counselor and spiritual leader. His legacy lives on in the life of the College today.