The Kadel Society was named after Eckerd College's founding president, William H. Kadel, in honor of his legacy of innovation and excellence at this special place.
This recognition society honors the outstanding group of friends who have made a provision for the College through their estate plans. These enduring gifts help to ensure that future generations of students will benefit from the Eckerd College educational experience.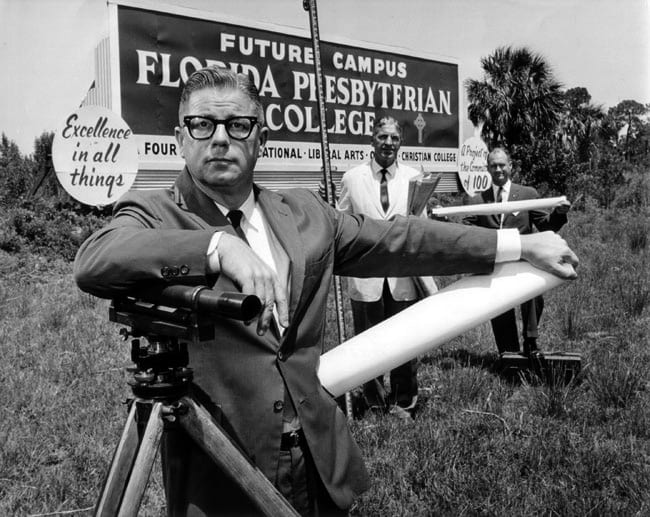 If you have already included Eckerd College in your estate plans, you can join the Kadel Society by simply sharing those intentions with us. By allowing Eckerd to include your name with the many alumni, parents, friends, faculty and staff who have made similar gift arrangements, you affirm the importance of planning for the College's future and inspire others to follow your example.
We would enjoy the opportunity to thank you and welcome you into this special group.
The Kadel Society—Where the past, present and future converge
December 15, 2022
Our Eckerd community sends you Holiday greetings! Campus is busy as the 2022 Fall Semester winds down and students take their final exams. Despite the busy time of year, we hope you are easing calmly into the holidays and time with your family. This issue of the Kadel Society Enduring Connections newsletter will provide you with planned-gift ideas, interesting donor stories and other important information about the College.
———————
Year-End Giving through Your IRA Qualified Charitable Distribution
Year-end giving with an IRA Qualified Charitable Distribution is one of a multitude of ways to give to Eckerd. The qualified charitable distribution (QCD) rule allows traditional individual retirement account (IRA) owners to deduct their required minimum distributions on their tax returns if they give the money to a charity.
How it Works
• You are age 70 ½ or older and instruct your plan administrator to make a direct transfer of up to $100,000 to Eckerd College.
• Plan administrator makes transfer as directed to Eckerd College.
Benefits
• Your gift is transferred directly to Eckerd College; since you did not receive the funds, they are not included in your gross income*
• Entitles you to tax benefits without requiring you to itemize your deductions
• Your gift will count toward your minimum distribution requirement, which, under the 2019 SECURE Act, begins at the age of 72
• You support the scholarships and programs that are important to you at Eckerd College
*No income tax deduction allowed for transfer
Kadel Society Spotlight: Sam Moulthrop '73 and Joyce Samson Moulthrop '73
It was 1969. Two Americans became the first humans to walk on the moon, more than 400,000 people showed up at Max Yasgur's dairy farm in Bethel, New York, for the Woodstock Music and Art Fair, and in St. Petersburg, Florida, students at Florida Presbyterian College (now Eckerd College), a small, 11-year-old liberal arts college, were settling into the school's permanent location on 54th Ave. S.
That fall, Sam Moulthrop arrived at FPC from Atlanta, and Joyce Samson drove down with her parents from Montclair, New Jersey. They were both first-year students. A few months later, they would meet at a party on campus. A mound party.
"Back in the day, the campus was not like it is now," Joyce says. "There was a lot of fill sand and dirt from the construction. We had mound parties at the entrance to campus on 34th St. S."
"It was probably the highest point in St. Pete," Sam adds with a chuckle.
And like the college that was rising up around them, they would blossom and thrive. Sam and Joyce married in 1975, enjoyed decades-long careers in accounting and the law, and raised three children who are now on their own unique adventures.
Along with being Kadel Society members, Sam and Joyce's commitment to helping others is exemplified by their travels to Peru in 2009 and again in 2011 to help rebuild churches after a devastating earthquake. "These were such meaningful trips—particularly to work as a family to help others," Joyce says. "Our daughter ran a music program in one of the churches, and both of our sons helped with construction."
Through the Years: 54th Avenue South Entrance
The Eckerd campus has developed greatly since its origin on May 20, 1958. This growth is particularly true in reference to the main entrance of the College. As the first point of contact for visitors, the current entrance on 54th Avenue South is impressive, toting sleek signs and beautiful landscaping. However, apart from alumni from the Class of 1968 and earlier, many are unaware of the humble, simple beginnings of the 34th Street South entrance.
In anticipation of the long-awaited I-275 extension and interchange with U.S. 19 and 54th Avenue South, Eckerd College officials sold 14 acres off the northeast corner of the campus to the Florida Department of Transportation for $1.65 million.
This act precipitated the move of the main entrance of the College from 34th Street South to the current location on 54th Avenue South. The groundbreaking for the 54th Avenue entrance occurred in the Fall of 1982.
The main campus road, beginning at the current 54th Avenue entrance and winding around to connect to the previous 34th Street South entrance, is officially named the "Edward H. White Avenue of States." While most refer to this connecting road as the "Avenue of States," Cathy McCoy '71, Eckerd College's volunteer archivist, shared the significance of the full name:
Edward H. White Jr. became the first American to walk in space on June 3, 1965, and was selected as a member of the second group of astronauts to take part in the Gemini and Apollo missions. He was the pilot of Gemini 4 alongside command pilot James McDivitt. Later, he served as the senior pilot of the first crewed Apollo mission, Apollo 1.
Florida Presbyterian officials intended to dedicate the road in his honor on the first anniversary of the spacewalk with Astronaut White attending. Unfortunately, prior to the dedication ceremony, White died on January 27, 1967, in a fire during pre-launch testing of Apollo 1 at Cape Canaveral.
In memory of Astronaut White, Florida Presbyterian officials dedicated the road on May 14, 1967, with James McDivitt, fellow astronaut and good friend of White, attending the ceremony in his honor. White's widow, children, siblings and parents were also at the ceremony.
As we celebrate the 40th anniversary of the new entrance and reflect on the growth and development of Florida Presbyterian/Eckerd College, we can see how, despite the myriad of changes, the initial culture and nature of the College remains central. Although cosmetic changes such as signage, a new roundabout, polished landscaping, and a traffic light adorn the current 54th Avenue South entrance, the humble beginnings of FPC/Eckerd will always be remembered fondly and remind us of the imaginative and groundbreaking foundations of the College that has shaped us all.
The Holiday Season: A Time to Gather and Give Thanks
More than 300 people gathered in Fox Hall for the annual tradition of a campus meal on Thanksgiving Day. Started by Jim Annarelli, then Dean of Students, and his wife Anna 21 years ago, the event was created to provide holiday cheer to the students who do not travel home for Thanksgiving. Since then generations of Eckerd students, ASPEC members, faculty/staff and their families have gathered annually in Fox Hall to enjoy a meal and fellowship.
The Kadel Society
The Kadel Society was named for the College's founding president, Dr. William H. Kadel, in honor of the vision and founding principles he helped establish at FPC/Eckerd College. This recognition society honors the outstanding group of alumni, parents, faculty, staff and friends who have made a provision for Eckerd in their estate plans.
If you haven't already, we hope you will consider supporting the unique learning community at Eckerd to perpetuate its legacy of educating creative thinkers, leaders and citizens of the world. If you have made provisions to include Eckerd College in your estate plans or want to document your bequest intentions with the College, contact Tom Schneider at 727.804.2108 or schneite@eckerd.edu.
Subscribe
Would you like to receive the Kadel Society newsletter by email? Please email Tom Schneider, associate vice president for development, at
schneite@eckerd.edu
.
Ways to Give
Bequests
A bequest is one of the most popular ways to make a gift. Through a provision in your will, you can provide significant support for the College. Your bequest can be a means to perpetuate the giving level at which you have provided during your lifetime. If you haven't yet made an outright gift, a bequest can enable you to leave a legacy that will assist the College in the future.
There are several types of bequests:
Specific Bequest
Designate the College to receive a specific amount of your estate.
Percentage Bequest
Designate the College to receive a percentage of money, securities or property from your estate.
Residual Bequest
The residual of your estate, after all specific bequests have been fulfilled, can be designated for the College.
Life Insurance Policy
Name the College as a beneficiary of an existing paid-up whole life policy.
Gift of Retirement Plan
Avoid taxation by naming the College as a beneficiary of your IRA, 401(k), 403(b) or other plan.
The College also can be the contingent beneficiary if your named individual beneficiaries don't survive you.
If you already have a will, it can be modified easily by adding a codicil. A bequest in your will allows you to pass any amount you wish to the College free of estate tax.
IRA Rollover
If you are 70½ or older, up to $100,000 of your IRA minimum distribution requirement may be satisfied by a qualified charitable distribution (QCD). If you are eligible for this opportunity, please contact your IRA custodian. Transfers must be made each year before the December 31 deadline.
Charitable Gift Annuity
A Charitable Gift Annuity enables you to make a meaningful gift to Eckerd College while enjoying income and tax benefits. In exchange for your gift of cash or securities, you—and if desired, another beneficiary—will receive a fixed sum each year for life. A gift annuity is particularly attractive because the rates, based on your age, typically produce higher income than the yields from investments in the stock and bond markets. The suggested minimum contribution is $10,000.
Benefits of Charitable Gift Annuity:
Part of your income may be tax-free.
You will receive an immediate income tax charitable deduction.
You may reduce your estate tax.
A gift made with low-yielding tax assets may increase your current income.
A gift made with appreciated assets may avoid capital gains taxes.
You will enjoy the satisfaction of supporting Eckerd College.
Charitable Remainder Trust
The Charitable Remainder Trust is an ideal vehicle for making a lifetime gift to Eckerd College. To create such a trust, you transfer cash, securities or real estate to the trust. The trust then pays you and/or other beneficiaries an income for life or for a period of years. Upon termination of the trust, the assets pass to the College. The suggested minimum contribution is $100,000.
There are two types of Charitable Remainder Trusts:
Annuity Trust—offers a fixed-amount payout each year.
Unitrust—pays out a fixed percentage of the value of the trust assets, which are figured annually.
Mr. Payton F. Adams
Chaplain Jennifer N. Anderson '98
Mr. James T. Anderton Jr. '70
Ms. Regina Perkowski-Anderton
Dr. George H. Atkinson '67
Dr. Thomas J. Bacon '66
Ms. Elizabeth A. Baergen '72
Mr. Benjamin G. Baldwin III
Mrs. Ruth Bass
Ms. Susanna L. Baxter
Ms. Virginia A. Baxter
Mr. Christopher E. Ballard '84
Ms. Joyce Belmont
Ms. Jan Bender
Mrs. Katherine T. Berger '73
Mr. Kenneth W. Berger '72
*Mrs. Louise D. Bevan (P '72)
Dr. Leonard Block
Mrs. Naomi L. Block
Mrs. Jean P. Boehne
Mrs. Jo Bond
Mr. John R. Bonner Sr.
Barbara Boyd
Ms. Ingrid A. Bredenberg '70
Mr. Richard E. Bredenberg '75
Dr. Anita C. Briggs '68
Mrs. Heather L. Brooks '98
Dr. William D. Buel
Ms. Lillian E. Bull '69
Mrs. Penelope J. Burns
Ms. Jacqueline Calnan
Mr. David W. Canter-McMillan '97
Dr. Albert H. Carter '64
Dr. D. B. Carter '74
Dr. Nancy C. Carter
Mrs. Bilee K. Cauley '72
Mr. William H. Clements '16
Mr. Miles C. Collier
Mr. James F. Conner II '72
Mrs. Katharine M. Conover
Rev. Jean H. Cooley '68
Rev. William G. Cooley '68
Mr. James E. Copeland III '90
Ms. Susan J. Cornman '71
Ms. Dana E. Cozad '69
Rev. David B. Cozad '68
Mr. Jeffrey D. Cramer '69
Mr. John W. Curington '71
Dr. Barbara E. Dabbs '68
Dr. Mark H. Davis
Mr. Clinton E. Day '07
Mr. Roger B. Day '72
Ms. Melissa S. DeLoach '08
Ms. Susan A. DeMay '77
Mr. Emil P. Dietrich '64
Ms. Catharina E. Dowd
*Mrs. Alice W. Fadden '64
*Mr. William I. Fadden '64
Dr. William F. Felice
Dr. David B. Fenner '67
Mr. Robert W. Ferguson '67
Ms. Taryn D. Fielder
Mr. David J. Fischer
Mr. Steven R. Forman '80
Mr. Kenneth M. Fournie '89
Ms. Wyndi Z. Fournie
Mr. Frank X. Fox IV
Ms. Vicki F. Fox
Mrs. Claire S. Francis '65
Dr. Edmund L. Gallizzi
Mr. Millard G. Gamble
Ms. Carol L. Gilbert '00
Mr. William Gould
Mrs. Gail-Patricia Greer '94
Mr. Seth D. Hagler '07
Royce G. Haiman
*Mr. Andrew D. Haines '86
Mr. Robert R. Hale '73
Ms. Mary L. Hall '71
Dr. Ilda L. Hall
Dr. Richard R. Hallin
Ms. Deana L. Hannah '73
Mrs. April C. Hargett '74
Mr. Ronald L. Haskell '74
Ms. Denise J. Hawks '95
Mrs. Jean H. Heare
Mr. David W. Henderson
Rev. Lynda S. Hergenrather '70
Mr. William E. Hewes
Mr. Louis R. Hidu '74
Dr. D. A. Hill '86
Dr. Susan R. Hill
Mr. Andrew H. Hines Jr.
Mr. Walter W. Hofheinz '75
Mrs. Carolyn R. Horton '64
*Mrs. Hazel C. Hough (P '76)
*Mr. William R. Hough Sr. (P '76)
Mr. Harold D. Holder Sr. (P '89)
Mrs. Carolyn R. Horton '64
Mr. Mark R. Huffman '82
Ms. Deborah-Kay Hughes '79
Mr. James M. Hurst
Ms. Suzanne L. Hurst '68
Mrs. Marika Hull
Mr. Ronald W. Hyatt '97
Mr. Clyde L. Irwin
Ms. Christine A. Jackson '16
Ms. Sharon M. Jakobi '01
Mr. Harry M. Johns '90
Mrs. Carolyn K. Johnson '71
Dr. Patricia A. Johnson '67
Mr. Robert Johnson '71
Ms. Angela R. Jones '12 (P '14)
Mrs. Karen Kadel '69
Mr. Richard (Dick) Kadel '69
Dr. Stephanie J. Kadel Taras '89
Mrs. Laura Keane '83
Ms. Mary Keefe (P '16, '18)
Ms. Ami Keslov
Dr. John G. Khosh
Dr. Mary S. Khosh
Ms. Wanda Kilgore-Schneider
Dr. Susan S. Kilham '65
Mr. Peter T. Kirkwood '75
Mr. A. Dale Lappe
Dr. Hansel B. Leavengood '79
Mrs. Lee B. Leavengood
Ms. Ainsley A. Legner '83
Mr. Raymond F. Legner
Mr. Glenn A. Leonberger '86
Mrs. Laura Leonberger
Mr. Michael A. Littman '70
Mr. Peter M. Lukehart '77
Ms. Wendy B. Lukehart
Dr. James R. Maar '65
Mr. Frederick H. MacFawn III '66
Dr. Charles A. MacNeill Jr. '68
Mrs. Gale MacNeill '68
Dr. Billy H. Maddox
Mrs. Wendy D. Maddox
Mr. R. Ernest Mahaffey '68
Mr. Dustin W. Malcolm '05
Col. Christian L. March Jr.
Dr. Theodore J. Marchese
Ms. Janet E. McBride
Dr. Joan McCall '69
Mrs. Eileen B. McCarron '73
Dr. William O. McCarron
Mrs. Catherine A. McGarry
Dr. Jack M. McGuire '67
Mrs. Sharon K. McGuire '68
Mr. David C. McKee '76
Ms. Joyce A. McKibben '71
Ms. Melanie Meyer '08
Ms. Laurie A. Miller '98
Mr. Gregory T. Mino '93
Dr. George C. Moench
Mrs. N. Eileen Moon '65
Dr. James D. Moore Jr. '68
Ms. Joyce E. Moulthrop '83
Mr. Samuel P. Moulthrop '83
Mr. John M. Nabers
Dr. Darryl B. Neill '67
Mrs. Suzanne S. Neill '67
Mrs. Dusty M. Netterstrom '87
Mr. David C. Nichols '67
Mr. Helmar E. Nielsen
Ms. Signe Oberhofer
Dr. Tom Oberhofer
Mr. George W. Off
Mr. Joseph M. Oglesby II '74
Ms. Kathleen E. Olejniczak '82
Mr. Erik C. Oliver '03
Mr. Brandon K. O'Shea '08
Mr. Andrew J. Oswald '06
Dr. William H. Parsons
Ms. Regina Perkowski-Anderton
Dr. Jane A. Petro '68
Ms. Laila Petrou '76
Mr. Joseph L. Peyton '14
The Honorable John B. Phelps III '65
Dr. Pamela C. Phelps
Mr. Michael E. Pique '73
Mr. Harry T. Price II '65
Dr. Marian W. Price '65
Mrs. Eva Raftelis
Mr. George A. Raftelis '69
Mr. Charles R. Ranson '69
Dr. Sheryl S. Ranson
Mr. Grayson H. Rayborn, Jr.
Mrs. Jane D. Rayborn '65
Mr. John A. Reed Jr.
Dr. Howard D. Rees III '68
Ms. Renee Register '83
Mrs. Jean C. Ring '66
Mr. Phares N. Risser III
Dr. Albert A. Robbert III '66
Mrs. Birgit V. Robbert '69
Mr. James M. Rogers II '71
Mrs. Patricia R. Rogers '73
Ms. Priscilla A. Rogers '71
Mr. John R. Saunders '71
Mr. Bob Scales (P '16, '18)
Mr. David P. Schenck
Dr. Mary J. Schenck '66
Mr. Thomas E. Schneider
Jack H. Senterfitt '68
Patricia M. Senterfitt '68
Mrs. Bonnie J. Shuman '70
Dr. Thom M. Shuman '68
Mrs. Deedie M. Simmons
Rev. John R. Sims '66
Mr. Douglas A. Smith '09
Mrs. Mirella C. Smith
Mr. Norman R. Smith
Mr. Walter O. Spencer
Mr. Matthew W. Staman '92
Mr. James M. Stamps '73
Ms. Tess J. Stimson
Dr. Charles M. Stripling III '68
Mrs. Patricia H. Stripling '68
Dr. James G. Sweeny '65
Mr. Benjamin B. Swift '85
Mrs. Sarah H. Sydnor '71
Mr. Walker P. Sydnor, Jr.
Ms. Mary Szaroleta
Dr. Gary W. Tapp '69
Mrs. Robena M. Tapp '69
Ms. Melanie S. Taylor '74
Rev. Gina L. Tollini '88
Ms. Karen M. Torrisi '85
Dr. Llewellyn M. Toulmin '71
Mr. Robert J. Tuite
Mr. Jesse A. Turtle '91
Ms. Andrea J. Turnbull '91
Mr. Dean F. Tyler '90
Dr. Denise A. Tyler '92
*Mrs. Carol A. Upham
Ms. Merrie Van Loy '69
Mrs. Susan M. Vastine '64
Mrs. Dolores D. Venner
Ms. Sally A. Von Kaenel '68
Mrs. P. M. Wade-Graham '66
Mrs. Martha Rudy Wallace
Ms. Rosalie Weaver
Mr. Thomas H. Webster '04
Ms. Julie A. Weisberg
Mr. Robert F. Weisberg
Mr. Francis M. Wells II '96
Mrs. Lisa C. Wemett '73
Dr. Beverly F. Whiddon '67
Mr. David L. Wilt '69
Ms. Norma A. Winston
Dr. William E. Winston
Mrs. Katie M. Wireman
Dr. Barbara E. Withers '68
*Mrs. Jean Giles Wittner
Ms. Mary E. Wood-Andersen '88
Mrs. Amy L. Woodruff '86
Mr. Grover C. Wrenn '64
Mrs. Suzie Wrenn
Ms. Donna Lee Yesner (P '14)
*Posthumous Member
History of William H. Kadel (1913–1990)
In 1955, Dr. William H. Kadel, then pastor at the First Presbyterian Church of Orlando, participated in a brainstorming meeting to discuss the possibility of a church-related college in Florida. Theirs would not be just another college, but a distinguished liberal arts college that would be a leader among higher education institutions. Their desire to be the best drew the attention of the Church, the community, prospective faculty and students, and many in academia. A campus was planned with Florida's natural beauty in mind.
In the summer of 1958, Kadel accepted the call to become the founding president of Florida Presbyterian College, later named Eckerd College.
Kadel knew this new college would require a high degree of vision and creativity and must capture the imagination of not only Florida but the American public as well. He believed if it was worth doing at all, it was worth going first-class—committing to top-tier faculty, an innovative curriculum, selectivity in admissions to ensure superior students, and facilities that would foster this distinctive environment.
Kadel firmly believed that "where there is no vision, the people perish." He believed in what he was doing; he had a passion for it and the ability to generate excitement and inspire others to support that vision.
William Kadel made a tremendous impact on Eckerd College as executive, administrator, counselor and spiritual leader. His legacy lives on in the life of the College today.