The Kadel Society was named after Eckerd College's founding president, William H. Kadel, in honor of his legacy of innovation and excellence at this special place.
This recognition society honors the outstanding group of friends who have made a provision for the College through their estate plans. These enduring gifts help to ensure that future generations of students will benefit from the Eckerd College educational experience.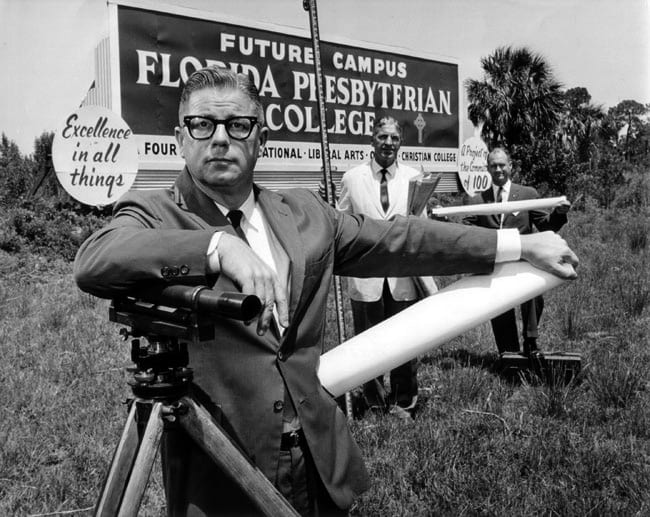 If you have already included Eckerd College in your estate plans, you can join the Kadel Society by simply sharing those intentions with us. By allowing Eckerd to include your name with the many alumni, parents, friends, faculty and staff who have made similar gift arrangements, you affirm the importance of planning for the College's future and inspire others to follow your example.
We would enjoy the opportunity to thank you and welcome you into this special group.
Kadel

 

Society

 Spotlight: Professor Bill Felice, Ph.D.
April 22, 2021
———————
Earth Day greetings from your friends at Eckerd College. As we celebrate Mother Earth on Eckerd's campus, we hope that spring has sprung where you live. There is a sense of resurgence or new beginnings as plants sprout and flowers bloom and our seniors plan to graduate next month. This e-newsletter will provide you with planned-gift ideas and other important information about the College.
Donation of Appreciated Stock
Donating stock directly to Eckerd or any charity of your choice is one of the most tax-smart ways to give, but it is often not well understood or widely used.
Here are two reasons why you should give stock donation a try:
You can give more. By donating stock that has appreciated for more than a year, you are actually giving 20% more than if you had sold the stock and then made a cash donation. The reason is simple: avoiding capital gains tax. The maximum federal capital gains tax rate is 20% on long-term holdings. If you donate the stock directly to a charity like Eckerd, there is no capital gains tax to pay. Plus, you are still eligible to deduct the full fair-market value of the asset you donated from your income taxes, up to the overall amount allowed by the IRS.
Spring cleaning. Like any household, your home can accumulate unwanted items and get out of control or off-balance. So, too, can your stock portfolio. If a review of your investments' gains and losses indicates you need to rebalance your portfolio to maximize its performance and optimize for risk, donating stock can give your portfolio the spring cleaning it needs. Implementing a donation strategy puts your capital gains to work funding your philanthropy.
As in all cases, talk to your financial advisor about which assets to put to a better use. Learn more about how to make a stock gift to Eckerd College, and for more information, please contact Tom Schneider, associate vice president for development, at schneite@eckerd​.edu or 727.804.2108.
Kadel Society Spotlight:
Professor Bill Felice, Ph.D.

Eckerd Political Science Professor Bill Felice's giving to Eckerd has come in many forms over his 26-year career at the College.
After his retirement at the end of this semester, his students will remember a teacher who encouraged them to ask the big questions. His colleagues will remember a visionary who built much of the department. But his Eckerd legacy and commitment to the College also include a financial component: He and his husband, Dale Lappe, are Kadel Society members, with their planned gift supporting an endowed scholarship for international relations. Felice said he is proud to have made an impact at Eckerd, and to be able to give back in a way that will help future generations of students.
"One of the greatest joys in my life has been teaching. It's the most rewarding and fulfilling profession possible," Felice said. "We all want to have a purpose in life, and teaching has provided me with that purpose."
Felice came to Eckerd in 1995, hired to build the international relations and global affairs major. The issues of the day were different—the Berlin Wall had recently fallen and the Cold War was winding down—but Felice's desire to guide students on their intellectual journeys remained the same his whole career.
"Teaching political science, it's really not about proselytizing," he said. "I'd really just like students to grapple with the material, and they can decide where the truth lies."
Some of Felice's proudest moments at Eckerd include establishing the College's Diplomat in Residence Program; creating and supervising the United Nations Study Abroad Programs (taking students to New York City; Geneva, Switzerland; The Hague, Netherlands; and Strasbourg, France); and establishing the International Relations Speaker Series, which brought names such as Nicolas Kristof and Tracy Kidder to campus.
During retirement, Felice plans to stay abreast of developments in his field, and also hopes to do more popular writing such as op-ed pieces. Beyond that, he said, he will see where retirement takes him.
Felice said that he has given so much of himself to Eckerd that it felt right to leave the College in his will.
"Eckerd really asks students to incorporate in their intellectual journey these big questions about life," he said. "I do believe that Eckerd College changes students' lives."
A Blast from the Past: Stewarding the Natural Environment

In the following vignette from the mid-1990s, Karl Stanley '97 remembers creating a contest to improve the campus environment. This excerpt is from the story "Karl's Bookstore, Brazilian Peppers, a Sea Monster, and My Own Submarine," which appears in the book Swimming Lessons, Eckerd's new collection of stories from alumni and faculty, written by the College's unofficial institutional historian, Stephanie Kadel Taras '89, Ph.D.
Karl Stanley recounts:
Although I came to Eckerd thinking I'd major in marine science, I ended up majoring in American studies. But I always was interested in marine ecology, and I joined the Earth Society—the College's ecology club. One of our major concerns was the proliferation of Brazilian peppertrees on campus. In terms of acreage, Brazilian peppertrees are now the most invasive plant species in Florida. They crowd out native plants and ruin habitat for native wildlife. If you don't keep them in check, pretty soon they're the only plant around.
Some of the Brazilian peppertrees on campus were massive—more than a foot in diameter—and the stands of trees were extensive. Removing them all seemed like an impossible job. Our club organized volunteer workdays, and the College was paying someone from Facilities to cut them down, but we couldn't get ahead of the problem. I did a little math on what the College was spending on this and proposed a contest to the administration, saying, "Why don't you put up Facilities' tree-removal budget as prize money, and we'll get students to compete for it?" We came to an arranement, and our club announced the contest.
I don't remember exactly how much money was involved, but it was something like $10,000 total—with first, second, and third prizes—enough to motivate teams of students. The winners would be those with the biggest piles of debris.
Whole dorms worked together to cut down the trees. Faculty joined some of the teams, working side by side with students. People were seriously motivated. I remember it became hard to find chain saws at the local pawnshops. Some teams worked at night, when the air was cooler, with car headlights to see by. They wanted to grow their piles overnight while the other teams weren't looking.
The contest was a smashing success. We cleared a huge swath of Brazilian peppertrees from campus. It took the College about a month to clean up the debris. We repeated the competition once or twice more, but then we couldn't have a contest again because there weren't enough Brazilian peppertrees left. The following summer, I got a part-time job applying herbicide to tree stumps, a necessary step in keeping the plants from growing back.
It's been twenty years now since those contests, and I'm sorry to say that the Brazilian peppertrees are back. You have to stay on top of them.
The Kadel Society

The Kadel Society was named for the College's founding president, Dr. William H. Kadel, in honor of the vision and founding principles he helped establish at FPC/Eckerd College. This recognition society honors the outstanding group of alumni, parents, faculty, staff and friends who have made a provision for Eckerd in their estate plans.
If you haven't already, we hope you will consider supporting the unique learning community at Eckerd to perpetuate its legacy of educating creative thinkers, leaders and citizens of the world. If you have made provisions to include Eckerd College in your estate plans or want to document your bequest intentions with the College, contact Tom Schneider at 727.804.2108 or schneite@eckerd​.edu.
Subscribe
Would you like to receive the Kadel Society newsletter by email? Please email Tom Schneider, associate vice president for development, at
schneite@eckerd.edu
.
Ways to Give
Bequests
A bequest is one of the most popular ways to make a gift. Through a provision in your will, you can provide significant support for the College. Your bequest can be a means to perpetuate the giving level at which you have provided during your lifetime. If you haven't yet made an outright gift, a bequest can enable you to leave a legacy that will assist the College in the future.
There are several types of bequests:
Specific Bequest
Designate the College to receive a specific amount of your estate.
Percentage Bequest
Designate the College to receive a percentage of money, securities or property from your estate.
Residual Bequest
The residual of your estate, after all specific bequests have been fulfilled, can be designated for the College.
Life Insurance Policy
Name the College as a beneficiary of an existing paid-up whole life policy.
Gift of Retirement Plan
Avoid taxation by naming the College as a beneficiary of your IRA, 401(k), 403(b) or other plan.
The College also can be the contingent beneficiary if your named individual beneficiaries don't survive you.
If you already have a will, it can be modified easily by adding a codicil. A bequest in your will allows you to pass any amount you wish to the College free of estate tax.
IRA Rollover
If you are 70½ or older, up to $100,000 of your IRA minimum distribution requirement may be satisfied by a qualified charitable distribution (QCD). If you are eligible for this opportunity, please contact your IRA custodian. Transfers must be made each year before the December 31 deadline.
Charitable Gift Annuity
A Charitable Gift Annuity enables you to make a meaningful gift to Eckerd College while enjoying income and tax benefits. In exchange for your gift of cash or securities, you—and if desired, another beneficiary—will receive a fixed sum each year for life. A gift annuity is particularly attractive because the rates, based on your age, typically produce higher income than the yields from investments in the stock and bond markets. The suggested minimum contribution is $10,000.
Benefits of Charitable Gift Annuity:
Part of your income may be tax-free.
You will receive an immediate income tax charitable deduction.
You may reduce your estate tax.
A gift made with low-yielding tax assets may increase your current income.
A gift made with appreciated assets may avoid capital gains taxes.
You will enjoy the satisfaction of supporting Eckerd College.
Charitable Remainder Trust
The Charitable Remainder Trust is an ideal vehicle for making a lifetime gift to Eckerd College. To create such a trust, you transfer cash, securities or real estate to the trust. The trust then pays you and/or other beneficiaries an income for life or for a period of years. Upon termination of the trust, the assets pass to the College. The suggested minimum contribution is $100,000.
There are two types of Charitable Remainder Trusts:
Annuity Trust—offers a fixed-amount payout each year.
Unitrust—pays out a fixed percentage of the value of the trust assets, which are figured annually.
Mr. Payton F. Adams
Chaplain Jennifer N. Anderson '98
Mr. James T. Anderton Jr. '70
Ms. Regina Perkowski-Anderton
Dr. George H. Atkinson '67
Dr. Thomas J. Bacon '66
Ms. Elizabeth A. Baergen '72
Mr. Benjamin G. Baldwin III
Ms. Virginia A. Baxter
Mr. Christopher E. Ballard '84
Ms. Joyce Belmont
Ms. Jan Bender
Mrs. Katherine T. Berger '73
Mr. Kenneth W. Berger '72
Mrs. Louise D. Bevan (P '72)
Mr. Matthew S. Bisset
Dr. Leonard Block
Mrs. Naomi L. Block
Mrs. Jean P. Boehne
Mrs. Jo Bond
Mr. John R. Bonner Sr.
Barbara Boyd
Ms. Ingrid A. Bredenberg '70
Mr. Richard E. Bredenberg '75
Dr. Anita C. Briggs '68
Mrs. Heather L. Brooks '98
Dr. William D. Buel
Ms. Lillian E. Bull '69
Mrs. Penelope J. Burns
Ms. Jacqueline Calnan
Mr. David W. Canter-McMillan '97
Dr. Albert H. Carter '64
Dr. D. B. Carter '74
Dr. Nancy C. Carter
Mrs. Bilee K. Cauley '72
Mr. William H. Clements '16
Mr. Miles C. Collier
Mr. James F. Conner II '72
Mrs. Katharine M. Conover
Rev. Jean H. Cooley '68
Rev. William G. Cooley '68
Mr. James E. Copeland III '90
Ms. Susan J. Cornman '71
Ms. Dana E. Cozad '69
Rev. David B. Cozad '68
Mr. Jeffrey D. Cramer '69
Mr. John W. Curington '71
Dr. Barbara E. Dabbs '68
Dr. Mark H. Davis
Mr. Clinton E. Day '07
Mr. Roger B. Day '72
Ms. Melissa S. DeLoach '08
Mr. Emil P. Dietrich '64
Ms. Catharina E. Dowd
Dr. William F. Felice
Dr. David B. Fenner '67
Mr. Robert W. Ferguson '67
Ms. Taryn D. Fielder
Mr. David J. Fischer
Mr. Steven R. Forman '80
Mr. Kenneth M. Fournie '89
Ms. Wyndi Z. Fournie
Mr. Frank X. Fox IV
Ms. Vicki F. Fox
Mrs. Claire S. Francis '65
Dr. Edmund L. Gallizzi
Mr. Millard G. Gamble
Ms. Carol L. Gilbert '00
Mr. William Gould
Mrs. Gail-Patricia Greer '94
Mr. Seth D. Hagler '07
Royce G. Haiman
Mr. Andrew D. Haines '86
Mr. Robert R. Hale '73
Ms. Mary L. Hall '71
Dr. Ilda L. Hall
Dr. Richard R. Hallin
Ms. Deana L. Hannah '73
Mrs. April C. Hargett '74
Mr. Ronald L. Haskell '74
Ms. Denise J. Hawks '95
Mrs. Jean H. Heare
Mr. David W. Henderson
Rev. Lynda S. Hergenrather '70
Mr. William E. Hewes
Mr. Louis R. Hidu '74
Dr. D. A. Hill '86
Rev. Jennifer N. Hill '98
Dr. Susan R. Hill
Mr. Andrew H. Hines Jr.
Mr. Walter W. Hofheinz '75
Mrs. Carolyn R. Horton '64
Mrs. Hazel C. Hough (P '76)
Mr. Harold D. Holder Sr. (P '89)
Mrs. Carolyn R. Horton '64
Mr. Mark R. Huffman
Ms. Deborah-Kay Hughes '79
Mrs. Marika Hull
Mr. Ronald W. Hyatt '97
Mr. Clyde L. Irwin
Ms. Christine A. Jackson '16
Ms. Sharon M. Jakobi '01
Mr. Harry M. Johns '90
Mrs. Carolyn K. Johnson '71
Dr. Patricia A. Johnson '67
Mr. Robert Johnson '71
Ms. Angela R. Jones '12 (P '14)
Mrs. Karen Kadel '69
Mr. Richard (Dick) Kadel '69
Dr. Stephanie J. Kadel Taras '89
Mrs. Laura Keane '83
Ms. Ami Keslov
Dr. John G. Khosh
Dr. Mary S. Khosh
Ms. Wanda Kilgore-Schneider
Dr. Susan S. Kilham '65
Mr. Peter T. Kirkwood '75
Mrs. Laura Knutzen Leonberger
Mr. A. Dale Lappe
Dr. Hansel B. Leavengood '79
Mrs. Lee B. Leavengood
Ms. Ainsley A. Legner '83
Mr. Raymond F. Legner
Mr. Glenn A. Leonberger '86
Mrs. Laura Leonberger
Mr. Michael A. Littman '70
Mr. Peter M. Lukehart '77
Ms. Wendy B. Lukehart
Dr. James R. Maar '65
Dr. Charles A. MacNeill Jr. '68
Mrs. Gale MacNeill '68
Dr. Billy H. Maddox
Mrs. Wendy D. Maddox
Mr. R. Ernest Mahaffey '68
Mr. Dustin W. Malcolm '05
Col. Christian L. March Jr.
Dr. Theodore J. Marchese
Ms. Janet E. McBride
Dr. Joan McCall '69
Mrs. Eileen B. McCarron '73
Dr. William O. McCarron
Mrs. Catherine A. McGarry
Dr. Jack M. McGuire '67
Mrs. Sharon K. McGuire '68
Ms. Joyce A. McKibben '71
Mr. John J. Meiners '84
Ms. Melanie Meyer '08
Ms. Laurie A. Miller '98
Mr. Gregory T. Mino '93
Dr. George C. Moench
Mrs. N. Eileen Moon
Dr. James D. Moore Jr. '68
Ms. Joyce E. Moulthrop '83
Mr. Samuel P. Moulthrop '83
Mr. John M. Nabers
Dr. Darryl B. Neill '67
Mrs. Suzanne S. Neill '67
Mrs. Dusty M. Netterstrom '87
Mr. David C. Nichols '67
Mr. Helmar E. Nielsen
Ms. Signe Oberhofer
Dr. Tom Oberhofer
Mr. George W. Off
Ms. Kathleen E. Olejniczak '82
Mr. Erik C. Oliver '03
Mr. Brandon K. O'Shea '08
Mr. Andrew J. Oswald '06
Dr. William H. Parsons
Ms. Regina Perkowski-Anderton
Dr. Jane A. Petro '68
Ms. Laila Petrou '76
The Honorable John B. Phelps III '65
Dr. Pamela C. Phelps
Mr. Michael E. Pique '73
Mr. Harry T. Price II '65
Dr. Marian W. Price '65
Mrs. Eva Raftelis
Mr. George A. Raftelis '69
Mr. Charles R. Ranson '69
Dr. Sheryl S. Ranson
Mr. Grayson H. Rayborn, Jr.
Mrs. Jane D. Rayborn '65
Mr. John A. Reed Jr.
Dr. Howard D. Rees III '68
Ms. Renee Register '83
Mrs. Jean C. Ring '66
Mr. Phares N. Risser III
Dr. Albert A. Robbert III '66
Mrs. Birgit V. Robbert '69
Mr. James M. Rogers II '73
Mrs. Patricia R. Rogers '73
Ms. Priscilla A. Rogers '71
Mr. John R. Saunders '71
Mr. David P. Schenck
Dr. Mary J. Schenck '66
Mr. Thomas E. Schneider
Jack H. Senterfitt '68
Patricia M. Senterfitt '68
Mrs. Bonnie J. Shuman '70
Dr. Thom M. Shuman '68
Mrs. Deedie M. Simmons
Rev. John R. Sims '66
Mr. Douglas A. Smith '09
Mrs. Mirella C. Smith
Mr. Norman R. Smith
Mr. Walter O. Spencer
Mr. Matthew W. Staman '92
Mr. James M. Stamps '73
Ms. Tess J. Stimson
Dr. Charles M. Stripling III '68
Mrs. Patricia H. Stripling '68
Dr. James G. Sweeny '65
Mr. Benjamin B. Swift '85
Mrs. Sarah H. Sydnor '71
Mr. Walker P. Sydnor, Jr.
Ms. Mary Szaroleta
Dr. Gary W. Tapp '69
Mrs. Robena M. Tapp '69
Ms. Melanie S. Taylor '74
Rev. Gina L. Tollini '88
Ms. Karen M. Torrisi '85
Dr. Llewellyn M. Toulmin '71
Mr. Robert J. Tuite
Mr. Jesse A. Turtle '91
Mr. Dean F. Tyler '90
Dr. Denise A. Tyler '92
Ms. Merrie Van Loy '69
Mrs. Susan M. Vastine '64
Mrs. Dolores D. Venner
Ms. Sally A. Von Kaenel '68
Mrs. P. M. Wade-Graham '66
Mrs. Martha Rudy Wallace
Ms. Rosalie Weaver
Mr. Thomas H. Webster '04
Ms. Julie A. Weisberg
Mr. Robert F. Weisberg
Mr. Francis M. Wells II '96
Mrs. Lisa C. Wemett '73
Dr. Beverly F. Whiddon '67
Mr. David L. Wilt '69
Ms. Norma A. Winston
Dr. William E. Winston
Mrs. Katie M. Wireman
Dr. Barbara E. Withers '68
Mrs. Jean Giles Wittner
Ms. Mary E. Wood-Andersen '88
Mrs. Amy L. Woodruff '86
Mr. Grover C. Wrenn '64
Mrs. Suzie Wrenn
Ms. Donna Lee Yesner
History of William H. Kadel (1913–1990)
In 1955, Dr. William H. Kadel, then pastor at the First Presbyterian Church of Orlando, participated in a brainstorming meeting to discuss the possibility of a church-related college in Florida. Theirs would not be just another college, but a distinguished liberal arts college that would be a leader among higher education institutions. Their desire to be the best drew the attention of the Church, the community, prospective faculty and students, and many in academia. A campus was planned with Florida's natural beauty in mind.
In the summer of 1958, Kadel accepted the call to become the founding president of Florida Presbyterian College, later named Eckerd College.
Kadel knew this new college would require a high degree of vision and creativity and must capture the imagination of not only Florida but the American public as well. He believed if it was worth doing at all, it was worth going first-class—committing to top-tier faculty, an innovative curriculum, selectivity in admissions to ensure superior students, and facilities that would foster this distinctive environment.
Kadel firmly believed that "where there is no vision, the people perish." He believed in what he was doing; he had a passion for it and the ability to generate excitement and inspire others to support that vision.
William Kadel made a tremendous impact on Eckerd College as executive, administrator, counselor and spiritual leader. His legacy lives on in the life of the College today.