The Kadel Society was named after Eckerd College's founding president, William H. Kadel, in honor of his legacy of innovation and excellence at this special place.
This recognition society honors the outstanding group of friends who have made a provision for the College through their estate plans. These enduring gifts help to ensure that future generations of students will benefit from the Eckerd College educational experience.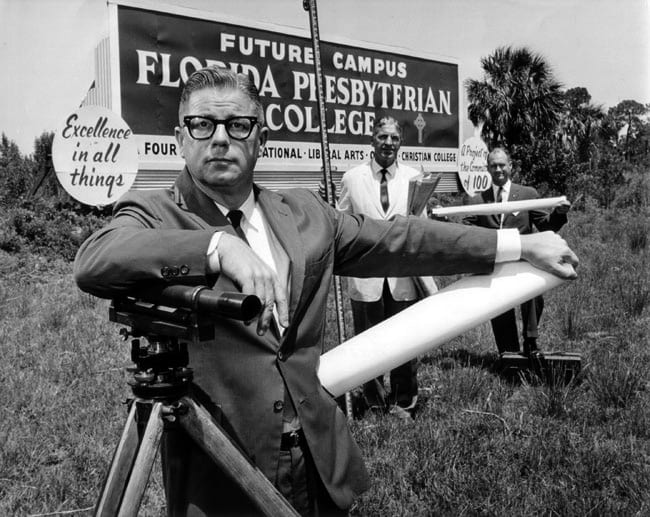 If you have already included Eckerd College in your estate plans, you can join the Kadel Society by simply sharing those intentions with us. By allowing Eckerd to include your name with the many alumni, parents, friends, faculty and staff who have made similar gift arrangements, you affirm the importance of planning for the College's future and inspire others to follow your example.
We would enjoy the opportunity to thank you and welcome you into this special group.
Kadel Society Spotlight: Deborah Kay Hughes '79
May 23, 2022
———————
It's Springtime at Eckerd, and a particularly special one: this week marked our first full Commencement since 2019. For those of you who graduated from Eckerd or have been to an Eckerd Commencement, you know what a remarkable occasion this is. This issue of the Kadel Society Enduring Connections e-newsletter will provide you with planned-gift ideas, interesting donor stories and important information about the College.
A Planned Gift to Eckerd College can be Simple! 
Many alumni and friends want to include Eckerd College in their estate plans, but finding the time or a legal representative to create or revise those plans can seem like a difficult process. However, a planned gift to the College can be much simpler than creating a will.
If you have one of the following, you can include Eckerd College as a beneficiary:
Life Insurance Policy
IRA
401K
Bank Account
Securities and other Financial Accounts
Start by requesting a change-of-beneficiary form from your policy administrator or Human Resources office, or download the form from your financial provider's website. Make your desired changes and return the form to establish your gift. You can designate Eckerd College as the primary beneficiary for a percentage or specific amount, or you can make Eckerd the contingent beneficiary so the College receives the balance of your policy or financial account only if your primary beneficiary does not survive you.
Because account or policy proceeds go directly to charity, they are not subject to capital gain or estate taxes. Beneficiary gifts are flexible: you can change your beneficiaries whenever you wish, and you can name multiple beneficiaries to receive a portion of the account remainder.
If you decide to include Eckerd in your beneficiary plans, please contact Tom Schneider in the Eckerd Advancement Office at 727-804-2108 (cell) or email schneite@eckerd​.edu.
Kadel Society Spotlight:
Deborah Kay Hughes '79

As the only girl in a family of five siblings, Deborah Kay Hughes '79 (Debbie) grew up shy but studious.
The small, church-related academically rigorous environment at Eckerd College—not too far from her hometown of Melbourne—allowed her to claim her place in the world. She majored in political science, served on Student Court, held campus and academic student leadership roles, assisted with student recruitment, and staffed the College Work-Study Program in Admissions and Financial Aid that gave her a small but insider's view of how higher education worked. Outstanding college staff and superb mentors, including political science professors Felix Rackow and Anne Murphy, encouraged her to continue her studies, which she did in a public policy master's program at American University.
"Eckerd really was a place where I blossomed and flourished—an easy task where the campus culture was focused on our role as givers and not takers," Hughes said.
The experience was also entirely made possible by scholarships and work-study opportunities, a blessing that inspired her choice of career. Hughes recently retired after a 40-year career in higher education philanthropy, most recently at Duke University. The nationally renowned Duke TIP program was an academically gifted program whose endowment fundraising afforded low-income middle and high school students to participate in transformational residential academic summer programs.
"I was driven by the opportunity to be engaged in a career that really changed student-scholars' lives through financial aid and merit-based scholarships," Hughes said. "I could see where that would have such an impact on not only students, but their families, because it had such an impact on me."
Upon retirement in Chapel Hill, N.C., this past year after a 40-year career, Hughes began to turn her focus to how she could personally give back. Excited at the new direction laid out by Eckerd President Damián Fernández, she thought back to Eckerd and her transformative college journey as she considered her priorities for giving. Her planned gift to the College will establish an endowed scholarship named in memory of her parents, who passed on their deeply held value of education to her. Additionally, she will establish a new endowed fund in memory of her Eckerd classmate and dearest friend, Mitch Rubin '81, and their 45-year friendship. Mitch passed away recently in March 2022.
"It's the most tangible and permanent way to give back to future generations of Eckerd students—and to a wholly unique college that gave so much to me," she said. "Eckerd was the foundation that put me on this transformative personal and professional journey."
Through the Years: Commencement
On May 22, Eckerd College conferred degrees to the Class of 2022 as part of the celebration of the  College's 59th Commencement. After two years of altered celebrations due to COVID, this year's ceremony regains the feel of years past. To celebrate the occasion, Eckerd College Archivist Cathy McCoy '71 put together a timeline of Commencement celebrations at Eckerd. Over the past 59 years, ceremonies have taken place in various venues, and graduates have adopted different looks and styles.
1964-1970: In the Spring of 1964, the College's first Commencement took place off-campus at Pasadena Community Church. Graduates were dressed in traditional black academic robes. Commencement would be held at the church for seven years until 1971.
1971-1991: It was not until the 1970s that the College made the decision to hold Commencement ceremonies on campus. Held outside in the Academic Quad area, the students would march from the Chapel to the Commencement staging area. 1971 also began the era of graduates wearing  colored robes. In 1971 and 1972, the different colors of the robes designated graduates from the various academic divisions, as well as the separate program, Jefferson House. After 1973, when collegia were formed, robe colors represented the collegium associated with the graduate's major.
1979: The College saw its first graduates from PEL (Program for Experienced Learners) march with the traditional residential students. Their robes were purple. From 1979 through 1991, the residential and PEL graduates celebrated in one ceremony together.
1992-2001: Commencement ceremonies moved to the College's McArthur Gymnasium. Because space was limited, the residential and PEL graduates had separate ceremonies on consecutive days.
2002-2003: President Donald R. Eastman brought the graduates from both the residential and PEL programs back together to celebrate in the same ceremony. For 2002-2003, the venue that accommodated this arrangement was Tropicana Field, home of the Tampa Bay Devil Rays.
2004: Inflexible Major League baseball schedules and the desire to bring Commencement back to campus resulted in a creative solution. From 2004 until the present (except for 2018 due to weather, when Commencement returned to Tropicana Field, and 2020 due to COVID) the Commencement ceremonies were held under a big event tent on the campus Kappa Field. Until the end of the PEL program in 2018, this included both residential and PEL graduates. And, beginning with the return to campus in 2004, the graduates again started wearing black robes.
2020: Because of the COVID-19 pandemic, Commencement was held virtually for the first (and hopefully only) time.
2021: Commencement was again held in person outside on Kappa Field. Because of continued COVID concerns, only students were in attendance, with loved ones watching virtually. In addition to the traditional black robes worn at Commencement, students were given teal Eckerd cloth masks to wear.
Commencement Speakers Past 
Eckerd College has featured some impressive names as keynote speakers at Commencement, including activist and widow of Dr. Martin Luther King, Jr. Coretta Scott King in 1996; Nobel Laureate and educator Elie Wiesel in 1998; and novelist and alumnus Dennis Lehane '88 in 2005. This year, Eckerd Trustee Miles Collier joined their ranks. For more, view the full list of Eckerd Commencement Speakers.
Share Your Commencement Story
The Kadel Society Enduring Connections e-newsletter would love to hear your graduation story. Please send your story to Tom Schneider, associate vice president for development, at schneite@eckerd​.edu.
The Kadel Society
The Kadel Society was named for the College's founding president, Dr. William H. Kadel, in honor of the vision and founding principles he helped establish at FPC/Eckerd College. This recognition society honors the outstanding group of alumni, parents, faculty, staff and friends who have made a provision for Eckerd in their estate plans.
If you haven't already, we hope you will consider supporting the unique learning community at Eckerd to perpetuate its legacy of educating creative thinkers, leaders and citizens of the world. If you have made provisions to include Eckerd College in your estate plans or want to document your bequest intentions with the College, contact Tom Schneider at 727.804.2108 or schneite@eckerd​.edu.
Subscribe
Would you like to receive the Kadel Society newsletter by email? Please email Tom Schneider, associate vice president for development, at
schneite@eckerd.edu
.
Ways to Give
Bequests
A bequest is one of the most popular ways to make a gift. Through a provision in your will, you can provide significant support for the College. Your bequest can be a means to perpetuate the giving level at which you have provided during your lifetime. If you haven't yet made an outright gift, a bequest can enable you to leave a legacy that will assist the College in the future.
There are several types of bequests:
Specific Bequest
Designate the College to receive a specific amount of your estate.
Percentage Bequest
Designate the College to receive a percentage of money, securities or property from your estate.
Residual Bequest
The residual of your estate, after all specific bequests have been fulfilled, can be designated for the College.
Life Insurance Policy
Name the College as a beneficiary of an existing paid-up whole life policy.
Gift of Retirement Plan
Avoid taxation by naming the College as a beneficiary of your IRA, 401(k), 403(b) or other plan.
The College also can be the contingent beneficiary if your named individual beneficiaries don't survive you.
If you already have a will, it can be modified easily by adding a codicil. A bequest in your will allows you to pass any amount you wish to the College free of estate tax.
IRA Rollover
If you are 70½ or older, up to $100,000 of your IRA minimum distribution requirement may be satisfied by a qualified charitable distribution (QCD). If you are eligible for this opportunity, please contact your IRA custodian. Transfers must be made each year before the December 31 deadline.
Charitable Gift Annuity
A Charitable Gift Annuity enables you to make a meaningful gift to Eckerd College while enjoying income and tax benefits. In exchange for your gift of cash or securities, you—and if desired, another beneficiary—will receive a fixed sum each year for life. A gift annuity is particularly attractive because the rates, based on your age, typically produce higher income than the yields from investments in the stock and bond markets. The suggested minimum contribution is $10,000.
Benefits of Charitable Gift Annuity:
Part of your income may be tax-free.
You will receive an immediate income tax charitable deduction.
You may reduce your estate tax.
A gift made with low-yielding tax assets may increase your current income.
A gift made with appreciated assets may avoid capital gains taxes.
You will enjoy the satisfaction of supporting Eckerd College.
Charitable Remainder Trust
The Charitable Remainder Trust is an ideal vehicle for making a lifetime gift to Eckerd College. To create such a trust, you transfer cash, securities or real estate to the trust. The trust then pays you and/or other beneficiaries an income for life or for a period of years. Upon termination of the trust, the assets pass to the College. The suggested minimum contribution is $100,000.
There are two types of Charitable Remainder Trusts:
Annuity Trust—offers a fixed-amount payout each year.
Unitrust—pays out a fixed percentage of the value of the trust assets, which are figured annually.
Mr. Payton F. Adams
Chaplain Jennifer N. Anderson '98
Mr. James T. Anderton Jr. '70
Ms. Regina Perkowski-Anderton
Dr. George H. Atkinson '67
Dr. Thomas J. Bacon '66
Ms. Elizabeth A. Baergen '72
Mr. Benjamin G. Baldwin III
Mrs. Ruth Bass
Ms. Susanna L. Baxter
Ms. Virginia A. Baxter
Mr. Christopher E. Ballard '84
Ms. Joyce Belmont
Ms. Jan Bender
Mrs. Katherine T. Berger '73
Mr. Kenneth W. Berger '72
*Mrs. Louise D. Bevan (P '72)
Dr. Leonard Block
Mrs. Naomi L. Block
Mrs. Jean P. Boehne
Mrs. Jo Bond
Mr. John R. Bonner Sr.
Barbara Boyd
Ms. Ingrid A. Bredenberg '70
Mr. Richard E. Bredenberg '75
Dr. Anita C. Briggs '68
Mrs. Heather L. Brooks '98
Dr. William D. Buel
Ms. Lillian E. Bull '69
Mrs. Penelope J. Burns
Ms. Jacqueline Calnan
Mr. David W. Canter-McMillan '97
Dr. Albert H. Carter '64
Dr. D. B. Carter '74
Dr. Nancy C. Carter
Mrs. Bilee K. Cauley '72
Mr. William H. Clements '16
Mr. Miles C. Collier
Mr. James F. Conner II '72
Mrs. Katharine M. Conover
Rev. Jean H. Cooley '68
Rev. William G. Cooley '68
Mr. James E. Copeland III '90
Ms. Susan J. Cornman '71
Ms. Dana E. Cozad '69
Rev. David B. Cozad '68
Mr. Jeffrey D. Cramer '69
Mr. John W. Curington '71
Dr. Barbara E. Dabbs '68
Dr. Mark H. Davis
Mr. Clinton E. Day '07
Mr. Roger B. Day '72
Ms. Melissa S. DeLoach '08
Ms. Susan A. DeMay '77
Mr. Emil P. Dietrich '64
Ms. Catharina E. Dowd
*Mrs. Alice W. Fadden '64
*Mr. William I. Fadden '64
Dr. William F. Felice
Dr. David B. Fenner '67
Mr. Robert W. Ferguson '67
Ms. Taryn D. Fielder
Mr. David J. Fischer
Mr. Steven R. Forman '80
Mr. Kenneth M. Fournie '89
Ms. Wyndi Z. Fournie
Mr. Frank X. Fox IV
Ms. Vicki F. Fox
Mrs. Claire S. Francis '65
Dr. Edmund L. Gallizzi
Mr. Millard G. Gamble
Ms. Carol L. Gilbert '00
Mr. William Gould
Mrs. Gail-Patricia Greer '94
Mr. Seth D. Hagler '07
Royce G. Haiman
*Mr. Andrew D. Haines '86
Mr. Robert R. Hale '73
Ms. Mary L. Hall '71
Dr. Ilda L. Hall
Dr. Richard R. Hallin
Ms. Deana L. Hannah '73
Mrs. April C. Hargett '74
Mr. Ronald L. Haskell '74
Ms. Denise J. Hawks '95
Mrs. Jean H. Heare
Mr. David W. Henderson
Rev. Lynda S. Hergenrather '70
Mr. William E. Hewes
Mr. Louis R. Hidu '74
Dr. D. A. Hill '86
Dr. Susan R. Hill
Mr. Andrew H. Hines Jr.
Mr. Walter W. Hofheinz '75
Mrs. Carolyn R. Horton '64
*Mrs. Hazel C. Hough (P '76)
*Mr. William R. Hough Sr. (P '76)
Mr. Harold D. Holder Sr. (P '89)
Mrs. Carolyn R. Horton '64
Mr. Mark R. Huffman '82
Ms. Deborah-Kay Hughes '79
Mr. James M. Hurst
Ms. Suzanne L. Hurst '68
Mrs. Marika Hull
Mr. Ronald W. Hyatt '97
Mr. Clyde L. Irwin
Ms. Christine A. Jackson '16
Ms. Sharon M. Jakobi '01
Mr. Harry M. Johns '90
Mrs. Carolyn K. Johnson '71
Dr. Patricia A. Johnson '67
Mr. Robert Johnson '71
Ms. Angela R. Jones '12 (P '14)
Mrs. Karen Kadel '69
Mr. Richard (Dick) Kadel '69
Dr. Stephanie J. Kadel Taras '89
Mrs. Laura Keane '83
Ms. Mary Keefe (P '16, '18)
Ms. Ami Keslov
Dr. John G. Khosh
Dr. Mary S. Khosh
Ms. Wanda Kilgore-Schneider
Dr. Susan S. Kilham '65
Mr. Peter T. Kirkwood '75
Mr. A. Dale Lappe
Dr. Hansel B. Leavengood '79
Mrs. Lee B. Leavengood
Ms. Ainsley A. Legner '83
Mr. Raymond F. Legner
Mr. Glenn A. Leonberger '86
Mrs. Laura Leonberger
Mr. Michael A. Littman '70
Mr. Peter M. Lukehart '77
Ms. Wendy B. Lukehart
Dr. James R. Maar '65
Mr. Frederick H. MacFawn III '66
Dr. Charles A. MacNeill Jr. '68
Mrs. Gale MacNeill '68
Dr. Billy H. Maddox
Mrs. Wendy D. Maddox
Mr. R. Ernest Mahaffey '68
Mr. Dustin W. Malcolm '05
Col. Christian L. March Jr.
Dr. Theodore J. Marchese
Ms. Janet E. McBride
Dr. Joan McCall '69
Mrs. Eileen B. McCarron '73
Dr. William O. McCarron
Mrs. Catherine A. McGarry
Dr. Jack M. McGuire '67
Mrs. Sharon K. McGuire '68
Mr. David C. McKee '76
Ms. Joyce A. McKibben '71
Ms. Melanie Meyer '08
Ms. Laurie A. Miller '98
Mr. Gregory T. Mino '93
Dr. George C. Moench
Mrs. N. Eileen Moon '65
Dr. James D. Moore Jr. '68
Ms. Joyce E. Moulthrop '83
Mr. Samuel P. Moulthrop '83
Mr. John M. Nabers
Dr. Darryl B. Neill '67
Mrs. Suzanne S. Neill '67
Mrs. Dusty M. Netterstrom '87
Mr. David C. Nichols '67
Mr. Helmar E. Nielsen
Ms. Signe Oberhofer
Dr. Tom Oberhofer
Mr. George W. Off
Mr. Joseph M. Oglesby II '74
Ms. Kathleen E. Olejniczak '82
Mr. Erik C. Oliver '03
Mr. Brandon K. O'Shea '08
Mr. Andrew J. Oswald '06
Dr. William H. Parsons
Ms. Regina Perkowski-Anderton
Dr. Jane A. Petro '68
Ms. Laila Petrou '76
Mr. Joseph L. Peyton '14
The Honorable John B. Phelps III '65
Dr. Pamela C. Phelps
Mr. Michael E. Pique '73
Mr. Harry T. Price II '65
Dr. Marian W. Price '65
Mrs. Eva Raftelis
Mr. George A. Raftelis '69
Mr. Charles R. Ranson '69
Dr. Sheryl S. Ranson
Mr. Grayson H. Rayborn, Jr.
Mrs. Jane D. Rayborn '65
Mr. John A. Reed Jr.
Dr. Howard D. Rees III '68
Ms. Renee Register '83
Mrs. Jean C. Ring '66
Mr. Phares N. Risser III
Dr. Albert A. Robbert III '66
Mrs. Birgit V. Robbert '69
Mr. James M. Rogers II '71
Mrs. Patricia R. Rogers '73
Ms. Priscilla A. Rogers '71
Mr. John R. Saunders '71
Mr. Bob Scales (P '16, '18)
Mr. David P. Schenck
Dr. Mary J. Schenck '66
Mr. Thomas E. Schneider
Jack H. Senterfitt '68
Patricia M. Senterfitt '68
Mrs. Bonnie J. Shuman '70
Dr. Thom M. Shuman '68
Mrs. Deedie M. Simmons
Rev. John R. Sims '66
Mr. Douglas A. Smith '09
Mrs. Mirella C. Smith
Mr. Norman R. Smith
Mr. Walter O. Spencer
Mr. Matthew W. Staman '92
Mr. James M. Stamps '73
Ms. Tess J. Stimson
Dr. Charles M. Stripling III '68
Mrs. Patricia H. Stripling '68
Dr. James G. Sweeny '65
Mr. Benjamin B. Swift '85
Mrs. Sarah H. Sydnor '71
Mr. Walker P. Sydnor, Jr.
Ms. Mary Szaroleta
Dr. Gary W. Tapp '69
Mrs. Robena M. Tapp '69
Ms. Melanie S. Taylor '74
Rev. Gina L. Tollini '88
Ms. Karen M. Torrisi '85
Dr. Llewellyn M. Toulmin '71
Mr. Robert J. Tuite
Mr. Jesse A. Turtle '91
Ms. Andrea J. Turnbull '91
Mr. Dean F. Tyler '90
Dr. Denise A. Tyler '92
*Mrs. Carol A. Upham
Ms. Merrie Van Loy '69
Mrs. Susan M. Vastine '64
Mrs. Dolores D. Venner
Ms. Sally A. Von Kaenel '68
Mrs. P. M. Wade-Graham '66
Mrs. Martha Rudy Wallace
Ms. Rosalie Weaver
Mr. Thomas H. Webster '04
Ms. Julie A. Weisberg
Mr. Robert F. Weisberg
Mr. Francis M. Wells II '96
Mrs. Lisa C. Wemett '73
Dr. Beverly F. Whiddon '67
Mr. David L. Wilt '69
Ms. Norma A. Winston
Dr. William E. Winston
Mrs. Katie M. Wireman
Dr. Barbara E. Withers '68
*Mrs. Jean Giles Wittner
Ms. Mary E. Wood-Andersen '88
Mrs. Amy L. Woodruff '86
Mr. Grover C. Wrenn '64
Mrs. Suzie Wrenn
Ms. Donna Lee Yesner (P '14)
*Posthumous Member
History of William H. Kadel (1913–1990)
In 1955, Dr. William H. Kadel, then pastor at the First Presbyterian Church of Orlando, participated in a brainstorming meeting to discuss the possibility of a church-related college in Florida. Theirs would not be just another college, but a distinguished liberal arts college that would be a leader among higher education institutions. Their desire to be the best drew the attention of the Church, the community, prospective faculty and students, and many in academia. A campus was planned with Florida's natural beauty in mind.
In the summer of 1958, Kadel accepted the call to become the founding president of Florida Presbyterian College, later named Eckerd College.
Kadel knew this new college would require a high degree of vision and creativity and must capture the imagination of not only Florida but the American public as well. He believed if it was worth doing at all, it was worth going first-class—committing to top-tier faculty, an innovative curriculum, selectivity in admissions to ensure superior students, and facilities that would foster this distinctive environment.
Kadel firmly believed that "where there is no vision, the people perish." He believed in what he was doing; he had a passion for it and the ability to generate excitement and inspire others to support that vision.
William Kadel made a tremendous impact on Eckerd College as executive, administrator, counselor and spiritual leader. His legacy lives on in the life of the College today.