The Kadel Society was named after Eckerd College's founding president, William H. Kadel, in honor of his legacy of innovation and excellence at this special place.
This recognition society honors the outstanding group of friends who have made a provision for the College through their estate plans. These enduring gifts help to ensure that future generations of students will benefit from the Eckerd College educational experience.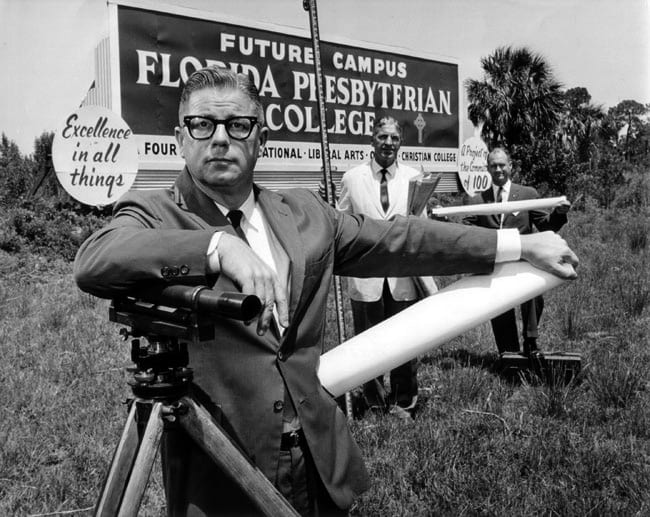 If you have already included Eckerd College in your estate plans, you can join the Kadel Society by simply sharing those intentions with us. By allowing Eckerd to include your name with the many alumni, parents, friends, faculty and staff who have made similar gift arrangements, you affirm the importance of planning for the College's future and inspire others to follow your example.
We would enjoy the opportunity to thank you and welcome you into this special group.
Kadel Society Spotlight: The First Chapel Wedding:
February 14, 2020
Darryl Neill '67 and Suzanne Snyder Neill '67
What better day than today to celebrate an Eckerd couple? Our Griffin/Wireman Chapel has hosted many weddings, and still more wedding receptions have been held on campus.
At the beginning of Fall Semester 1968, the newly constructed Ben Hill Griffin Chapel opened its doors. Several weeks later, on October 13, 1968, Darryl Neill '67 and Suzanne Snyder Neill '67 became the first couple to exchange wedding vows in the new chapel. Florida Presbyterian College (FPC) Chaplain and Professor of Religion Alan Carlsten officiated.
Darryl and Suzanne met during their junior year in Professor Otis Shao's Asian Civilization Seminar. Suzanne, from Arcadia, Florida, had transferred from Meredith College, and Darryl came from Orlando to enter FPC as a freshman in the fall of 1963.
College was intellectually enriching for each of them—with Suzanne attracted to the intellectual ferment of late-sixties religious studies, and Darryl drawn to laboratory research in psychology and neuroscience. Both found their Winter Term experiences to be of great value. Dean John "Jack" Bevan sponsored Darryl's self-taught brain anatomy course for his sophomore Winter Term, Professor Wilhelm Angermeier sponsored his Senior Honors project, and Suzanne carried out a Senior Honors project under the guidance of Professor Alan Carlsten.
After Darryl completed graduate school at the University of Chicago in Biopsychology, they moved to Atlanta where Darryl became a professor in the Department of Psychology at Emory University. Suzanne completed a B.S. in Nursing at Emory in 1975 and worked in the nursing profession for about 30 years. Darryl went on to chair the Emory Department of Psychology, earn numerous awards for teaching, and conduct research. He will (finally) retire from Emory this year, and they will spend more time with their children and grandchildren, all of whom live in Atlanta.
FPC was a unique place in a unique time when they were enrolled. The College played a major role in both of their lives. Leaving a legacy at Eckerd College through their wills is important to them. Their bequest will help continue the existing Darryl and Suzanne Neill Academic Enhancement Endowment, which provides funds for student and faculty academic research.
Subscribe
Would you like to receive the Kadel Society newsletter by email? Please email Tom Schneider, associate vice president for development, at
schneite@eckerd.edu
.
Ways to Give
Bequests
A bequest is one of the most popular ways to make a gift. Through a provision in your will, you can provide significant support for the College. Your bequest can be a means to perpetuate the giving level at which you have provided during your lifetime. If you haven't yet made an outright gift, a bequest can enable you to leave a legacy that will assist the College in the future.
There are several types of bequests:
Specific Bequest
Designate the College to receive a specific amount of your estate.
Percentage Bequest
Designate the College to receive a percentage of money, securities or property from your estate.
Residual Bequest
The residual of your estate, after all specific bequests have been fulfilled, can be designated for the College.
Life Insurance Policy
Name the College as a beneficiary of an existing paid-up whole life policy.
Gift of Retirement Plan
Avoid taxation by naming the College as a beneficiary of your IRA, 401(k), 403(b) or other plan.
The College also can be the contingent beneficiary if your named individual beneficiaries don't survive you.
If you already have a will, it can be modified easily by adding a codicil. A bequest in your will allows you to pass any amount you wish to the College free of estate tax.
IRA Rollover
If you are 70½ or older, up to $100,000 of your IRA minimum distribution requirement may be satisfied by a qualified charitable distribution (QCD). If you are eligible for this opportunity, please contact your IRA custodian. Transfers must be made each year before the December 31 deadline.
Charitable Gift Annuity
A Charitable Gift Annuity enables you to make a meaningful gift to Eckerd College while enjoying income and tax benefits. In exchange for your gift of cash or securities, you—and if desired, another beneficiary—will receive a fixed sum each year for life. A gift annuity is particularly attractive because the rates, based on your age, typically produce higher income than the yields from investments in the stock and bond markets. The suggested minimum contribution is $10,000.
Benefits of Charitable Gift Annuity:
Part of your income may be tax-free.
You will receive an immediate income tax charitable deduction.
You may reduce your estate tax.
A gift made with low-yielding tax assets may increase your current income.
A gift made with appreciated assets may avoid capital gains taxes.
You will enjoy the satisfaction of supporting Eckerd College.
Charitable Remainder Trust
The Charitable Remainder Trust is an ideal vehicle for making a lifetime gift to Eckerd College. To create such a trust, you transfer cash, securities or real estate to the trust. The trust then pays you and/or other beneficiaries an income for life or for a period of years. Upon termination of the trust, the assets pass to the College. The suggested minimum contribution is $100,000.
There are two types of Charitable Remainder Trusts:
Annuity Trust—offers a fixed-amount payout each year.
Unitrust—pays out a fixed percentage of the value of the trust assets, which are figured annually.
Mr. Payton F. Adams
Mr. James T. Anderton Jr. '70
Ms. Regina Perkowski-Anderton
Dr. Thomas J. Bacon '66
Ms. Elizabeth A. Baergen '72
Ms. Virginia A. Baxter
Ms. Jan Bender
Mrs. Katherine T. Berger '73
Mr. Kenneth W. Berger '72
Mrs. Louise D. Bevan (P '72)
Mrs. Jean P. Boehne
Mr. John R. Bonner Sr.
Ms. Ingrid A. Bredenberg '70
Mrs. Heather L. Brooks '98
Ms. Lillian E. Bull '69
Mrs. Penelope J. Burns
Ms. Jacqueline Calnan
Mr. David W. Canter-McMillan '97
Dr. Albert H. Carter '64
Dr. D. B. Carter '74
Dr. Nancy C. Carter
Mr. William H. Clements '16
Mr. Miles C. Collier
Mr. James F. Conner II '72
Rev. Jean H. Cooley '68
Rev. William G. Cooley '68
Mr. James E. Copeland III '90
Ms. Dana E. Cozad '69
Rev. David B. Cozad '68
Mr. Jeffrey D. Cramer '69
Mr. Roger B. Day '72
Dr. William F. Felice
Mr. Robert W. Ferguson '67
Mr. David J. Fischer
Mr. Kenneth M. Fournie '89
Ms. Wyndi Z. Fournie
Mrs. Claire S. Francis '65
Dr. Edmund L. Gallizzi
Mr. Millard G. Gamble
Ms. Carol L. Gilbert '00
Mr. Seth D. Hagler '07
Royce G. Haiman
Mr. Andrew D. Haines '86
Mr. Robert R. Hale '73
Dr. Ilda L. Hall
Dr. Richard R. Hallin
Mr. Ronald L. Haskell '74
Ms. Denise J. Hawks '95
Mrs. Jean H. Heare
Mr. David W. Henderson
Rev. Lynda S. Hergenrather '70
Dr. D. A. Hill '86
Rev. Jennifer N. Hill '98
Mr. Andrew H. Hines Jr.
Mr. Walter W. Hofheinz '75
Mrs. Hazel C. Hough (P '76)
Mr. Harold D. Holder Sr. (P '89)
Mrs. Carolyn R. Horton '64
Mrs. Marika Hull
Mr. Ronald W. Hyatt '97
Mr. Clyde L. Irwin
Ms. Christine A. Jackson '16
Mrs. Carolyn K. Johnson '71
Dr. Patricia A. Johnson '67
Mr. Robert Johnson '71
Ms. Angela R. Jones '12 (P '14)
Mrs. Karen Kadel '69
Mr. Richard (Dick) Kadel '69
Dr. Stephanie J. Kadel Taras '89
Mrs. Laura Keane '83
Ms. Ami Keslov
Dr. John G. Khosh
Dr. Mary S. Khosh
Ms. Wanda Kilgore-Schneider
Dr. Susan S. Kilham '65
Mrs. Laura Knutzen Leonberger
Mr. A. Dale Lappe
Dr. Hansel B. Leavengood '79
Ms. Ainsley A. Legner '83
Mr. Raymond F. Legner
Mr. Glenn A. Leonberger '86
Mr. Peter M. Lukehart '77
Ms. Wendy B. Lukehart
Dr. James R. Maar '65
Dr. Charles A. MacNeill Jr. '68
Mrs. Gale MacNeill '68
Col. Christian L. March Jr.
Ms. Janet E. McBride
Dr. Joan McCall '69
Mrs. Eileen B. McCarron '73
Dr. William O. McCarron
Dr. Jack M. McGuire '67
Mrs. Sharon K. McGuire '68
Ms. Joyce A. McKibben '71
Ms. Melanie Meyer '08
Mr. Gregory T. Mino '93
Dr. George C. Moench
Dr. James D. Moore Jr. '68
Mr. John M. Nabers
Dr. Darryl B. Neill '67
Mrs. Suzanne S. Neill '67
Mrs. Dusty M. Netterstrom '87
Mr. Helmar E. Nielsen
Ms. Signe Oberhofer
Dr. Tom Oberhofer
Mr. George W. Off
Mr. Erik C. Oliver '03
Mr. Brandon K. O'Shea '08
Mr. Andrew J. Oswald '06
Dr. William H. Parsons
Dr. Jane A. Petro '68
Ms. Laila Petrou '76
The Honorable John B. Phelps III '65
Mr. Harry T. Price II '65
Dr. Marian W. Price '65
Mr. Charles R. Ranson '69
Dr. Sheryl S. Ranson
Mrs. Eva M. Raftelis
Mr. George A. Raftelis '69
Mr. John A. Reed Jr.
Dr. Howard D. Rees III '68
Ms. Renee Register '83
Mrs. Jean C. Ring '66
Mr. Phares N. Risser III
Dr. Albert A. Robbert III '66
Mrs. Birgit V. Robbert '69
Mr. James M. Rogers II '73
Mrs. Patricia R. Rogers '73
Ms. Priscilla A. Rogers '71
Mr. John R. Saunders '71
Dr. Mary J. Schenck '66
Mr. Thomas E. Schneider
Jack H. Senterfitt '68
Patricia M. Senterfitt '68
Mrs. Bonnie J. Shuman '70
Dr. Thom M. Shuman '68
Mrs. Deedie M. Simmons
Rev. John R. Sims '66
Mrs. Mirella C. Smith
Mr. Norman R. Smith
Mr. Walter O. Spencer
Mr. James M. Stamps '73
Dr. Charles M. Stripling III '68
Mrs. Patricia H. Stripling '68
Dr. James G. Sweeny '65
Mr. Benjamin B. Swift '85
Dr. Gary W. Tapp '69
Mrs. Robena M. Tapp '69
Ms. Karen M. Torrisi '85
Dr. Llewellyn M. Toulmin '71
Mr. Robert J. Tuite
Mr. Jesse A. Turtle '91
Mrs. Susan M. Vastine '64
Ms. Sally A. Von Kaenel '68
Mrs. Martha Rudy Wallace
Ms. Rosalie Weaver
Mr. Thomas H. Webster '04
Ms. Julie A. Weisberg
Dr. Beverly F. Whiddon '67
Mr. David L. Wilt '69
Ms. Norma A. Winston
Dr. William E. Winston
Dr. Barbara E. Withers '68
Mrs. Jean Giles Wittner
Ms. Mary E. Wood-Andersen '88
Mrs. Amy L. Woodruff '86
Mr. Grover C. Wrenn '64
Mrs. Suzie Wrenn
History of William H. Kadel (1913–1990)
In 1955, Dr. William H. Kadel, then pastor at the First Presbyterian Church of Orlando, participated in a brainstorming meeting to discuss the possibility of a church-related college in Florida. Theirs would not be just another college, but a distinguished liberal arts college that would be a leader among higher education institutions. Their desire to be the best drew the attention of the Church, the community, prospective faculty and students, and many in academia. A campus was planned with Florida's natural beauty in mind.
In the summer of 1958, Kadel accepted the call to become the founding president of Florida Presbyterian College, later named Eckerd College.
Kadel knew this new college would require a high degree of vision and creativity and must capture the imagination of not only Florida but the American public as well. He believed if it was worth doing at all, it was worth going first-class—committing to top-tier faculty, an innovative curriculum, selectivity in admissions to ensure superior students, and facilities that would foster this distinctive environment.
Kadel firmly believed that "where there is no vision, the people perish." He believed in what he was doing; he had a passion for it and the ability to generate excitement and inspire others to support that vision.
William Kadel made a tremendous impact on Eckerd College as executive, administrator, counselor and spiritual leader. His legacy lives on in the life of the College today.