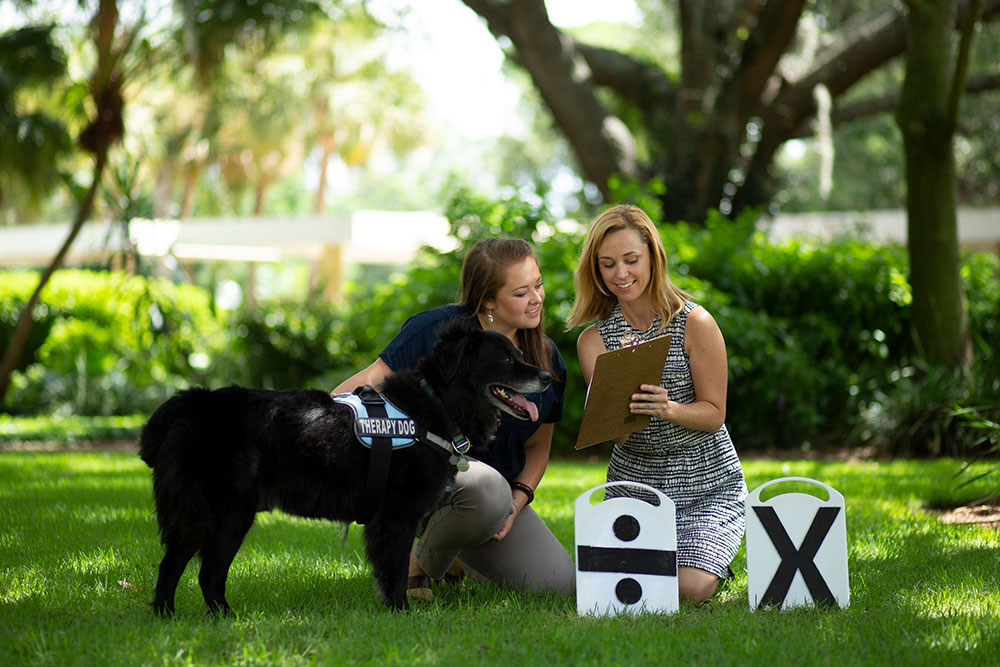 Psychology and Animal Studies Professor Lauren Highfill's previous dog-related research also included a project with Sarah Nadler '10 and "Bear."
Lauren Highfill, Ph.D., professor of psychology and animal studies at Eckerd College, has always wanted to expand a program she began three years ago that studies the psychological and health benefits of dog training for both humans and dogs.
The Eckerd College Dog Training Program is open to any of the more than 100 Eckerd students who own dogs and live on campus, and the hope is that the research will lead to new, innovative, low-cost therapies to help people, particularly college students, better manage stress.
Now, the more than 1,500 on-campus Eckerd students who don't own dogs can also participate.
Thanks to a recent Presidential Innovation Fund grant and a partnership with the Humane Society of Pinellas, Highfill and her Eckerd colleagues Sara Hofmann, Ph.D., assistant professor of psychology; Crystal Young-Erdos, Ph.D., assistant professor of chemistry; and Jason Sears, instructor of philosophy, plan to open the program to all Eckerd students starting in September.
The Fund, was established this year by Eckerd President Damián Fernández, Ph.D., to provide seed grants of up to $5,000 to faculty, staff and students "that allow them to launch projects that support research, learning, entrepreneurship and/or community engagement aligned with our Strategic Plan initiatives and themes," Fernandez says. "The selected proposals showcase collaboration, innovation and an entrepreneurial spirit in keeping with and advancing the promise of the Strategic Plan."
The Eckerd Dog Training Program, which is free to students, is funded by the Academy of Senior Professionals at Eckerd College. "But it will be nice to have the seed money to continue the project and expand on it," Highfill says. "It would have been difficult going forward without it.
"It's been researched and found that training dogs helps people in a lot of different ways, like lowering anxiety and depression and raising self-esteem," she adds.
"They've done this kind of research at prisons and in group-living situations, but never with college students.
"This [grant] will allow us to expand on that," she says. "It won't be just students who have dogs on campus. It will be open to any students. And I'm really excited about taking the program to the Humane Society [based in Clearwater]. The students will get to train dogs to help the dogs be more adoptable, and it also gives the students a chance to see the inner workings of the Humane Society and what the shelters are doing.
"Primarily, the program gives the students hands-on experience," Highfill explains, "and hopefully increases their sense of 'If I can train this dog, then I can turn in this assignment, or do that presentation.' It can build their confidence."