Associate Professor of Chemistry
James Center for Molecular and Life Sciences 087
Education
Ph.D., Chemical Biology, University of Michigan
B.A., Chemistry, summa cum laude, Washington & Jefferson College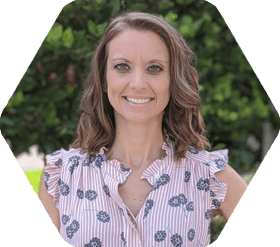 Research Interests
My primary research involves understanding how DEAD-box proteins, an essential family of RNA-dependent ATPases that are conserved in both sequence and structure, achieve their unique substrate specificity. To that effect, we are investigating the N- and C-termini extensions and binding protein co-factors of a yeast DEAD-box protein that is orthologous to a cancer-implicated DEAD-box protein in humans. My undergraduate researchers and I use a combination of biochemistry, molecular biology, and yeast genetics to tackle our research questions.
Additional research in my lab involves investigating the physiological stress response in both dogs and their humans that live on Eckerd's campus. Like other projects in my lab, this research involves undergraduate students from experimental design to test for salivary cortisol levels to manuscript preparation.
Courses Taught
CH 121 General Chemistry I
CH 122 General Chemistry II
CH 315 Biochemistry I
CH 417/418 Biochemistry II
CH 410 Chemistry and Biochemistry Seminar
Select Publications
Khoshnevis, S.; Askensasy, I.; Dattolo, MD; Young-Erdos, CL; Stroupe, ME; Karbstein, K. The DEAD-box Protein Rok1 Orchestrates 40S and 60S Ribosome Assembly by Promoting the Release of Rrp5 from Pre-40S Ribosomes to Allow for 60S Maturation. PLoS Biol. 2016, 14, e1002480
Young, C.L.; Khoshnevis, S.; Karbstein, K. Cofactor-dependent specificity of a DEAD-box protein. Proc Natl Acad Sci. 2013, 110, 2668-76.
Strunk, B.S.; Novak, M.N.; Young, C.L.; Karbstein, K. A translation-like cycle is a quality control checkpoint for maturing 40S ribosome subunits.  Cell. 2012,150, 111-21.
Young, C.L.; Karbstein, K. Analysis of co-factor effects on RNA helicases.  Methods Enzymol. 2012, 511, 213-237.
Young, C.L.; Karbstein, K. The roles of S1 RNA-binding domains in Rrp5's interactions with pre-rRNA.  RNA. 2011, 17, 512-521.