What is OneSearch?
OneSearch is a simple and fast discovery tool for finding resources from the Eckerd College Library collection on any topic. It is a gateway to quickly search and access a variety of library resources including books, DVD's, journal and magazine articles, and other materials from the library's collection.
You can use OneSearch to:
Find books, films, ebooks, and articles available through the Library
Renew books and videos checked out from the library
Request items through Interlibrary Loan
Create a list of favorites
Get citations for your resources
To use OneSearch, use the search box on the Library homepage.
Getting to know the OneSearch Interface
Here are some of the main features of the OneSearch interface:
Three steps to searching OneSearch
1. Enter your search terms
Search for resources by author, title, subjects, or keywords using the search box on the Library homepage or the main OneSearch page. If you start on the main OneSearch page, you will see a dropdown showing options to search more specific collections in the library. Note: Library Catalog searches physical items in the Library's collection.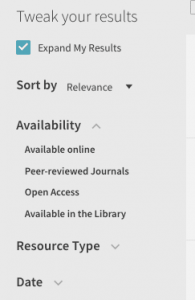 Since OneSearch looks for records in almost all of the Library databases, it can return a lot of results. To make these more manageable and relevant to your needs, use the search limiters on the left (under Tweak your results) to refine your search by type of resource, subject, time period (date), location in the library, or by a specific database.
By default, OneSearch shows you all resources, whether we have access to them or not. This gives you the option to request items we don't have through your interlibrary loan account. If you only want to see resources we subscribe to, uncheck the "Expand My Results" checkbox above the search limiters.
3. Explore your results and access full text
OneSearch displays results based on relevancy and gives you three options for getting a resource:
Available at Eckerd College Library – provides the physical location for the item
Available Online – provides a link to the online resource
Check availability – resource may not be available in Eckerd's collection. Provides link to make an interlibrary loan request.
Once you find a resource that meets your needs, you can use the mini toolbar to the right of each record to get the citation, get the permalink, or add the item to your Favorites list.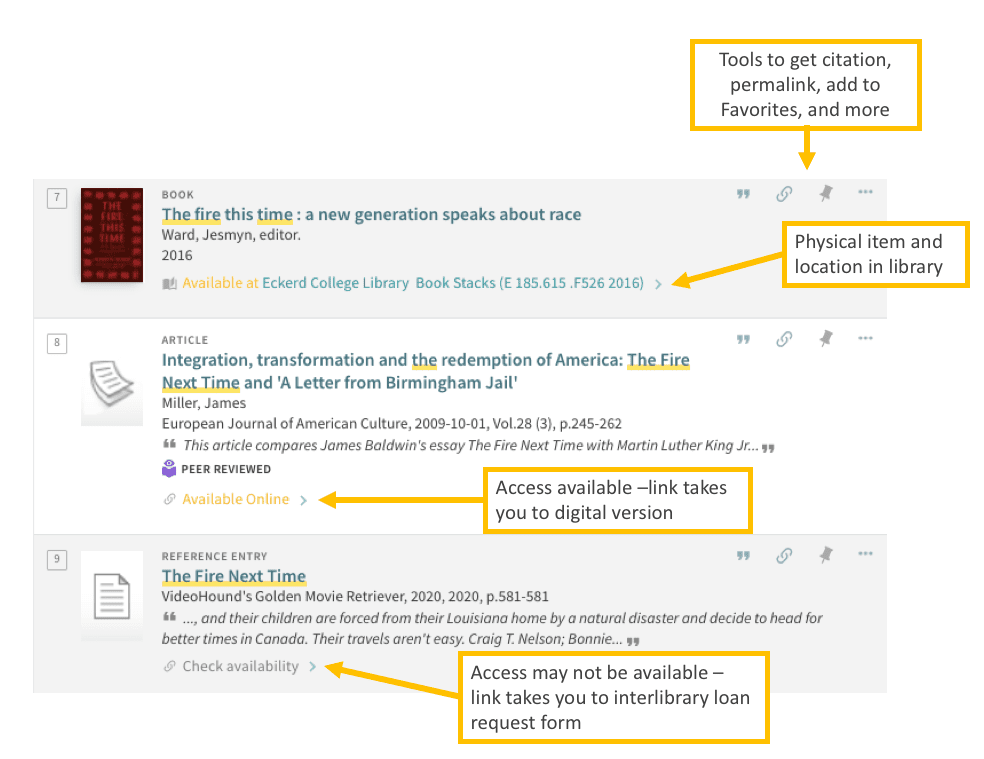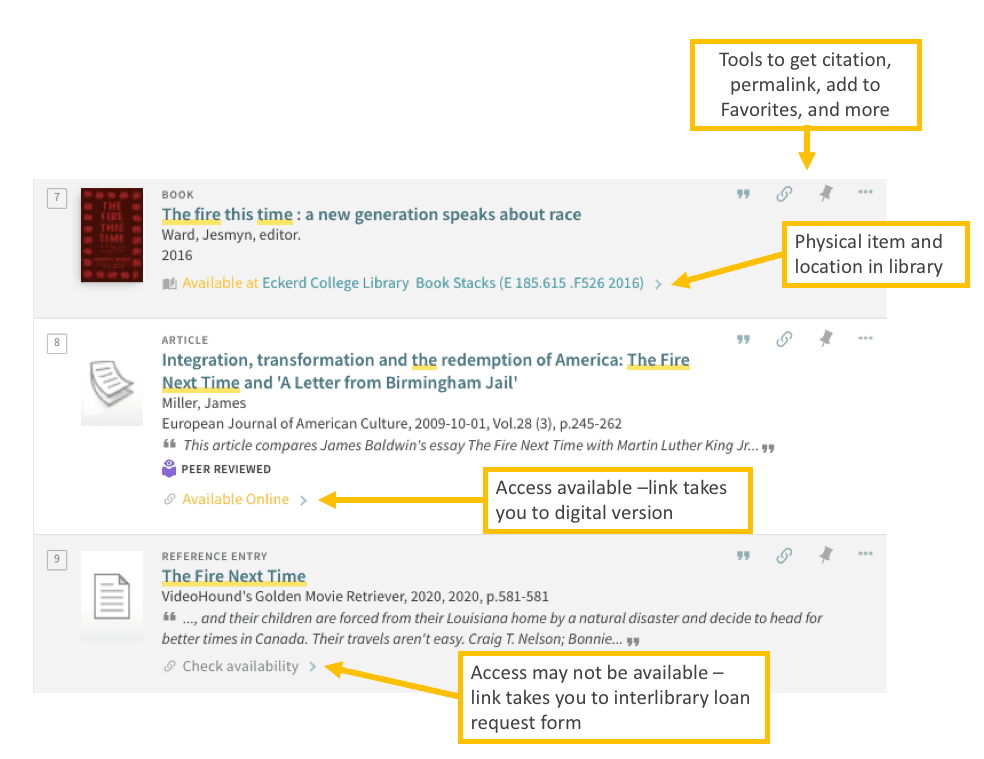 Frequently Asked Questions about OneSearch
Your feedback on OneSearch is critical for helping us to identify issues and areas where we can improve the functionality of the site. If you need to report an issue with OneSearch, please use or Feedback form to let us know about the issue.