Eckerd will change your life so you can change the world
We inspire and empower individuals to improve the world through mastery of self and a lifetime of learning. Our students are guided on a four-year journey of discovery, with small classes, professor-mentors and a commitment to community service.
We love our spectacular mile-long waterfront and white-sand beach on Florida's Gulf Coast. But we are more than a pretty face. Eckerd is an innovative liberal arts and sciences community where students are well-taught and well-loved.
We're not for everyone but we might be just the place for you.
One of the youngest colleges in the country to get a
Phi Beta Kappa
chapter.
96% of our full-time students who are continuously enrolled graduate in 4 years
92% of faculty hold the highest degrees in their fields
An oasis of learning in a natural environment
Our waterfront campus is offers swimming, boating and sunbathing on our own white-sand beach– just steps away from your dorm room.
Native plants and wildlife cover the campus, which we nurture with conservation efforts. Most of our faculty offices open directly outside or in common areas to encourage interaction with students. The bay and other natural areas are living laboratories for research — even for first-years.
Study in a hammock or on a blanket on the beach or head to our modern library overlooking Fox Pond. Get a workout at the fitness center or at our outdoor pool.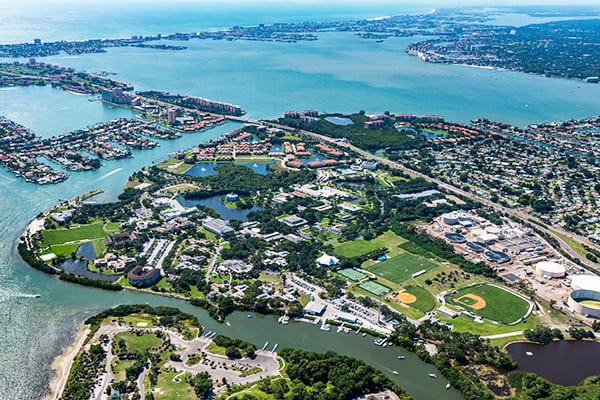 Our 188-acre campus is nestled along Boca Ciega Bay
88% of students live on campus
Making a difference within and without
You won't find any ivory towers on our campus. Each day we aim to change the world around us, whether on campus or in our home city of St. Petersburg, a dynamic city of arts, culture and outdoor activities.
Our students and professors contribute thousands of hours each year to non-profit groups in St. Petersburg. For example, more than 60 non-profit groups in St. Petersburg benefit from our students' work each year.
A commitment to the liberal arts
Founded as Florida Presbyterian College, we opened our doors on Sept. 2, 1960 with 155 freshmen and 22 faculty. We have grown steadily over the years, and became Eckerd College in 1971.
But one thing hasn't changed: a focus on creative, innovative curriculum in the liberal arts tradition with a strong emphasis on small classes and world-class faculty who know and care about the success of every student.
Accreditation
Eckerd College is accredited by the Southern Association of Colleges and Schools Commission on Colleges to award baccalaureate degrees. Contact the Southern Association of Colleges and Schools Commission on Colleges at 1866 Southern Lane, Decatur, Georgia 30033-4097 or call 404.679.4500 for questions about the accreditation of Eckerd College.
Eckerd's Bachelor of Science in Chemistry and Biochemistry is certified by the American Chemical Society (ACS).