Choosing a college is a significant investment in your future.
There is no stronger testament to the quality of an Eckerd education than the feedback we receive from our graduates.
92%
Satisfied with the the quality of their Eckerd education
89%
Would choose to attend Eckerd again
90%
Would recommend Eckerd to a high school senior
Career Development, the Eckerd Way
Every Eckerd student is on a unique journey. Our Career Center has the tools to get you where you want to go– even if you don't know where that is yet.
From Autumn Term to Retirement
At Eckerd, the Career Center is proactive in reaching students long before senior year. First-year students are invited to meet with a Career Advisor during Autumn Term– or even the summer prior to your arrival. Learn about on-campus jobs, discuss your plans for fall, or update your high school resume for an on-campus job. If you do not yet have access to TritonTrack, contact careercenter@eckerd.edu.
When it comes to the Career Center, this is what seniors had to say: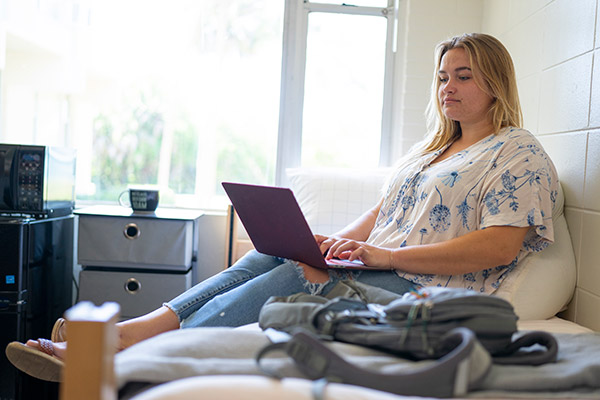 90%
Would recommend the Career Center to a friend
94%
Were satisfied with their career advising experience
96%
Enjoy Career Center's online resources
Eckerd's broad approach to learning helps students thrive after graduation. A report by the American Association of Colleges and Universities found that employers prioritize skills and knowledge typically associated with liberal arts education, including teamwork, critical thinking, and the ability to analyze and interpret data.
The fifth job after graduation is just as important as the first. Eckerd is committed to supporting alumni long after they leave; Career Center resources, events, and expertise remain available to alumni for life– at no charge. Learn more about The Eckerd Edge and its promise to graduates.