Where biology and culture meet
By examining civilizations both ancient and modern, anthropology helps us understand enduring problems like inequality, poverty and sexism. Combine the skills you learn in the field while completing your anthropology degree with Eckerd's liberal arts foundation to launch your career in forensic science, sustainable development, public health, heritage management or international relations.
Dig right in
No need to wait for grad school to do original research. Join your Eckerd College professors in lab or off-site research in Mexico, Belize, the Bahamas, Thailand or the West Indies.
Earn your stripes
Freshman Research Associateships give talented first-year students a head start on solid-gold grad school applications. Includes $1,000 stipend.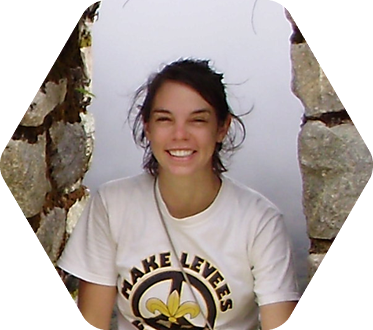 "In class we weren't just reviewing text books, we were applying lessons to real life scenarios. We compared newspaper clippings, national geographic publications, maps, ethnographies and other relevant sources to the things we were learning. Dr. Meyers' enthusiasm and knowledge was contagious [and] helped transform my life by giving me purpose, direction, curiosity, mentorship, and a connection to a beautiful and dynamic world outside the classroom."
— Mara Waldruff '10
E-Learning & Media Education Specialist
One recent Anthropology student did life history research with Mayan-speaking communities in Yucatan, Mexico. Another did map surveys of historic sites on Cat Island in the Bahamas. What will you do?
Help excavate an Iron Age site outside Lopburi, Thailand or join a pre-Columbian dig on the Caribbean island of Carriacou. Or spend January tracking howler monkeys, doing plant surveys and interviewing locals in the rainforest of Belize.
See Pics from Thailand
Analyze human skeletons to determine sex, age, stature, ancestry, pathology and personal identification. Includes a discussion of how these techniques are used in criminal cases.
This class looks at how to meet the needs of the world's population in a way that reduces poverty, improves health and protects the environment for future generations.
Students in Anthropology lab courses work with real human bones as well as casts of fossilized remains in the James Science Center.
Professors use the artifact collections in one of our Environmental Studies labs to teach Principles of Archaeology.
What can I do with an anthropology degree?
Staff Archaeologist
Forensic Anthropologist
High School Teacher
Historic Preservation Consultant
Epidemiologist
Public Health Worker
Professor of Anthropology
Immigration Attorney
University Researcher
Wildlife Ecologist
Where our anthropology majors go to graduate school
Where our anthropology majors go to work
British Institutes
English Language School
University of Florida
University of Hawaii
Georgia State University
Learn more about Eckerd and our anthropology program