Anjali D. Boyd '19 Marine Science Endowed Scholarship for African American Students
Anjali Boyd graduated from Eckerd College in 2019 with a Bachelor of Science in marine science. She served as a biology lab assistant at Eckerd and conducted research on behalf of the Eckerd College Dolphin Project. Beyond Eckerd, teaching and internships took her to Johns Hopkins Center for Talented Youth's Marine Ecology course at Loyola Marymount University, University of Maryland Eastern Shore, and Duke University's Nicholas School of the Environment. In 2017, she was among just 100 college sophomores in the U.S. awarded the Ernest F. Hollings Undergraduate Scholarship from the National Oceanic and Atmospheric Association (NOAA). Boyd was the founder and president of the EC Marine Science Club and president of Eckerd's Student Ambassadors. She also founded and served as editor-in-chief of Feedback Magazine at Eckerd and led a Spring Break Service-Learning Trip to the Florida Keys, focused on marine debris. Her studies abroad included language immersion programs and research in Spain (Salamanca), Cuba, Costa Rica and Panama.
Throughout her career so far, Boyd has studied and conducted research at the most respected institutions in her discipline (e.g., NOAA and Scripps Institute of Oceanography) and has been awarded more than 25 awards and scholarships. She currently is a Ph.D. student and a Dean's Graduate Fellow in the Nicholas School of the Environment at Duke University, while also serving as the youngest (and only student) Early Career Liaison on the National Academy of Sciences' U.S. National Committee for the UN Decade of Ocean Science for Sustainable Development. Boyd's work extends far beyond her scientific contributions, as she consistently advocates for and works to improve K-12 STEM education and science communication. In her hometown of Durham, North Carolina, Boyd is an elected official, serving as the district supervisor of the Durham County Soil & Water Conservation District. She also is the director of iNviTechnology (iNviTECH), an organization working to correct the underrepresentation of women and ethnic minorities in STEM fields through its educational entrepreneurial programs designed to engage young children ages 0-5 and K-12 students.
Building off of her years of work to address Diversity, Equity, Inclusion and Justice (DEIJ) issues in STEM and Environmental Conservation fields, Boyd created the Anjali D. Boyd '19 Marine Science Endowed Scholarship for African American Students at Eckerd College. The goals of the scholarship are to provide African American students with access to marine science education at Eckerd and to increase the number of African American students pursuing careers in aquatic sciences. The Boyd Scholarship will be awarded to African American students in good academic standing and majoring in marine science. Read more about Boyd and her work to increase diversity in aquatic sciences matters.
Making an online gift to Eckerd is easy, secure and convenient. After your gift is processed, you will receive a confirmation email and receipt. Thank you for your generous support!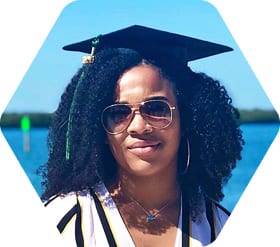 Give By Phone

To make a credit card gift or let us know a check is coming, call us at
727.864.8222
Give By Mail
Send your check (payable to Eckerd College) to:
Eckerd College
Office of Advancement
4200 54th Avenue South
St. Petersburg, FL 33711