Computer science internships and studying abroad will put you ahead
You don't need the U.S. Department of Labor to tell you that computer science is a growth field. Demand is expected to grow much faster than any other field over the next 10 years, driven by cloud computing, big data and information security. Eckerd computer science graduates take what they learn here in Florida to launch their careers at large and small technology companies or go on to graduate schools like MIT, University of Texas at Austin and other national research universities.
An industry-approved computer science degree program
Coursework is based on recommendations of the major computer science professional organizations.
Top-rated teachers
Eckerd's Computer Science professors are consistently ranked 'excellent' or 'very good' in student reviews.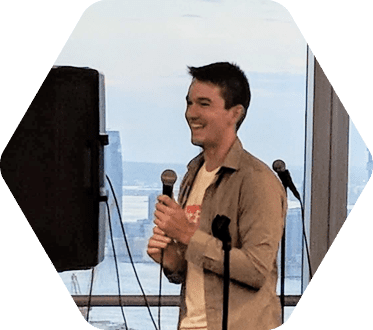 "This is what made studying computer science at Eckerd great: Learning from world-class faculty with relevant experiences that put great effort into helping students understand material and encouraging exploration outside of the classroom; caring mentors that thoughtfully help you decide between offers from opportunities they previously shared with you; being pushed to examine where technologies are helping or hurting the world."
— Ray Berger, Class of 2018
Computer Programming Concepts
Learn basic problem solving and algorithm development using Python as the programming language.
This class introduces the methods, processes, algorithms and tools needed to extract knowledge and insights from data in various forms. Explores contemporary problems in science, business and public policy, including how data science is revolutionizing our understanding of the world.
What can I do with a computer science degree?
Database administrator
Network technologist
Programmer
Systems developer
Software designer
Teacher
Technical support specialist
Where our computer science majors go to graduate school
Florida State University
Georgia Institute of Technology
Pennsylvania State University
University of Maryland
University of South Florida
Where our computer science majors go to work
Sign up for more about Eckerd and our computer science program