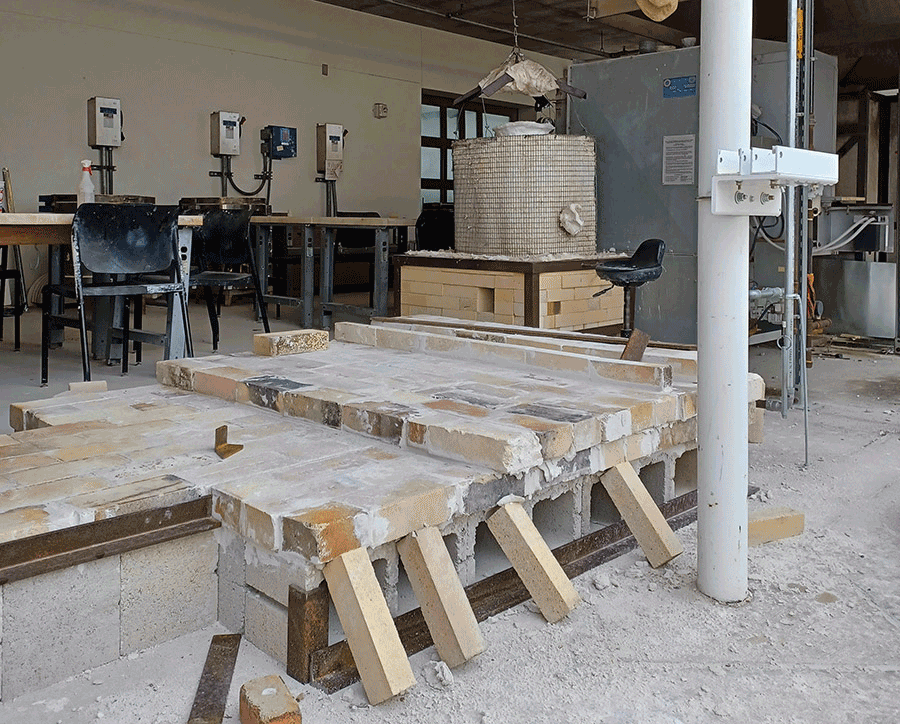 The kiln is being constructed with about 700 specially made bricks that weigh about 9 pounds each. Photos: Nicole Manuel '98
Sweat dripping off his nose, Brian Ransom, professor of visual arts at Eckerd College, grabs another brick and positions it so the students watching can see how the wall of the kiln will take shape.
Every step in the process is crucial, explains Ransom, because a kiln isn't just an oversized oven. "You have to consider where the air comes in, where the heat is circulated, where the ash lands, the glazing process … it's very complex," he says.
And don't forget, he adds with a smile, "It also has to look good!"
With Pink Floyd's "Welcome to the Machine" playing in the background, Ransom's kiln-construction students are laying mortar and tapping bricks into place with rubber mallets. He stands in front of them like a conductor facing an orchestra. They started the project in September and are about halfway through construction of a nearly 7-foot-tall, 27-cubic-foot gas/wood assist kiln, which means that it will run primarily on gas but also burn wood during the firing process.
The team will use about 700 specially made bricks designed to withstand temperatures in excess of 1,700 degrees. The students are careful with the mallets; each brick costs about $7 and weighs nearly 9 pounds.
"This must be my 50th kiln, easily," Ransom says. And he's especially pleased with the work on this one. "You guys are killing it," he tells his students. "This is great. We're going to put whistles going through the arch so that when it gets hot enough, you'll hear it.
"I'm having so much fun with this kiln."
An Eckerd faculty member since 1996, Ransom teaches ceramics, sculpture, studio critique and interdisciplinary arts. He also is the founder of the Brian Ransom Ceramics Ensemble, with whom he has recorded and performed his own compositions. Ransom and other musicians play a clay harp, ceramic flugelhorn, whistling water jar, flutes, ceramic bells and other instruments.
But he's always looking to build a better kiln. Just a few feet from the new kiln is a wood-fired Anagama kiln Ransom and his students built in January 2018.
Construction of a wood-fired Anagama kiln Ransom and his students built in January 2018.
"Right now, we have one salt and one wood kiln," explains Chris Brady, a senior interdisciplinary arts student from Atlanta who is a leader on the project. "This new one is a hybrid of the two."
A salt kiln, which uses natural gas for a heat source, typically takes about two days for a firing, Chris adds, while a wood-fired kiln takes about a week. The chemicals released by each process create a different set of colors on the glaze. The hybrid under construction will use both heat sources, take about two days for a firing and create a mixture of colors.
"I got into making pottery and firing kilns long before arriving at Eckerd," Chris says. "Primarily, my focus was throwing on the potter's wheel and firing wood-fired kilns. But when I arrived at Eckerd and met Professor Ransom, I was quickly exposed to the vast possibilities that clay provides, the many forms it can take and the countless ways its appearance can be changed simply based on how it's fired.
"Eckerd gave me the opportunity to explore clay even further, but Professor Ransom pushed me to be bold, take risks, be experimental in my artistic endeavors and continuously try without fear of failure.
"The kiln we're building this year has the ability to outlive us all," Chris adds. "In 30 years, I'll be able to bring my kids to Eckerd and show them the kiln I made when I was their age, my name and handprint still immortalized in its stucco exterior."