Seeking the College's fifth president
Eckerd College announced on Feb. 13, 2019, that its fourth president, Dr. Donald R. Eastman III, will be retiring effective June 30, 2020. In an effort to find a successor to continue Eckerd's mission, the College convened a Search Committee and hired an academic consulting firm.
An Eckerd College experience is not about learning a rigid set of facts. As one of 40 schools featured in the book Colleges That Change Lives and a member of Phi Beta Kappa, Eckerd makes it clear that its first priority is to teach students how to learn.
Eckerd, a private college of liberal arts and sciences in St. Petersburg, invites students to ThinkOutside. We take advantage of our spectacular mile of campus waterfront along Florida's Gulf Coast for outdoor laboratories as well as an impressive array of intramural, club and intercollegiate (DII) sports and water recreation. Offerings in the arts and humanities inspire creativity and foster critical thinking and self-awareness. Every year, students and faculty travel outside the U.S. to some 40 countries for research and cultural learning. And we venture together in the Eckerd experience to think outside the conventional questions, methods and solutions—seeking to build a better world.
The best education is one that prepares you for the how, as well as the what—an education that teaches you to ThinkOutside.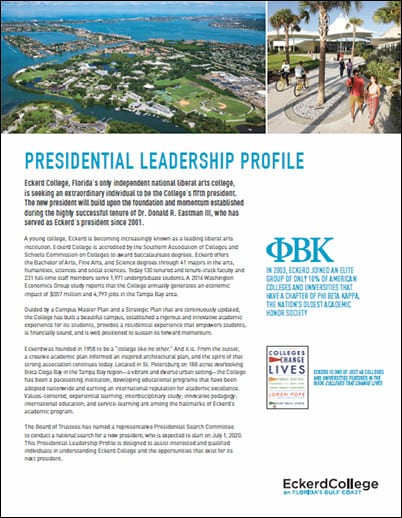 Learn about Eckerd's new leadership agenda and the qualities and abilities we are looking for in our next president. Read the profile.
We want to hear from you! Submit a 
Pre-Interview Survey
to help us identify the College's next leader.
Meet the search committee
The Eckerd College Presidential Search Committee features eight members of the College Board of Trustees, three faculty members, three Executive Staff members and one student representative. Committee members are tasked with reviewing candidate profiles to narrow applicants to the finalist list and conduct interviews. For questions or comments about the search process, please email presidentialsearch@eckerd.edu.
February 13, 2019
Dr. Donald R. Eastman III, the fourth president of Eckerd College, announces his retirement effective June 30, 2020.
March-May 2019
Consulting firm Academic Search of Washington, D.C. solicits input from the Eckerd College community to develop ideal-candidate prospectus and job requirements. Community conversations are to be held March 12–13.
June 1, 2019
Academic Search begins to accept inquiries and applications and nominations for the College's next leader.
Fall 2019
Search Committee meets to conduct candidate interviews.
November–December 2019
New President of Eckerd College will be announced.
June 30, 2020
Dr. Donald R. Eastman III retires from office
July 1, 2020
Fifth President of Eckerd College takes office.
Frequently Asked Questions