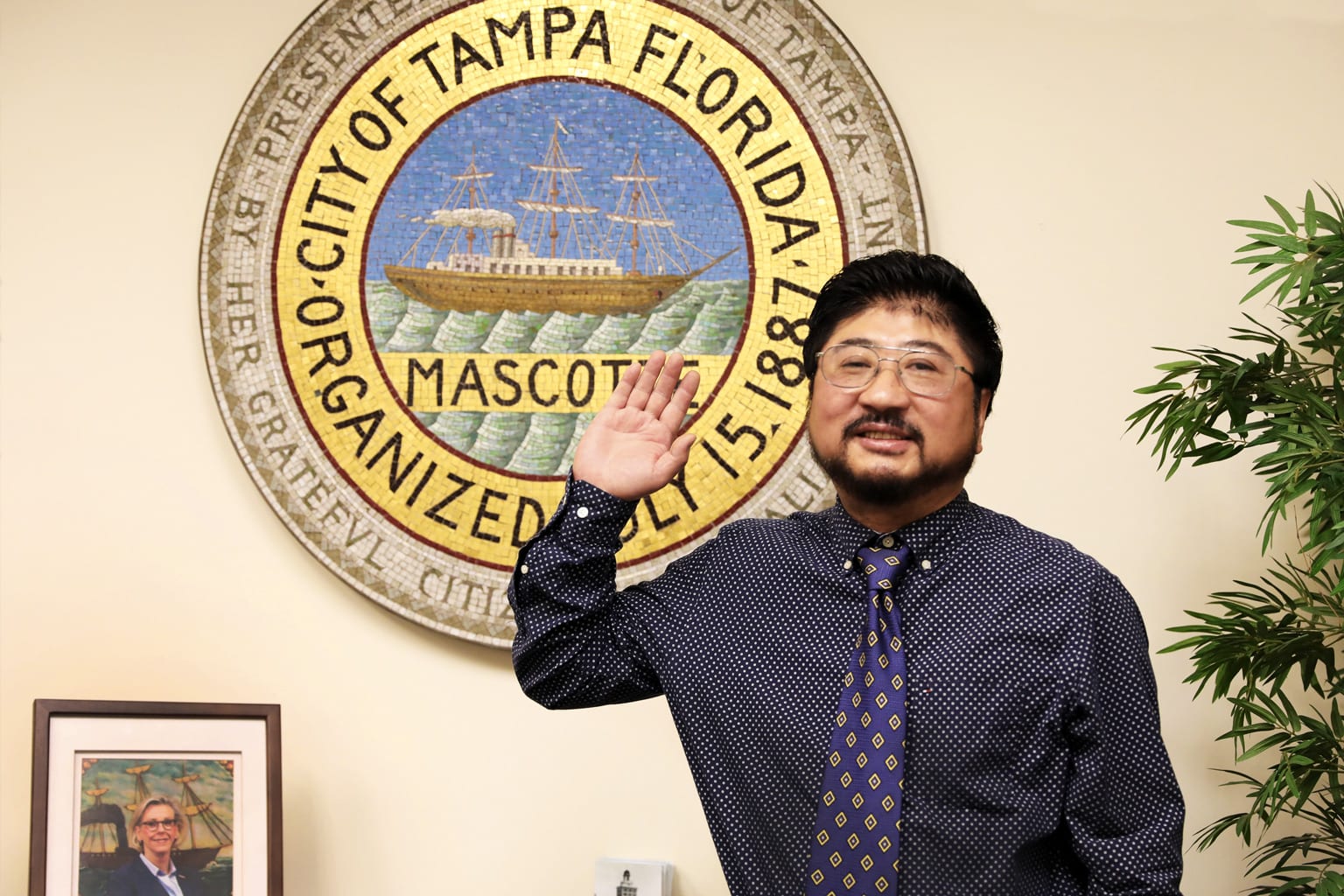 Working artist and Eckerd College Professor of Visual Arts Kirk Ke Wang stood in Tampa's City Hall on May 15, raised his right hand and solemnly swore to uphold his new duties as a member of the seven-person Tampa Public Art Committee.
"I was truly honored and humbled by being chosen for this opportunity," he said. "Art is not just for collectors, wealthy people in private homes. Art is for anybody, and everyone should have the opportunity to see and appreciate art in spaces accessible to the public."
Wang received a nomination to join the volunteer board from the office of Tampa Mayor Jane Castor. As a longtime Tampa resident, working artist and educator, Wang has expertise that fits nicely into the Public Art Committee's criteria for service.
Each Public Art Committee member is nominated, vetted and then extended an invitation to serve on the body for four years. The group is composed of a City Council member, an Arts Council of Hillsborough County member, a landscape architect or related design professional, a working artist, and three Tampa residents knowledgeable in the field of public art, education or community affairs. City ordinances say the group is responsible for selecting projects, sites and artists for public art projects, as well as budgeting for commissioning and executing new works, among other responsibilities.
"I think Tampa's current public art scene is great," Wang explained. "There are more murals going up, and not just outside public buildings. Art is everywhere and should be a part of our daily lives."
Wang's background from his career prior to joining Eckerd College likely made him a desirable candidate. Raised in China, he obtained his Master of Fine Arts from Nanjing Normal University and won a medal for his work before traveling to the U.S. to continue his studies for a second MFA from the University of South Florida. He has created large art and design pieces at Disneyland Paris, Busch Gardens Tampa Bay and Sea World Orlando among others. He also taught at Sarasota's Ringling College of Art and Design before joining Eckerd's faculty in 1993.
More than three decades in Tampa have afforded Wang a front-row seat to the city's development and transformation. His first studio was in Ybor City when it was a neighborhood full of art studios, prior to its renovation into an entertainment district. He moved into a large building on Florida Avenue in Seminole Heights in 2000, before gentrification attracted new residents and businesses to the area.
"Right now, there are so many people and restaurants in the area that I am working in my backyard to properly socially distance," Wang laughed.
Following orientation on June 2, Wang hopes to dive into his new responsibilities and be a visible member of the committee.
"It's important for me as an Asian, a Chinese-American, to be able to serve in a public office like this, especially right now with the rise in discrimination against Asian people," he said. "That shows the maturity of American society, the ability to allow people of all backgrounds to live, thrive and serve publicly."