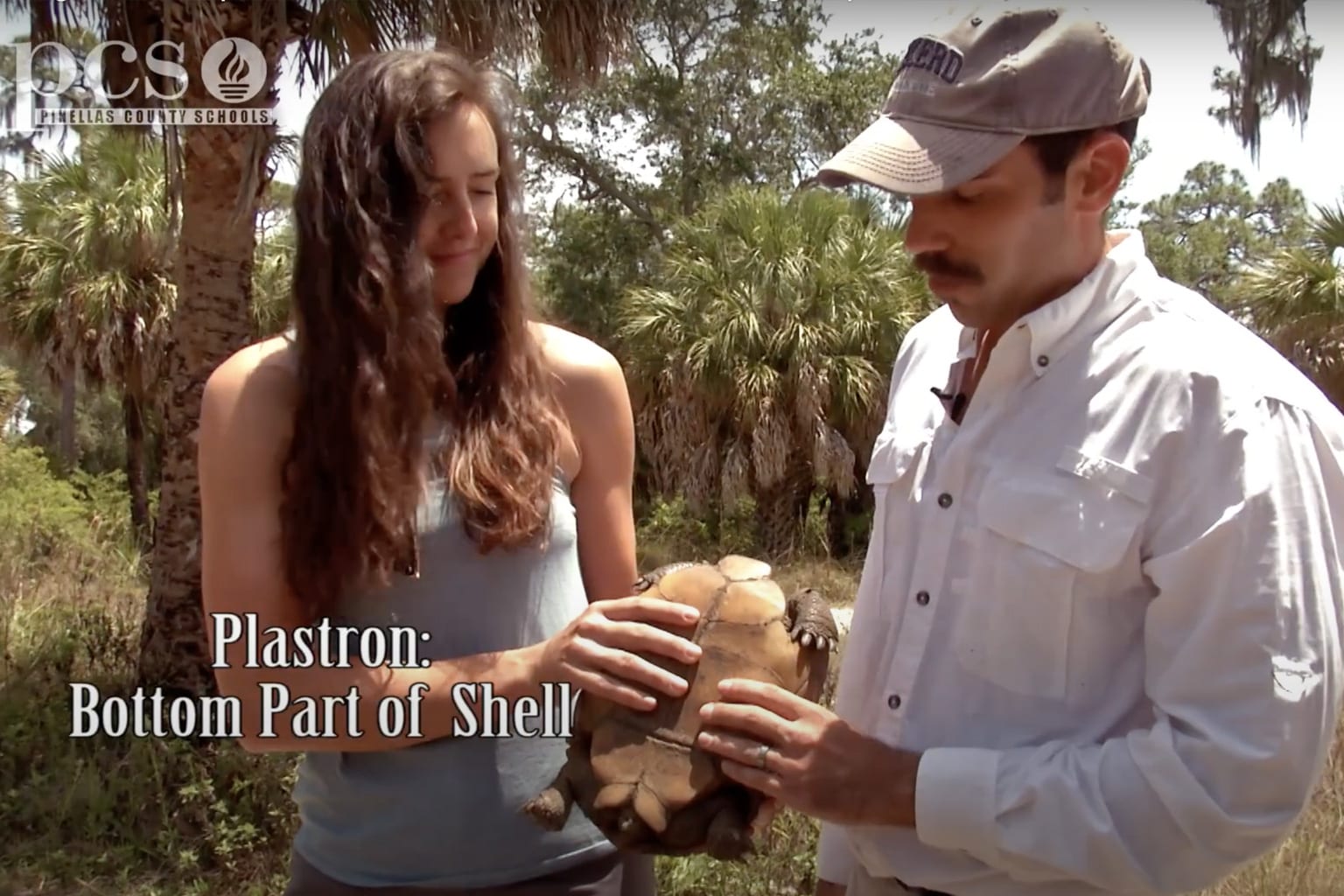 Dr. Goessling (right) inspecting a gopher tortoise in one of the Pinellas County Schools videos.
During a recent trip to the park, the pair caught the attention of a fellow educator who asked permission to share their expertise with thousands of homebound grade-schoolers.
"I've never worked with high schoolers in an academic setting, though I have given lectures for the general public," Goessling said. "This is fun. So often in lab work the questions are so far down the research path that we never ask the entry level questions young students do, like where gopher tortoises live, what they eat and how old they live to be."
Goessling's gopher tortoise work is being featured in several episodes of Life Science at a Social Distance, a Pinellas County Schools program to provide educational content to students at home due to COVID-19 pandemic school closures. Martyne LaDuke, the environmental education teacher at Boyd Hill who recruited the Goesslings, said there have been 12 episodes of the show so far, and the first gopher tortoise episode has already inspired a quiz for county fourth-graders.
"The collaboration came to be when the virus hit and the schools closed. The students were no longer able to attend our field trips, so my teaching partner and I had to figure out a way to continue the field trips virtually," LaDuke explained. "They are posted every Wednesday both on WPDS TV14's YouTube and Vimeo channels and shared with teachers throughout the school district internal website, the public PCSB website and social media platforms. In addition, they are shared with the educational television stations in Hillsborough, Polk, Manatee and Sarasota counties. They are also sent to the Pinellas County government and city of St. Petersburg television stations."
The first episode shows Jeff and Peyton Goessling explaining the features of a gopher tortoise and how Jeff's research—surveying the park to track, trap, tag and release the animals—works.
This study can continue, though campus has closed, because its nature lends itself very well to social distancing measures. Jeff Goessling, who lives very near Boyd Hill, can spend several hours searching for tortoises in the park's upland area without coming across anyone else. "Obviously, we don't get as much done without students, but we're able to go out two to three times a week to get data," Goessling said.
Grant funding for this research requires a concluded study in Winter 2020. Goessling is eager for students to return in the fall to help him complete the great work they've started.
In the meantime, he'll continue teaching his remote course Ecology, Evolution and Diversity as well as his remote Human Experience class, mentoring his students and searching for gopher tortoises in Boyd Hill.
LaDuke said future episodes of Life Science at a Social Distance will feature Goessling's examination of a male gopher tortoise and footage from a camera inserted in the animal's very important burrow. As a keystone species, gopher tortoises dig burrows that support hundreds of other animals that would not survive without the habitat.