Aparna Ghosh, Eckerd College's new assistant professor and technical services and collections librarian, thought she would grow up to be a professional tarot reader.
Her own liberal arts undergraduate experience at Denison University cultivated a hunger for knowledge and a desire to see how everything in our world connects, including to the metaphysical realm. But Ghosh was soon discouraged by the marketing demands of professional tarot card reading, so she pivoted in her career. 
The library drew her attention because it presented an opportunity to explore many different areas of expertise. She earned her Master of Library and Information Science from the University of South Florida in 2023. Library work provided access to knowledge of all kinds, and Ghosh enjoyed exploring with students. 
Part of her job is to facilitate research. She attaches keywords to sources in the database and works with teaching faculty to make sure the library has helpful course materials. Students can also make appointments with her for research assistance.
The library website's chat feature connects students directly with a librarian instead of an AI chatbot. A real person (like Ghosh) is on the other side of the messages. Maintaining this personal touch is part of what brought Ghosh to Eckerd.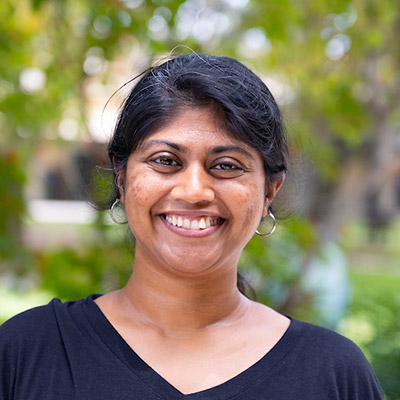 "I've worked in places where things are larger and more impersonal," she says. "But Eckerd is a very tight-knit community. We develop solid relationships here."
In the future, her job will include more teaching opportunities in the Foundations Collegium. After co-teaching during Autumn Term, Ghosh commented on the passion first-year students brought to their classroom. 
"Students are dedicated to making Eckerd vibrant and full of life," she says. "They're passionate and enthusiastic. That's awesome to see. I love being able to provide access to that full range of knowledge." 
Eventually, Ghosh hopes to work on a new archival collection that supports and preserves the legacy of LGBTQ+ voices in Eckerd's community. She feels a responsibility to use her position and expertise to uplift these voices in light of recent Florida legislation. 
Ghosh still enjoys reading tarot cards in her free time and is searching for ways to incorporate this hobby in a more scholarly setting. 
"I'm not quite sure what that looks like, but I do believe tarot cards have a place in academic spaces and the library," she says. 
She is thankful Eckerd is a place that allows such exploration.