Niki Bigda '18 returned to St. Petersburg in January ready to start her next chapter as the new garden manager of the Edible Peace Patch.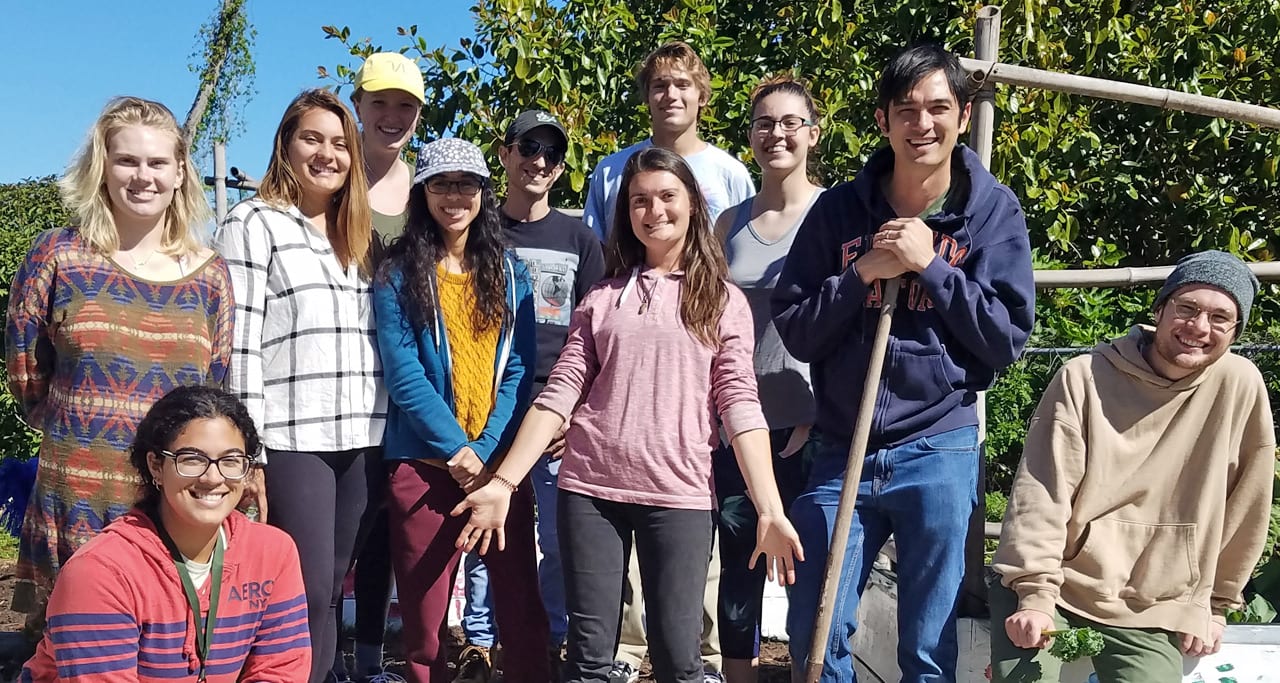 Nikki Bigda (center) with (clockwise from bottom-left): Mariah Culhane, Shannon Edson '19, Tori Martin '20, Olivia Kavanagh, Meriem Ziad, Timothy Hagerman, Jake Caldwell '22, Lauren Blekski, Mark Trujillo, and Jack Courtier
"After graduation I took a temporary position in Washington, D.C., working for the Student Conservation Association," said the environmental studies graduate from Enfield, Conn. "I had worked in the gardens as a student educator, so when I saw the job posted in November, I knew I had to apply."
Edible Peace Patch, an initiative founded by former Eckerd College instructor Kip Curtis that plants gardens at local elementary schools and uses them for science and agricultural education, was recently absorbed by R'Club Child Care, Inc., a child services provider that maintains a relationship with Pinellas County schools.
The new partnership puts the young nonprofit on more solid financial footing and gives it the potential for growth, said Edible Peace Patch board member Andrew Chittick, the E. Leslie Peter Professor of East Asian Humanities.
"I think R'Club has been great. They basically saved Peace Patch," explained Chittick, who recently joined the board for R'Club. "It was hard to keep it going with so little money being raised. So it was great to find a larger nonprofit partner whose mission aligns with that of the Peace Patch."
Currently, the Edible Peace Patch has gardens at eight elementary schools in St. Petersburg and one community garden in the Jordan Park neighborhood.
Eckerd College students interested in gardening or farming can volunteer at the Edible Peace Patch to earn their Reflective Service-Learning hours or apply for work-study positions in the gardens.
"We work with teachers and kids Grades 2 through 5 on science mostly. It's basic biology, the life cycle, parts of the plant, the functions of different bugs in the garden," Bigda explained.
But more than hands-on instruction, the grade-schoolers served by the Edible Peace Patch learn about healthy eating. "Most of our schools are communities that are considered food deserts, so it gives the kids a chance to try new foods and learn skills to grow their own foods," Bigda said.
Both Chittick and Bigda are confident that because of the new leadership of R'Club, the Edible Peace Patch may be able to spread to even more schools and communities. "We'd love to start some gardens at middle and high schools to give those students some experience gardening," Bigda said.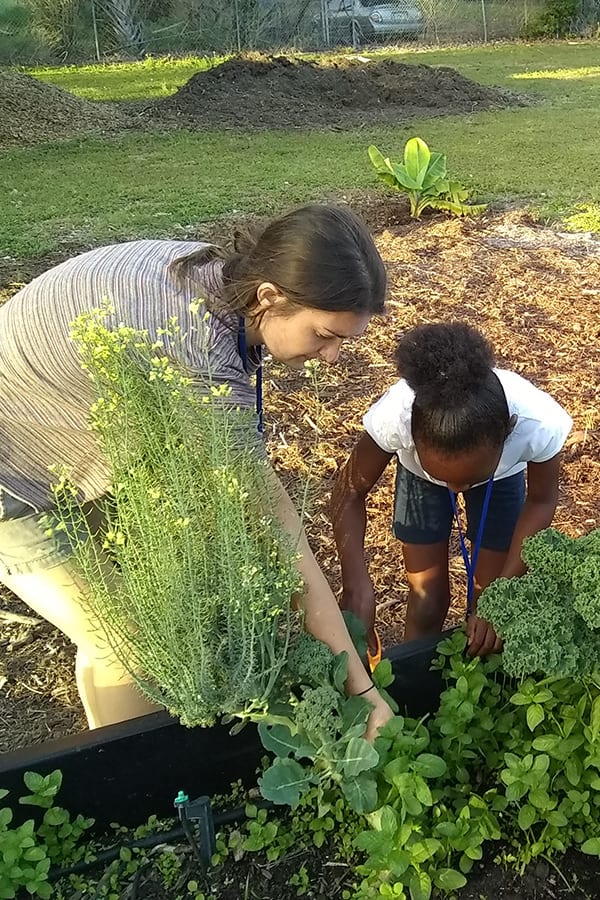 Nikki Bigda inspects the garden with an elementary school student in St. Petersburg