Eckerd College has earned the designation of National Collegiate Emergency Medical Services Foundation HeartSafe Campus.
The designation, announced in late February, has been awarded to 24 colleges since the program kicked off in 2013 with support from the American Heart Association and The Sudden Cardiac Arrest Foundation.
Much of Eckerd's recognition is due to the award-winning student-volunteer Eckerd College Emergency Response Team (EC-ERT), which responds to Eckerd students in medical emergencies.
HeartSafe Campuses are required to have CPR and defibrillator trained first responders, quick access to defibrillators, be near advanced care facilities, provide CPR and defibrillation training to the public and campus community and host programs that promote heart health.
"Eckerd being recognized as HeartSafe speaks volumes to how the college so greatly prioritizes health and safety education for the community," said Zena Marpet '16, director of EC-ERT.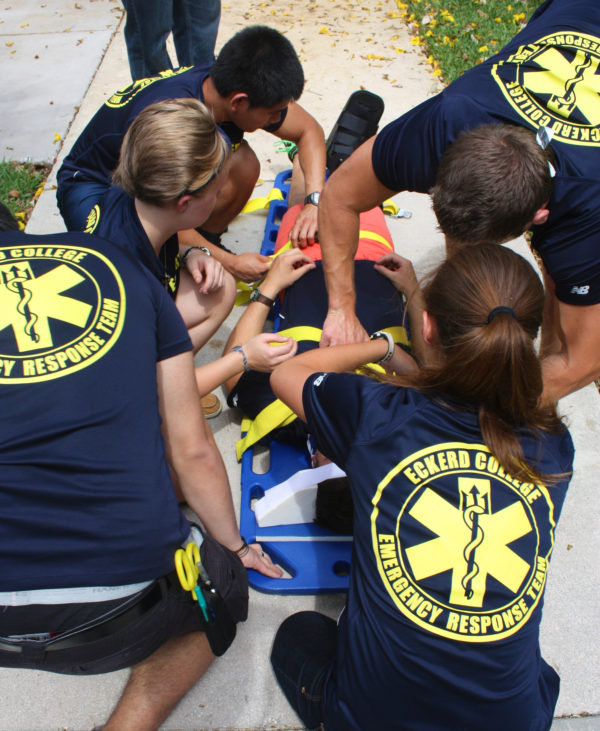 Eckerd College's Emergency Response Team was formed in 2011 and is staffed with student volunteers who get certified in CPR, first aid and other emergency medical procedures. Photo: Jeremy Bernfeld '13
Founded in 2011, the College's emergency response team has grown to include 13 American Heart Association trained CPR, defibrillator and first aid instructors. In 2016, EC-ERT certified 117 campus community members in CPR. Thirty more students, faculty and staff will receive CPR certification through three Spring 2017 courses.
The Office of Campus Safety is responsible for the maintenance of the College's 14 defibrillators placed at various locations around campus for quick access. EC-ERT also has two mobile units students take with them on emergency calls.
Five other schools were named HeartSafe by NCEMSF this Spring including Dartmouth College, Duke University, Skidmore College, Saint Michael's College and Western Carolina University. Each, including Eckerd, received placards to place at campus entrances.
"EC-ERT can provide more than just emergency medical services for the college, we can also provide extensive education about CPR, something everyone in higher education should be aware of," Marpet said.  "HeartSafe recognition… is only the beginning of exciting healthcare initiatives that we can provide this community with."