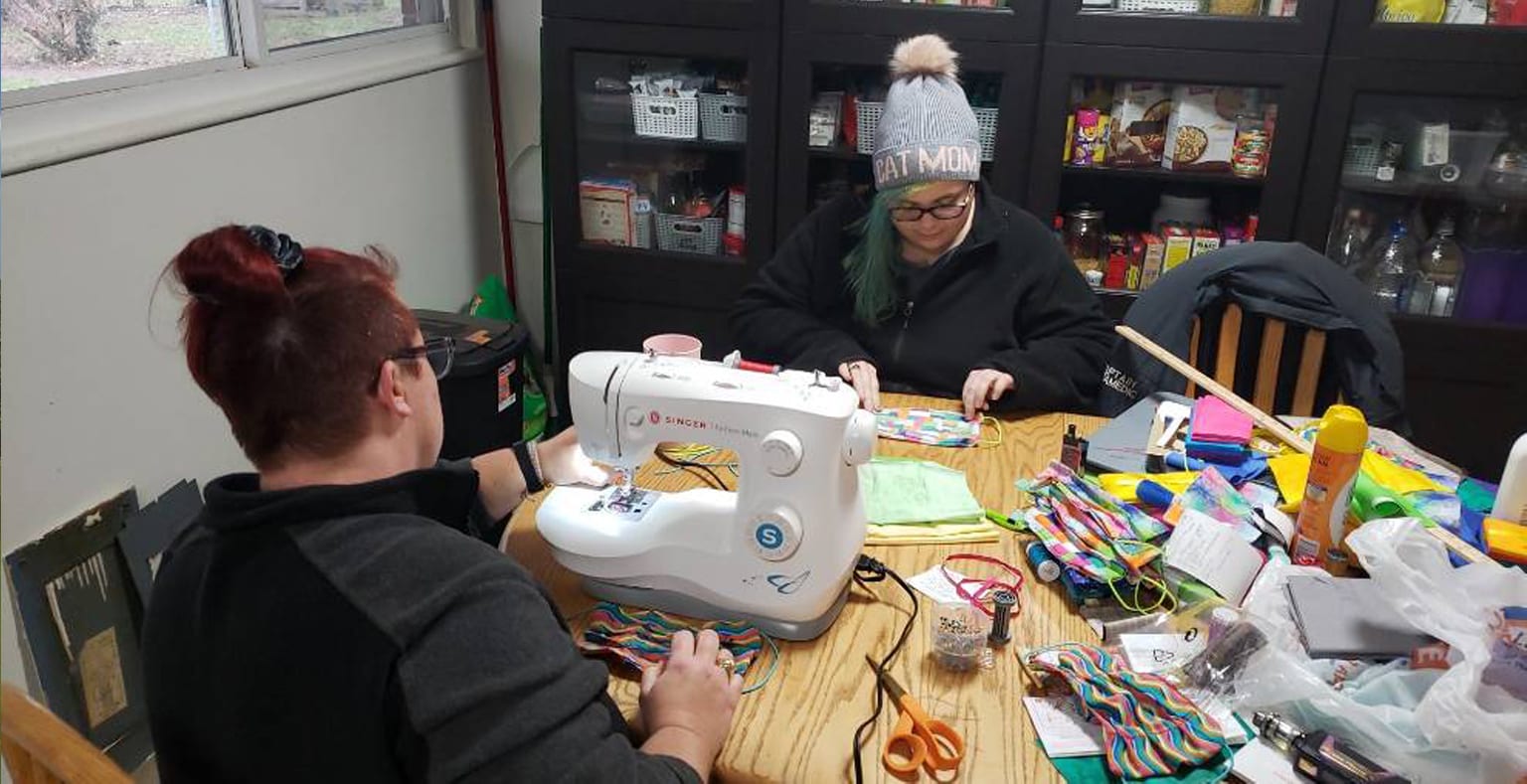 Sophomore Morgan Colton and her mother crafting masks in their Ohio home.
Morgan Colton isn't crafty, she's never taken a course on garment construction, and she's not even a member of the Eckerd College MakerSpace.
But when she saw a TV news story about nurses in New York making their own personal protective equipment to battle COVID-19, she knew she'd have to summon all her tenacity to be a help to her family and community.
Shortly after arriving home from St. Petersburg in March, Morgan, a sophomore international relations and global affairs student from Dayton, Ohio, busted out an old sewing machine and set to work making masks with little pockets inside for pieces of air conditioner or HEPA vacuum cleaning bags for filters. More than 50 masks went from the Colton household to first responders before her father, Fire Captain and Dayton Emergency Planner Merritt Paul Colton, decided to expand the operation.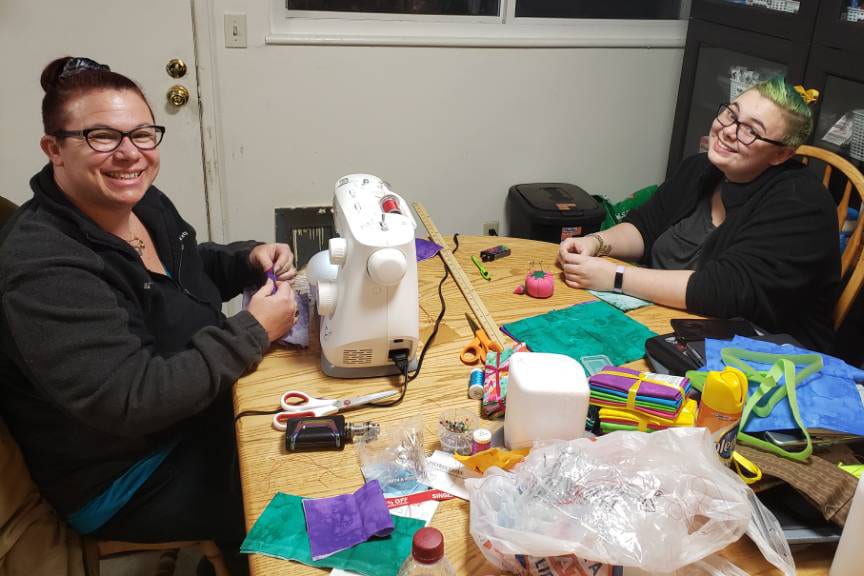 "He asked me to make a PowerPoint presentation on how to make the masks, and then he activated the sewing room at the fire station, so nonessential city employees could go there and make them en masse," Morgan said.
Then another offer came. Sandy Mendelson, owner of Mendelsons warehouse stores in Dayton, came to the Coltons with materials he'd been stockpiling since 1971, to be used now to make do-it-yourself face shields for construction workers. Captain Colton tasked his daughter with gathering the materials from Mendelson's closed shops and figuring out how to turn the plastic into wearable shields.
She started with a pool noodle, hot glue and metal clasps. By the end, Morgan had graduated to outfitting the face shields with a wire insulation forehead bumper and plastic coverings over the behind-the-head clasps so they won't get snagged in hair.
"I can put things together, but I'm not necessarily good at it," Morgan said with a laugh. "I saw there was a need, and classes hadn't resumed yet, so I had time. Even if it turned out as a failure, I wanted to try. It just ended up working, which surprised me more than anyone else."
Ten masks were made with Morgan's refined design before she put the instructions into a PowerPoint and shipped off the materials and manual to the fire station sewing room.
None of her classes had prepared her for this project, but Morgan's focus in Chinese politics had made her wary of early U.S. government promises that supplies would be plentiful throughout the pandemic.
"There is an old [Chinese] proverb, 'The sky is high and the emperor is far away,' which basically means you're on your own, and the government can't see everything that is happening on the ground," she added. "I thought that would be the case here too."
Growing up in a family of first responders—Morgan's mother, Cheryl Colton, is a 911 dispatcher—made the need for protective equipment even more personal for her.
"To me, what I've done is not a big deal; I grew up in a fire station. They are family. So this is just protecting my family," she explained. "There was a need and I just wanted to help."