The Peace Corps announced that Eckerd College ranked No. 13 among small size schools on the agency's 2018 Top Volunteer-Producing Colleges and Universities list. There are 12 Tritons currently volunteering worldwide.
This is the second year that Eckerd College has ranked among the top 25 small colleges and universities. In addition, Florida ranked No. 3 among Peace Corps' top volunteer-producing states in 2017. There are 355 volunteers overall from the Sunshine State currently serving worldwide and 8,237 Floridians have served in the Peace Corps since the agency's founding in 1961.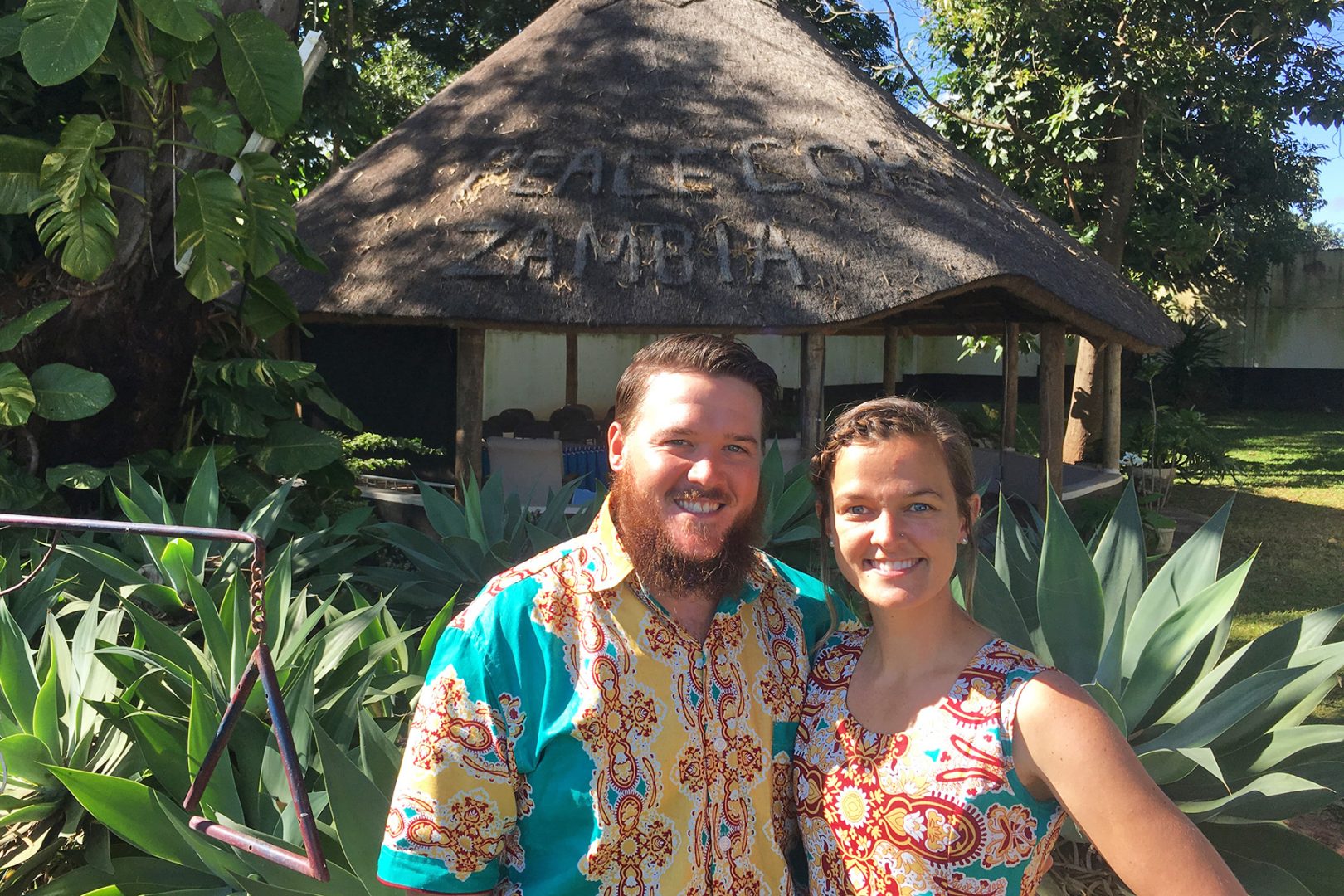 Stephanie Burkhardt (Marine Science '11) and husband Bob Little (Environmental Studies and Marine Science '11) serving as Peace Corps volunteers in Zambia. Africa.
"Peace Corps service is a profound expression of the idealism and civic engagement that colleges and universities across the country inspire in their alumni," said Acting Peace Corps Director Sheila Crowley. "As Peace Corps Volunteers, recent college and university graduates foster capacity and self-reliance at the grassroots level, making an impact in communities around the world. When they return to the United States, they have new, highly sought-after skills and an enterprising spirit that further leverages their education and strengthens their communities back home."
Alumni from more than 3,000 colleges and universities nationwide have served in the Peace Corps since the agency's founding in 1961. A total of 164 Eckerd alumni have served in the Peace Corps since the agency was founded.
Robert Little of West Seneca, New York and his wife Stephanie Burkhardt of Cape Elizabeth, Maine both graduated from Eckerd in 2011, and are serving as a rural aquaculture promotion volunteers in the Zambia. "Eckerd College promotes a worldly view among their students and stresses the importance of taking action to be the change you wish to see in the world," said Little. "My wife, Stephanie Burkhardt, was the driving force behind my service. She herself had always wanted to serve and although I thought it to be an amazing idea I did not foresee it coming to fruition. After many long discussions and countless calculations, she showed me how possible this all could be! Without her persistence I don't know how likely it would be for me to be here, but I am eternally grateful for her and her endless sense of adventure!"
"Eckerd College puts strong emphasis on development, sustainability, and international relations which aligns with Peace Corps' goals seamlessly. Therefore I believe that these goals are what inspire Eckerd alumni to serve in Peace Corps," said Burkhardt of her alma mater.
Eckerd College is also a Peace Corps Prep program partner. The Eckerd Peace Corps Prep program combines targeted coursework with service-oriented field work and professional development training designed to make participants more competitive when applying for postgraduate Peace Corps volunteer positions and other international development and intercultural fieldwork opportunities.
The Peace Corps ranks its top volunteer-producing colleges and universities annually according to the size of the student body. Below find the top five schools in each category and the number of alumni currently serving as Peace Corps volunteers. An interactive map that shows where alumni from each college and university are serving is available.